Premier Collection
A selection of some of Kalkan's finest Holiday villa accommodation
Cool, contemporary, architecturally stunning, situated in fabulous locations and with acres of glass to maximise the impact of incredible sea, landscape or mountain views. All the property in our premier collection has been hand-picked to offer a taste of the high life in spectacular style.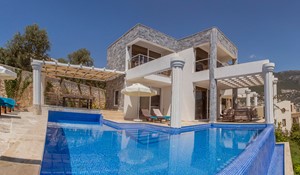 Our luxury villas in Kalkan centre each offer very special, contemporary, luxurious accommodation for 8 guests. The accommodation is exceptionally spacious with a private pool, ensuites to all bedrooms, incredible views of the Mediterranean and Mountains and all within 8-15 minutes walk to Kalkan's old town. 2 of our Villas also offer a gym, pool table, table tennis and either a free standing Jacuzzi or Sauna.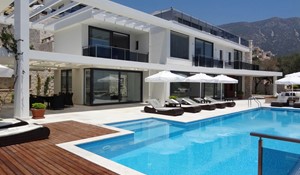 Without a doubt our villas in Kalamar are some of Kalkan's finest. Brand new for 2013 and 2014, these villas offer cool, contemporary, and unashamedly luxurious accommodation for 8-10 guests, with exceptional outside space, breath taking sea and mountain views and large private swimming pools. Overlooking the beautiful bay of Kalamar with views to Snake and Mouse Islands and just 20 minutes walk to Kalkan centre.
Error parsing XSLT file: \xslt\[XSLT][TBS]WidgetFeaturedContent.xslt