Eating and drinking in Thailand
Everything you need to know about dining in Thailand
Thai food is perhaps one of the most well-loved cuisines in the world with restaurants and takeaways to be found dotted around in every major town and city across the globe, but where better to experience this healthy, fresh and flavoursome fare than in the country of its origin - Thailand.
There are five pinnacles of Thai cuisine - bitter, spicy, sweet, sour and salty - and it is customary to have dishes that compliment this variety. There is no such thing as bland food in Thailand, and this doesn't always mean food is hot spicy, more a fine balance of fresh flavours and textures with carefully layered spices. Just in case that's not enough flavour, there is a condiments rack to be found on every table of every type of eating establishment, typically containing prik nam pla (chillies in fish sauce), sugar, vinegar or lime, soy sauce, salt and dried chilli. All of these can be used to adjust the taste of the meal to your palate.
Typical flavours that you can expect to come across are lemongrass, ginger, kaffir lime leaves, galangal (similar to ginger), chillies of varying different strengths and flavours (not all hot), Thai holy basil, lime, tamarind, nam pla (fish sauce), shrimp paste, and coconut in all its forms.
There are different types of eateries to be found in Thailand; street stalls and floating markets selling fresh food to go and offering some of the most rustic and authentic flavours, shophouse restaurants (semi-outdoor cafes) where you can sit down and enjoy some freshly cooked dishes, and mid-range to high-end restaurants where highly skilled chefs produce a modern take on traditional dishes as well as fusion menus.
Food is usually eaten with a fork and spoon. A knife isn't generally required as everything is cut to be bite-sized in a Thai meal. If dining in a group, dishes are usually placed in the middle of the table for sharing and it is customary to just take one spoonful of rice and a small amount of topping and eating this before going back for more, as heaping a plate full all at once is considered greedy in Thailand. Eating slowly and fully appreciating every mouthful is the way to go!
Dishes and flavour combinations across the regions of Thailand are vast, taking inspiration from China in the north and Malaysia in the South. Many volumes could be written in homage to such a rich cuisine, but we will try and summarise it into a handy guide to give an overview of what to expect.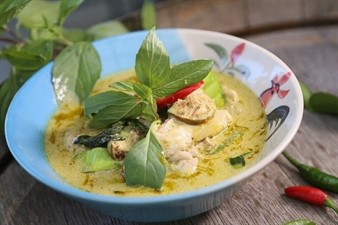 Curries in Thailand have a coconut milk base and their colour is often determined by the type of chilli and spice used. There are five well known curries to look out for but bear in mind that there are countless variations:
Green Curry - The ever popular dish made with green chilli, coriander and kaffir lime leaves.
Red Curry - Heavily laden with dried red chilli hence its colour.
Yellow Curry - Which gets its colour from turmeric and a carefully balanced blend of spices.
Massaman - Is mild yet has a complex flavour made from spices synonymous with Indian cookery.
Penang - Has a mellow flavour with peanut being one of the main ingredients ground into the curry paste.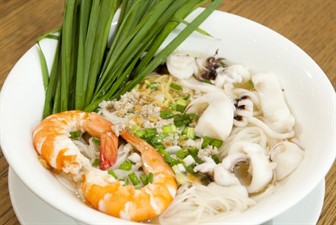 Often served as part of a main course, Thai soups can be very filling. Here is just a small selection of popular soups;
Tom Yum - The most well known soup of Thailand, it is spicy, sour and aromatic and includes shrimp, galangal, shallots and lemongrass amongst its ingredients. Usually served with rice.
Tom Saep - The heavier Northern Thai version of the popular soup Tom Yum.
Khao Tom - A flavoursome broth made with rice and often includes pork balls.
Khao Soi - Made from coconut milk, red curry paste and noodles and served with your choice of meat and with a garnish of crispy noodles - this is a meal in itself.
Tom Kha Gai - Delicious coconut, chicken and galangal broth.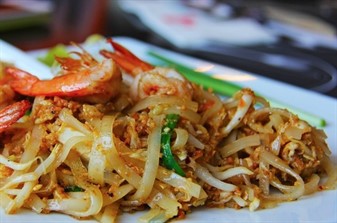 There are many varieties of noodle out there which form the base or the accompaniment of many well-loved dishes in Thailand. Wide rice noodles, bean thread (or 'glass') noodles and egg noodles are common choices.
Pad Thai - is probably the most well-known and popular of all the noodle dishes and consists of stir-fried noodles, bean sprouts, peanuts, and other vegetables, and will generally have shrimp, chicken and tofu added.
Pad See ew - is made with wide flat rice noodles which are stir-fried with soy sauce, Chinese broccoli, and some form of protein such as chicken, beef or tofu.
Mee krob - crispy fried rice vermicelli noodles in a sweet and fragrant sauce served with seafood or pork.
Pad woon sen - Glass noodles stir fried with veg, coriander and birds eye chillies and a flavoursome sauce.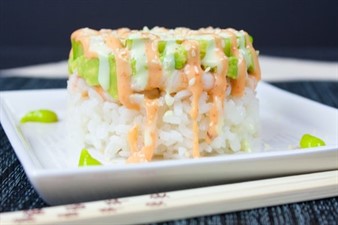 Rice is the most common staple in Thai cuisine and is generally served to share but can also be part of a main dish. You will find jasmine rice, glutinous (sticky) rice and white rice.
Khao Phat - A fried jasmine rice dish made with chicken or shrimp, onions, garlic and pepper.
khao Khai Chiao - Egg cooked with fish sauce, lime juice or vinegar, soy sauce and a bit of corn starch and served on a bed of jasmine rice.
Khao Khluk Kapi - Stir fried rice with shrimp paste and served with mango, chilli, onion, egg, crispy fried shrimp, chicken or pork.
Khao Pad Sapparod - Fried rice with pineapple, shrimp and curry flavours.
Walk through any market and you will encounter some interesting offerings on the street food stands. Portable bug carts showcase an array of deep fried and salty creepy crawlies such as crickets, locusts, grubs and water bugs. Street vendors will often pedal around in search of customers and tourists enjoying a cool beer who may require a salty snack and are prime targets. Some carts offer scorpions and spiders on skewers if you're feeling really brave! These little critters are full of nutrients and protein so why not buy some instead of a bag of crisps or nuts.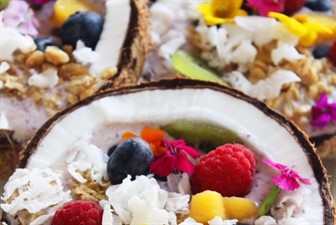 Dessert is usually light, cleansing the palate after the main meal, and is often focused around the abundance of fresh fruit to be found in the country (see below). Here is a list of some typical desserts you might encounter on a menu;
Mango sticky rice - made with glutinous rice, fresh mango and coconut milk.
Coconut rice dumplings - Bitesize coconut and rice flour balls cooked on a hot grill and served with corn, or just as they are.
Coconut ice-cream - Often served in the coconut shell, the refreshing ice-cream can be accompanied by different toppings such as peanuts or sweetcorn, and drizzled in syrup.
Sweet Thai crepes - These are small open crepes filled with a creamy meringue and shredded egg yolk.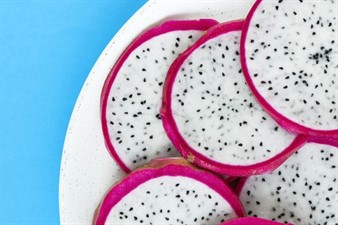 The fruits of Thailand not only taste delicious but they are also a feast for the eyes! The colours are vibrant and the textures are fascinating and sometimes other-worldly. Here's a list of native fruits that you should try;
Dragonfruit
Mangosteen
Rambutan
Jackfruit

Tamarind
Custard apples
Sapodilla
Salak fruit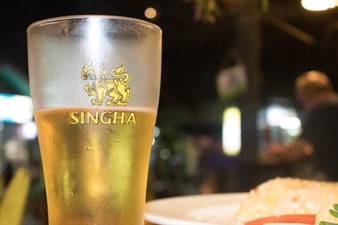 Beer: Singha, a pale lager, is considered the original Thai beer and with its strength (ABV 5%) and distinctive flavour, it makes a great accompaniment to heavier curried dishes, or refreshing on its own. Chang is another firm favourite amongst travellers and although it is the same strength as Singha, it has a lighter flavour making it the perfect pairing with heavily spiced dishes and delicate flavours alike.
Spirits: Mekhong and Hong Thong are locally made Whisky-like spirits brewed from molasses and rice. More popular and better tasting is the Thai rum Sangsom which is brewed from sugarcane and aged in oak barrels. If you fancy something even stronger then there is the fiery local moonshine known as Lao Khao made from fermented sticky rice.
Wine: Thailand is a difficult country to produce wine owing to climatic factors but the Thais have perservered and there are now 4 successful wine growing regions. Wines are generally smooth, soft and fruity and compliment the heavy spiced dishes found throughout the country.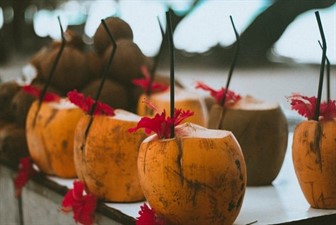 You will not be surprised to learn that fresh fruit juices are widely available, and in the tourist areas, it is common to see fresh and healthy coconut juice being sold straight from the fruit itself (pictured), but there are many other thirst quenchers to look out for;
Sweet/fruit flavoured milk - these are made from a blend of ice, milk, and sweet syrup or fruity chunks
Nam Manao - this is a simple but refreshing blend of lime, water and sugar, sometimes served with additional sugar syrup
Cha Manao - an iced black tea made with lime and sugar
Cha Yen - a sweet iced black tea made with condensed milk, orange blossom water and usually spices such as star anise or ground tamarind seed
Thailand Accommodation Inspiration