Eating and drinking
Local cuisine in the village of Islamlar
The local cuisine in the delightful, traditional village of Islamlar is simple but made with beautifully fresh organic ingredients, much of which is grown on the premises if not in the village. The restaurants provide an oasis of relaxation and are set in mature gardens, with views over the valley and beyond to the Mediterranean. The sound of rushing water feeding the surrounding trout pools and a cool mountain breeze create a refreshing retreat in the heat of the summer.
Islamlar offers a local minimarket, small traditional bakery and a selection of wonderful restaurants serving up fresh, seasonal dishes. Choose from delicious shish kebabs of chicken and lamb or pide (Turkish Pizza) accompanied by an excellent choice of Meze and salads, or sample the local speciality of freshly caught trout grilled or fried to your taste.
Turkish breakfasts made with an array of fresh village produce including bread, eggs, cucumbers, tomatoes, fried cheese, olives and honey are also delicious. For the sweet toothed, we recommend trying the tasty dessert options of baked Baklava with ice cream or hot halva with walnuts.
Turkey is not known for its fine wines, but there are some interesting local ones that are worth trying. If these are not to your taste, stay with the refreshing local Efes beer or traditional drink of Raki. Finish your meal with a rich dark Turkish coffee or refreshing glass of çay (Turkish tea pronounced 'chai').
Useful information
Join us on Facebook
Kalkan is famous for its many fine restaurants and dining options, read our guide to discover the type of restaurants available in Kalkan and decide which to visit on your Kalkan holiday.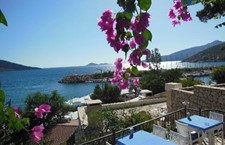 Find out more about Kalkan's old town, with an eclectic mix of Greek and old Kalkan architecture, roof terrace restaurants and sea & harbour views the old town is a place you will want to discover and enjoy.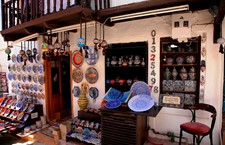 Our guide to the Beach clubs around Kalkan Bay...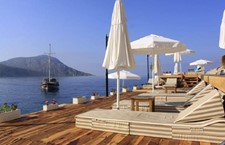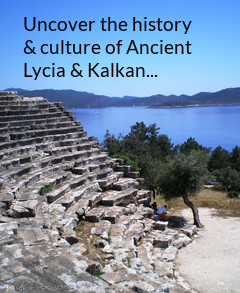 Explore hand-picked Kalkan villas with private pools & amazing views.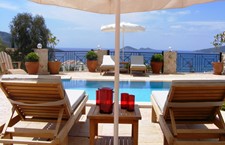 View our selection of luxury Kalkan apartments with pools and sea views.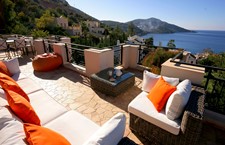 Introducing The Likya Residence Hotel and Spa and The Asfiya Hotel in Kalkan, both within walking distance to the Old Town, beach and restaurants.