Eating and drinking
Dining in Kas
Kas is inundated with eateries, from fine Turkish and International dining to cafes serving home cooked local specialities. What is consistent is the quality of the fresh local produce, and the warm hospitality offered in these establishments. Many restaurants offer lovely sea and harbour views, and, other than those that surround the main square are most often tucked away down a narrow street or on a roof terrace providing some interesting and atmospheric places to dine.
Many of the towns fish restaurants are to be found around the square and Marina.
Some of the most popular establishments in Kas include:
Ratatouille:
Serving Mediterranean cuisine, and located with great views over republic square, this moderately priced restaurant is popular with locals and visitors for its fresh, flavoursome local ingredients and classic Mediterranean menu.
Manzara
With wonderful views from Kas Peninsula, Manzara offers outside dining, and a delicious selection of Turkish and International dishes.
Manzara is open for Breakfast, Lunch and dinner and is moderately priced.
Café Mola
Located at the corner of Republic square, Café Mola in an inexpensive place to soak up the atmosphere and enjoy a menu of Turkish and International offerings. Well known for their delicious home-made lemonade, the café serves breakfast and lunch.
Drinking:
The vast majority of restaurants and cafes in Kas are great places to drink, as well as eat.
There are also several pubs and bars around Republic square including:
Barcelona
Old House
Denizalti
And if roof top bars are your thing, try Dejavu, Echo or Sumana wine house.
More helpful information
Join us on Facebook
Kalkan is famous for its many fine restaurants and dining options, read our guide to discover the type of restaurants available in Kalkan and decide which to visit on your Kalkan holiday.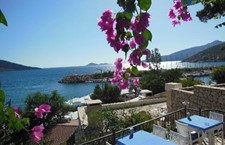 Find out more about Kalkan's old town, with an eclectic mix of Greek and old Kalkan architecture, roof terrace restaurants and sea & harbour views the old town is a place you will want to discover and enjoy.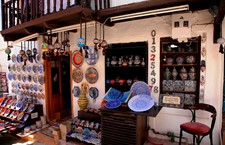 Our guide to the Beach clubs around Kalkan Bay...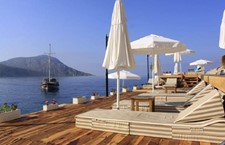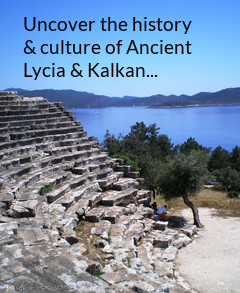 Explore hand-picked Kalkan villas with private pools & amazing views.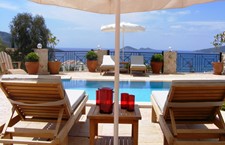 View our selection of luxury Kalkan apartments with pools and sea views.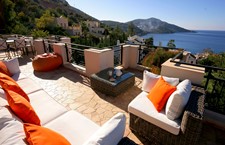 Introducing The Likya Residence Hotel and Spa and The Asfiya Hotel in Kalkan, both within walking distance to the Old Town, beach and restaurants.