Bars at the Rixos Premium Gocek
Rixos Premium Göcek presents an ultra-inclusive concept in a wide range of culinary selections as well as top-class entertainment venues which offer diverse gastronomic experiences
Rixos Lounge is a uniquely stylish lobby bar and tea lounge designed for you to enjoy trendy cocktails and other beverages.
Located in lobby area
Service Hours: 09:00 - 00:00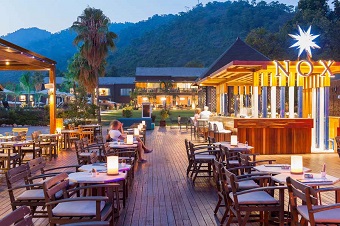 The perfect place to enjoy the evening, to chill out and take in the view of the Göcek Marinturk marina, the Nox Bar is open throughout the evening. Enjoy a fine selection of cocktails prepared by the hotels talented bartenders before viewing the exciting live entertainment in the evenings which will get you in the mood for the night life that will continue until the early morning hours.
Service Hours: 18:00 - 00:00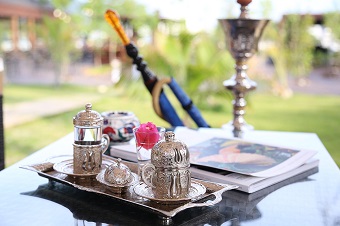 Nargile garden is the ultimate place to chill and relax in the nature under the evergreen pines, trying a fruity aromatic nargile (hookah/shisha) while tasting the tea from a samovar before indulging in authentic baklava.
Service Hours: 12.00 - 00:00
Concept: Shisha service available for an extra charge.