Explore our different types of holiday accommodation in Marrakech
Atmospheric Riads, spacious staffed pool villas or world class hotels, we offer what we consider are some of the best places to stay in Morocco. Our villa collection offers great flexibility with a wide choice of properties between 2 and 16 bedrooms. Many are staffed and offer the option to have the property chef prepare all or some of your meals (at additional cost). The Royal Mansour hotel in Marrakech and Richard Branson's Kasbah Tamadot in a breath-taking location in the Atlas Mountains are extraordinary properties and if you want to "push the boat out" we recommend considering them for a hotel stay in Morocco. Perhaps you'd like a more intimate boutique hotel; whatever your preferences, let us know and we will be pleased to send you some suggestions for consideration.
We offer a range of the very best hotels and luxuy riads in Marrakech from the grand, opulent Royal Mansour to the intimate L'Hotel Marrakech, whether you are looking for for a week or more of pampering or for a four night stay as part of a multi-destination holiday, you can be sure of a warm Moroccan welcome.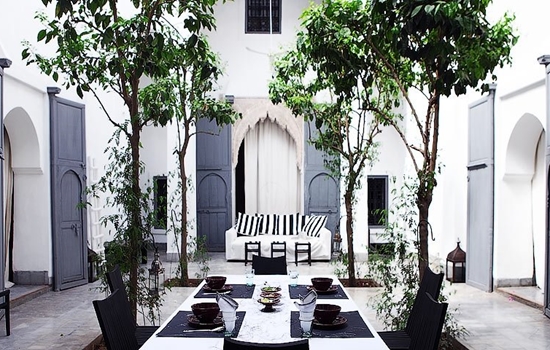 A riad is a traditional Moroccan house built around a central courtyard, located in the winding narrow derbs (alleys) of the old medina. These houses look very non-descript from the outside and usually the only indication of a riad is a wooden door set along an ochre coloured wall. Stepping inside and closing the door on the hustle and bustle of medina life, immediately a sense of calm descends, as you realise your beautiful riad is an oasis where you can escape the noise and smells of the intense medina.
Our riads in this collection are for rental as a whole unit, these riads are usually staffed with at least a manager and a cook. The rental price usually includes daily breakfast and often additional meals can be added with prior arrangement each morning.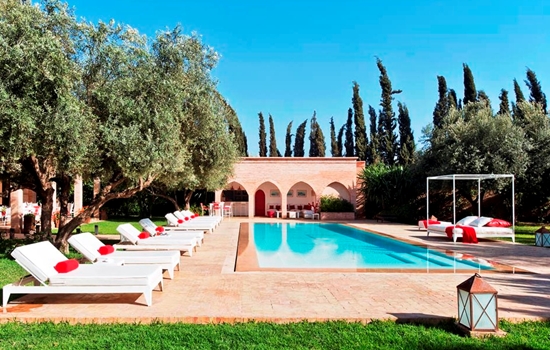 We offer a range of villas in Marrakech and the foothills of the Atlas Mountains, ideal for a family/friends holiday relaxing under the North African sun whilst exploring Marrakech, the mountainous landscapes or the many superb golf courses. Our Marrakech villas are ideal for a traditional holiday of a week or more; or if you are looking for a little more adventure, why not stay in a villa for a shorter period and combine with a few nights in the Atlas Mountains, on the coast, or in rural Morocco.
Many of the villas are staffed and include breakfast.
Useful information for your Marrakech holiday
Useful information for your Moroccan holiday
Marrakech accommodation inspiration