Our Phuket Beach Guide
A selection of some of the best beaches in Phuket...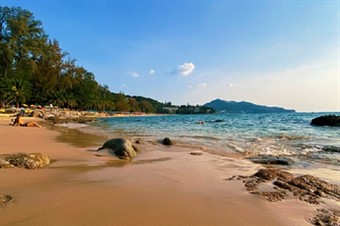 Undoubtedly the most popular beach on the island, Patong occupies a generous 3km of coastline in the west and is the forefront of the Phuket party scene. The beach is lined with cafés, restaurants, bars, nightclubs and shops and attracts a young, lively crowd.
A good selection of water-sports are on offer here, including jet skis and parasailing. The beach looks beautiful but is by no means peaceful, having a tendency to become overcrowded; particularly in high season.
There are a handful of beaches close by which do offer the chance for peace and quiet; check out Kalim to the North, and Tri Trang and Freedom beach to the South.
Kamala Beach is a quiet spot to the west of the island that attracts families and couples to its white sands and crystal clear waters. It's one of the only resorts that has cafés and bars that open out directly onto the beach making it the perfect spot for a lazy lunch, or cocktails at sunset.
Ibiza's world famous Café del Mar - self-styled 'Home of Chill' - has also opened an establishment here; a fantastic beach club with a sizeable swimming pool, large daybeds, a carefully crafted food and drinks menu, and A-list DJs.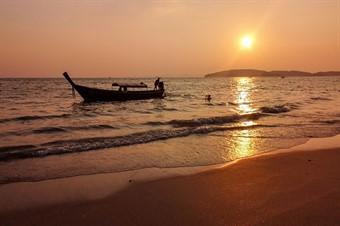 One of the longest beaches on the island and ideal for ambling walks along the shore, tree-lined Bang Tao is considered one of the more upmarket areas of Phuket.
Luxury hotels, local fish restaurants, boutiques and peaceful spas all make their home here, and there are also no less than four beach clubs for daytime relaxing and nightime partying.
On the beach there is a good selection of water-sports on offer including sailing and kayaking, and you can even try surfing when the conditions are right.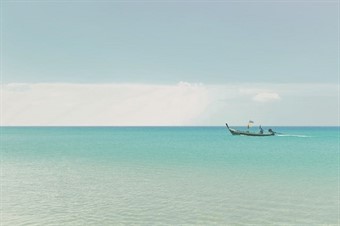 Facing the Andaman Sea and stretching 5km, Karon is the island's second longest beach and has a spacious feel, providing a quieter and popular alternative to Patong for families and couples.
The town has a good selection of shops, cafés and restaurants as well as the famous twice-weekly Karon Temple Market which draws visitors from all over the island.
The waters are perfect for swimming and snorkelling in high season, and parasailing is a popular activity on the beach, as well as volleyball.
Karon is also a favourite of Sea Turtles who often lay their eggs on the beach at night. The Phuket Marine Biological Centre monitors the turtle activity and is helped by nearby hotels and tourist who report any tracks found.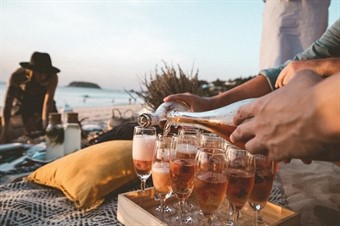 Kata Beach is located just below Karon on the west side of the island. It is very popular amongst tourists, only second to Patong, owing to its excellent facilities. There are many shops and stalls, restaurants with different cuisines on the menu. public toilets, and a good selection of water-sports, as well a decent nightlife.
In high season, the sea is clear blue and safe for swimming, but can quickly turn with rip tides when the monsoon draws in.
Kata, along with Karon, are the closest beaches to the Big Buddha and it is possible to hike up to the monument from here, where you will be rewarded with incredible views of the beaches below.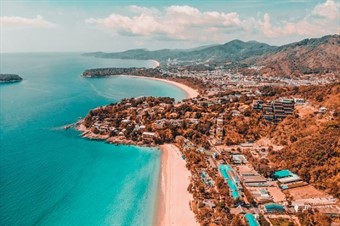 Kata Noi is just south of Kata Beach and is relatively peaceful compared with its neighbour. Some people like to stay here so that they can be close to the good choice of amenities of Kata but enjoy the the tranquillity that Kata Noi offers.
There are a few restaurants on the beach, all of which belong to hotels. Local restaurants and cafés can be found on the Kata Noi Road.
For some great panoramic shots of Kata Noi, Kata and Karon beaches, head up to the viewpoint above Kata Noi where there are a handful bars and restaurants; perfect for sundowners and a relaxed evening meal.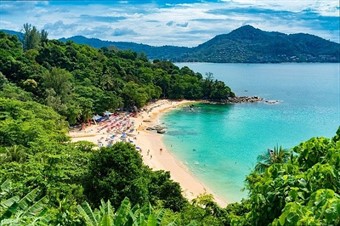 Surin is a rare gem in Phuket in that it is now classed as a completely natural beach, and one of the most beautiful to be found on the island. A few years ago, various beach clubs, restaurants and other buildings that lined the front were demolished by the authorities to allow the beach and surrounding vegetation to flourish.
You can usually rent a sunbed and parasol, or just throw your towel down on the soft white sand and enjoy the sound of the turquoise waters lapping at the shore. There are not too many rocks on this bit of coastline so you can venture quite far out to the sea and marvel at the excellent visibility.
One small fish restaurant remains by the sea, and just through the trees and into the carpark, local vendors have stalls selling tasty street food, fruit, and beach paraphernalia.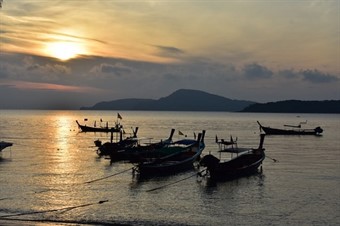 Located on the southern tip of Phuket, Rawai is a great spot for taking a boat to explore one of the neighbouring islands. It is not really a beach for swimming owing to its shallow waters and the many boats that are moored there, although it is a great place for experiencing local life, especially on a Sunday, when inhabitants of Phuket Town like to gather there for picnics with their families.
Many fisherman and their families live around here and you will be able to see them at work on their boats, mending nets, and selling their catches at the regular fish market.
A trip to Rawai will offer a little slice of real Phuket life, something that can't always be found on the busier west coast resorts.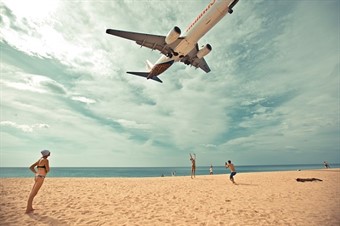 At 11km long, Mai Khao is the longest beach on the island. Blessed with endless white sands backed by lush jungle foliage, clear waters for exploring, and a lack of development on the beach itself makes this a beautiful spot for relaxing. Part of the beach is also protected in the Sirinath National Park.
However, Mai Khao is not known for its peace a quiet. A walk to the southern end of the beach will take you to the end of the runway of Phuket's international airport. Planes come in to land approximately every 15 minutes in high season and descend perilously close to the beach. Despite the deafening sound of the engines, holiday makers and aviation geeks alike flock to this part of the beach to snap selfies and close-up pictures as it's one of the few beaches in the world where this can be done.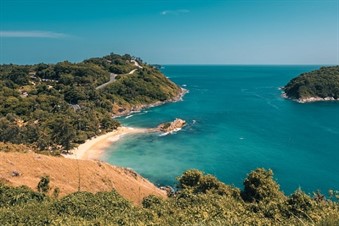 Ya Nui beach is tucked away in a small cove that's split in two by some distinctive rock formations and faces a large island - Koh Man - around 700m across the sea. The cove is to be found in the south between the two popular viewing points; Windmill Viewpoint and Prom Thep cape and is well known amongst tourists and locals, and can become crowded in high season.
There are a couple of restaurants as well as local vendors selling snacks, fruit, and souvenirs, and it is also possible to hire snorkelling equipment and kayaks. The nearby Yanui Bungalows accommodation has a restaurant and dive centre attached.
The beach is great for swimming, snorkelling, diving and kayaking, and if the conditions are right, taking a kayak out to Koh Man will provide even better snorkelling opportunities.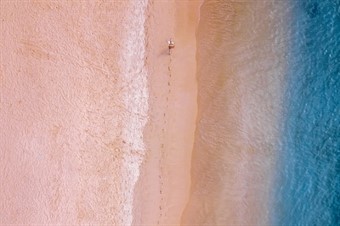 Nai Thon is often considered one of the best beaches on the island owing to its unspoilt nature and well hidden location. The wide soft sandy beach is lined with palms and is ideal for swimming in high season. The drive there goes through some of Phuket's last remaining virgin rainforest. Although it is located on the popular west coast, Nai Thon doesn't suffer with overcrowding like other nearby resorts.
There is one small restaurant to the south, and it's possible to hire sunbeds and parasols. Just behind the palms on Beach Road, there's a selection of cafés, restaurants and shops and it's also possible to organise scuba diving at one of the centres here.
Consider taking a longtail boat out to explore the nearby rocky coves.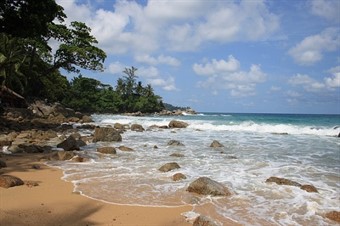 Just 4km from the busy resort and beach of Patong, Paradise Beach has become a miniature version, although it takes more effort to reach it as it's located at the foot of a steep hill. The beach, like the others on the west coast, is palm fringed, with white sands and clear water for swimming. There is a small entrance fee to access the beach, and once there, you will find many bars and restaurants, a dive school, amd plenty of sun/daybeds for hire.
Paradise Beach has become the prime location for Phuket's Full Moon Parties so don't expect too much peace and quiet; this is a revellers paradise.
Useful information for your Phuket holiday
Useful Information for your Thailand holiday
Phuket Accommodation Inspiration