Dining at InterContinental Phuket Resort
Sensational dining experiences in sensational settings
Embark on a culinary journey inspired by the tastes and textures of Thailand and cuisines from around the world. Exquisite dishes, served in breath-taking seaside settings.
Jaras
- Modern Thai Cuisine - Open daily from 18:00-22:00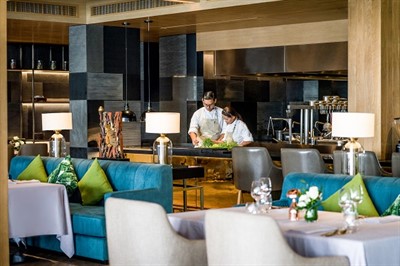 Sitting amongst the pine trees overlooking the spectacular view of Kamala Beach, Jaras is a sophisticated contemporary restaurant that combines authentic flavours and progressive presentation throughout the dining experience.
A dining concept that integrates local flavours with the long-standing European traditions, such as enjoying a welcome pre-dinner drink and canapé. Included in the dining experience, the elements allow you to immerse yourself in the design and concept of Li Thai era, just as if you were being transported back to the Tribhum Bhuddhist Novel.
The tasting menu is designed to take you on a gastronomic journey crafted on the tales and techniques of Chef de Cuisine 'Banke'. Combining Thai flavours with modern presentation, he draws inspirations from his Thai roots, Michelin Star culinary experiences and the finest sustainable ingredients from local farmers and fishermen.
Jaras's Chef de Cuisine - Mr. Chatchawan Varahajeerakul a.k.a. Chef Bank - has been instrumental in bringing to life the concept of Jaras. His experiences taught that attention to culinary detail is critical and that sourcing the best ingredients to create the true flavours of Thai food is a must.
Pinto
- All day dining - Open daily from 06:30-10:30, 12:00-17:00 & 18:00-22:00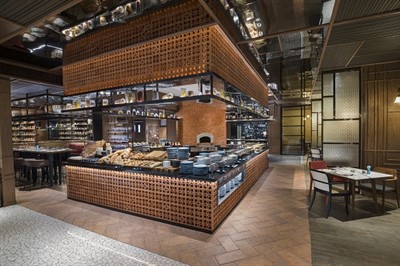 Drawing inspiration from Old Town Phuket's vibrant shophouse history, Pinto restaurant is a marketplace-inspired dining venue. From lavish buffet breakfasts to freshly prepared lunches and dinners, Pinto offers exquisite dining throughout the day. Explore the tastes and textures of Thailand and the cuisines of the world as east meets west in contemporary elegance.
International breakfasts are complemented with local touches and premium coffee and tea, brewed to perfection. The lunch and dinner menus are brought to life by the freshest seafood, succulent meats and vegetables and herbs grown in the resort's own gardens. Open kitchens, teppan grill and table-side preparations ensure an abundance of culinary theatrics, while specially prepared sharing menus celebrate the rustic warmth of the traditional Thai dining experience.
Artfully blending new and old, Pinto combines contemporary elegance with the warmth and goodness of a home-cooked meal. Lunches and dinner menus are enhanced by a selection of Thai, international and craft beers, quality wines and refreshing cocktails. Meanwhile the lunch beverage menu focuses on crisp whites, rosés and signature Champagne, while the evening selection expands to include reds, bold whites and Prosecco. Artisanal soft drinks, fresh juices, homemade sodas and an array of coffees and teas, from northern Thailand and abroad, are also on offer throughout the day.
Pine
- Beach Bar - Open daily from 11:00-23:00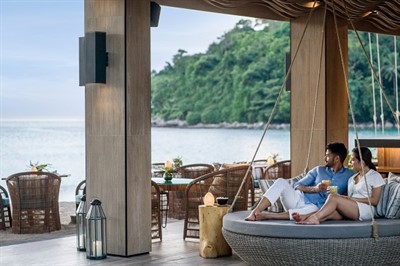 Feel the sand between your toes. Drink in dazzling sunset views. Sip on specially crafted cocktails and savour delectable bites at Pine, Phuket's most vibrant breezy beachside bar and lounge.
Located right on Kamala Beach, this sophisticated and chic venue is perfect for lazy days in the sun or a quick poolside snack. Start the day right with healthy breakfast bowls, smoothies, cold-pressed juices and specially crafted coffees. Choose from crisp salads, hand-made pizzas and burgers for a lazy lunch with friends or sample freshly cooked Thai dishes and snacks any time of day as you take in delightful sea views.
After the sun sets Pine transforms into Kamala Beach's most desirable nightlife venue. Kick back on a comfy sofa as chilled beats, sea breezes and cool drinks carry you late into the night. Watch a master mixologist at work, try an artisan G&T or sip on a refreshing craft cider. This is the perfect venue to toast another heavenly evening in Phuket.
The beach bar also hosts a Sunday Brunch every week between the hours of 11:30 & 14:30. Brunch in style while savouring the free flow of local beer, wine, and bubbles. Enjoy a gourmet selection of freshly prepared dishes, listen to tunes and let the kids enjoy the beach and activities on offer.
Sawan
- Cafe - Open daily from 10:00-18:00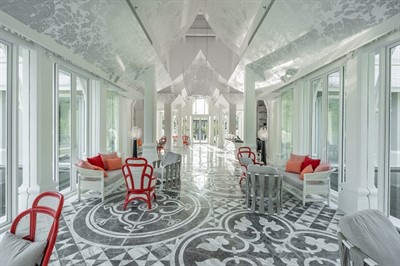 Bask in exquisite views and sink into a haven of comfort and calm. Sawan - the Thai for 'heavenly' - is the resort's exquisite and not to be missed photo spot appointed lounge, set in the hillside overlooking the resort.
Devas' Lounge
- Sweet treats - Open daily from 09:00-18:00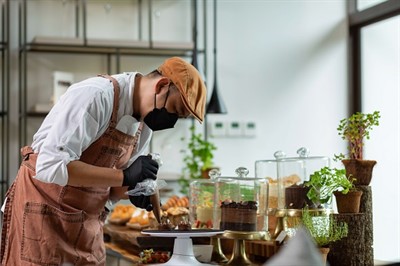 Experience a dining venue with a distinct difference. From its sumptuous décor to its lavish ambience, Devas Lounge is a luxurious and impressive venue. Whether dining in the morning, afternoon or evening, all guests' experiences will be enjoyed with a view of the tranquil resort gardens and nearby verdant hillside.
Devas' Lounge offers guests a selection of sweet treats and hot and cold drinks, ranging from cakes and pastries, tea and coffee to afternoon tea and glasses of sparkling wine.
In-Room Dining
- Room Service - Available 24hrs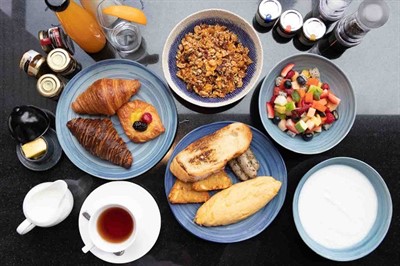 The resort's extensive in-room dining menu covers a wide range of dishes to suit all tastes and appetites. Freshly prepared, expertly cooked, beautifully presented and delivered in good time, in-room dining has never felt so appetising.
Click here to view a sample room service menu