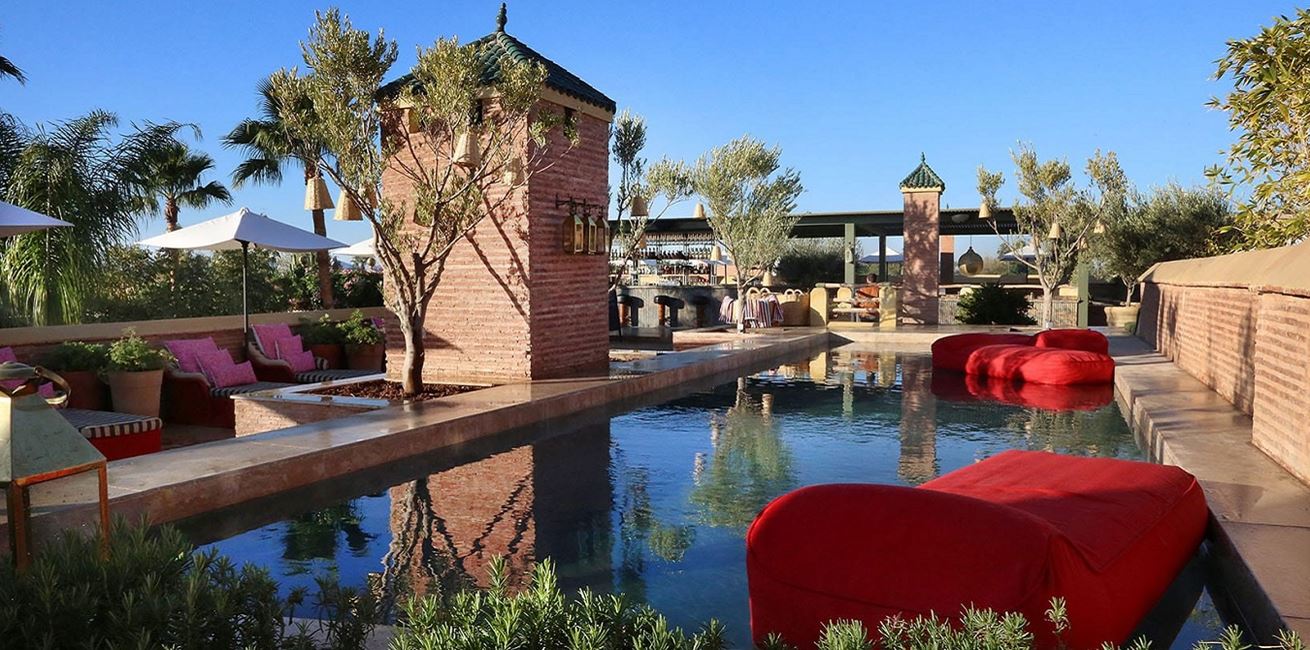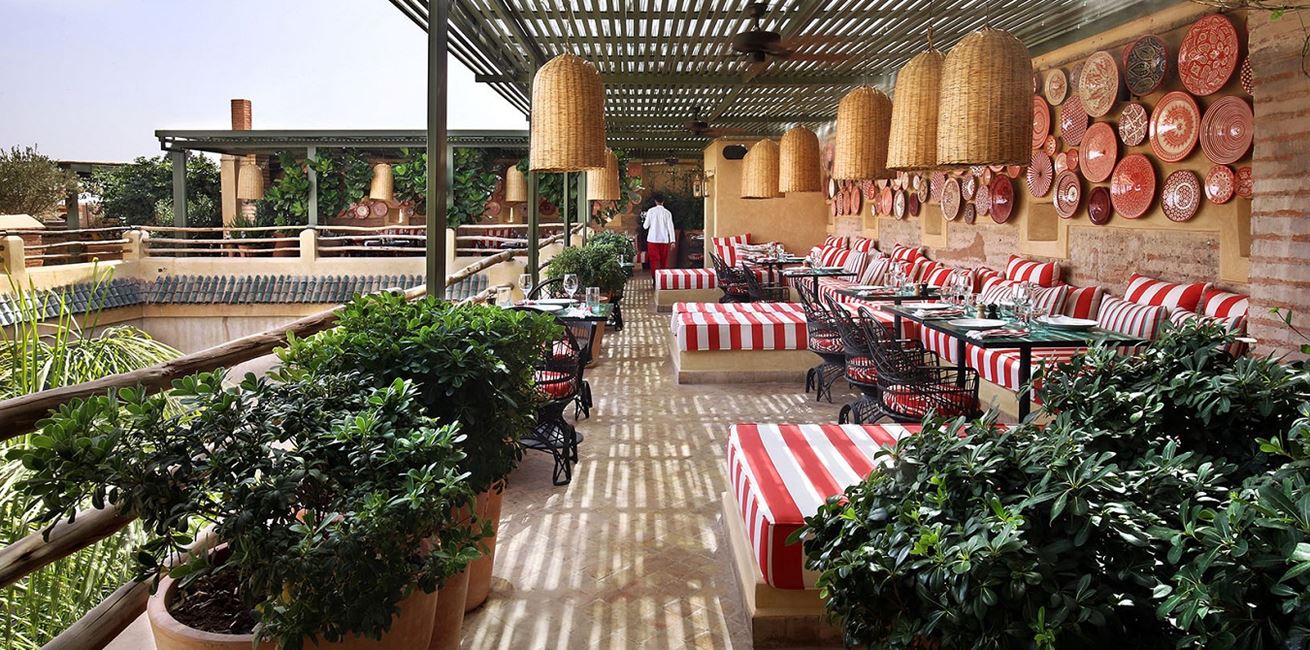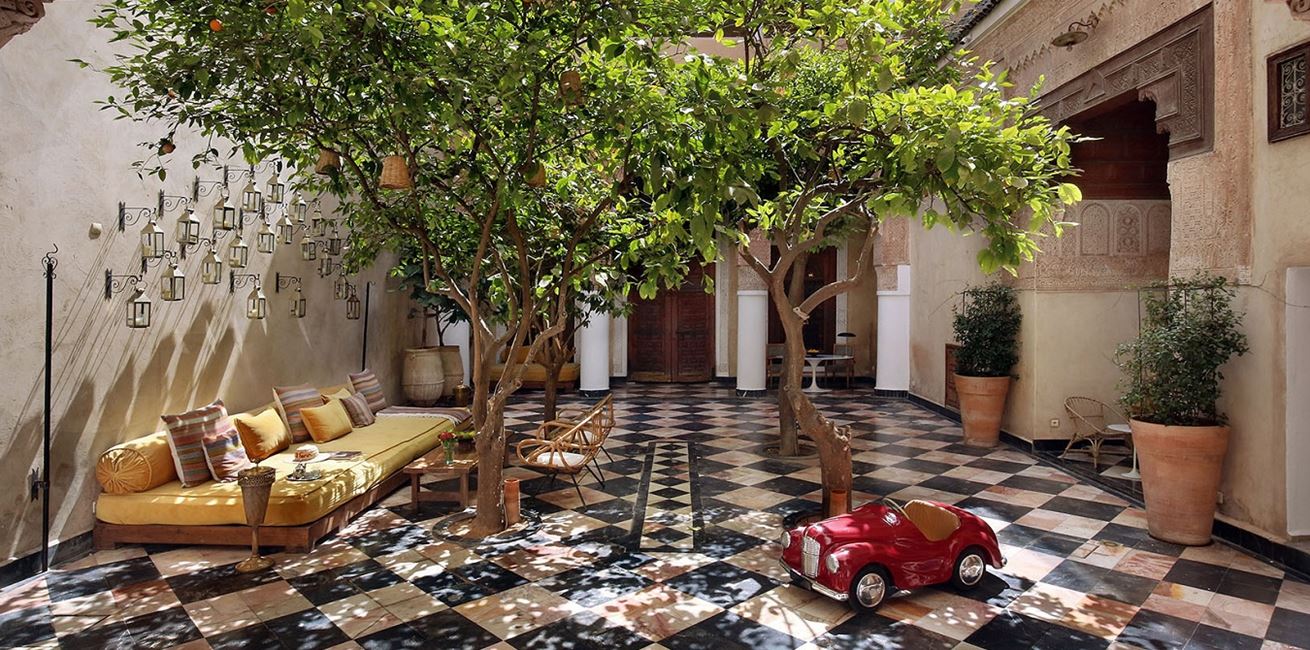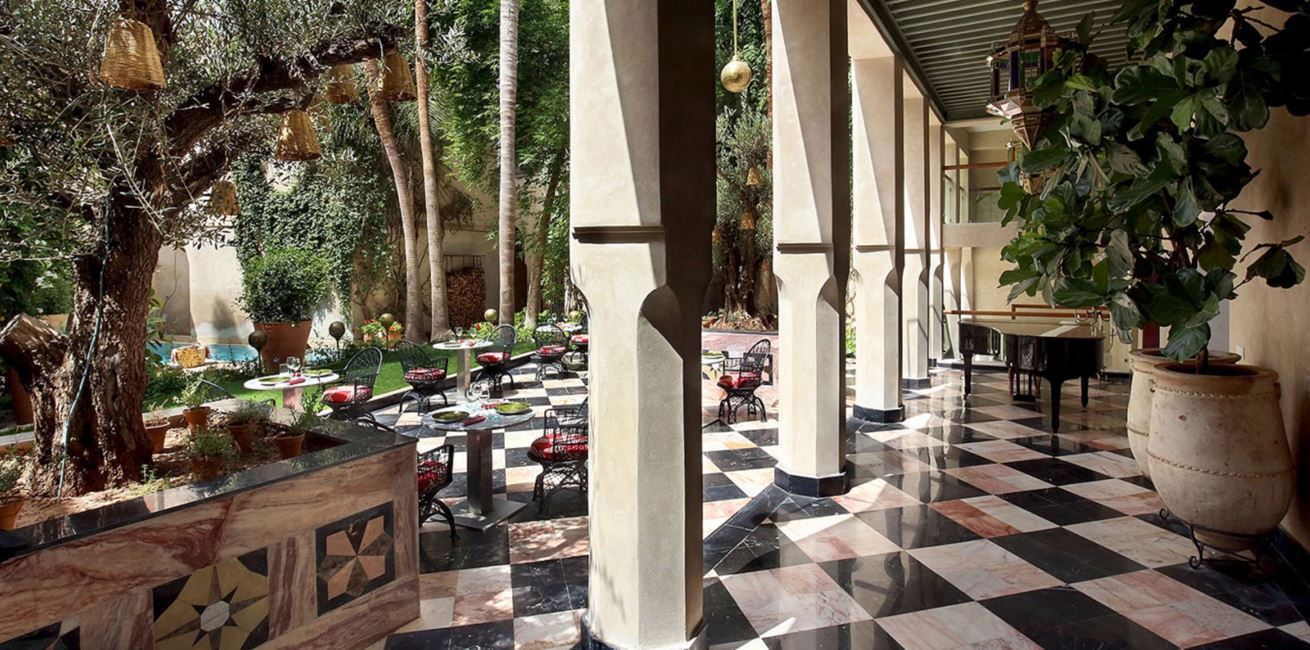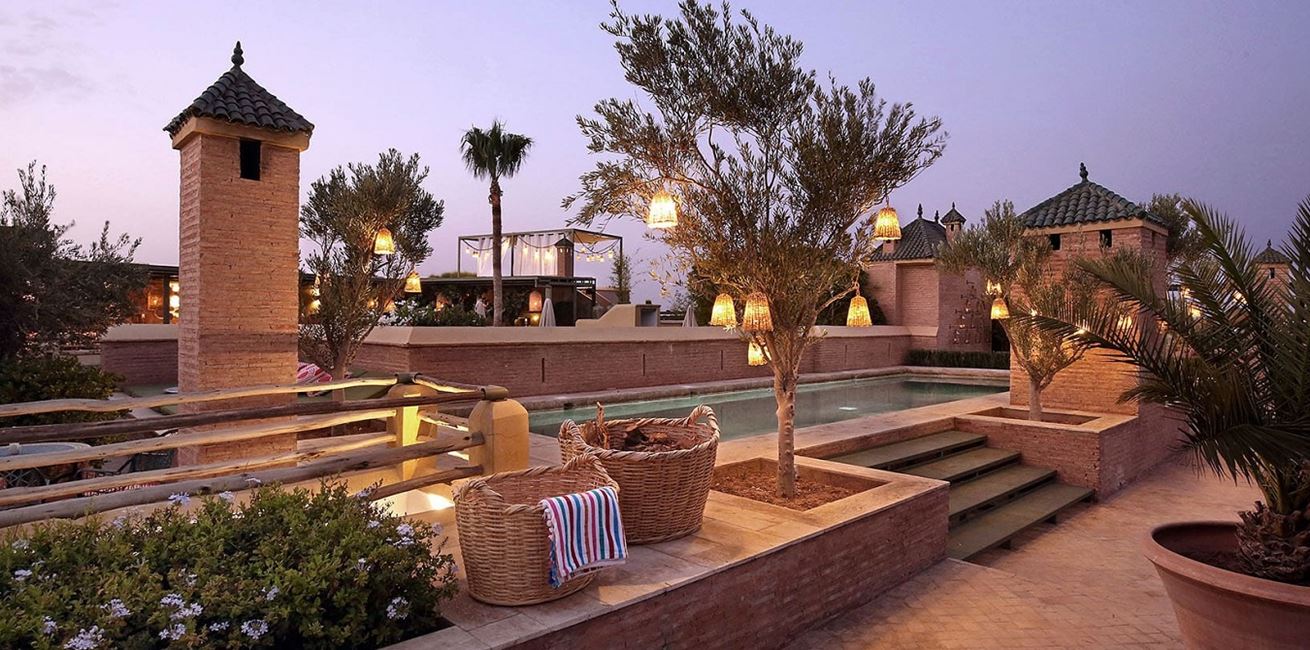 El Fenn, Marrakech
"Luxury with authenticity"
With 31 individually styled rooms and suites, three swimming pools, a 13000 square foot roof terrace, a spa, 2 cocktail bars and shop - plus a family of resident tortoises - El Fenn is the perfect boutique hotel from which to discover the beauty of Marrakech.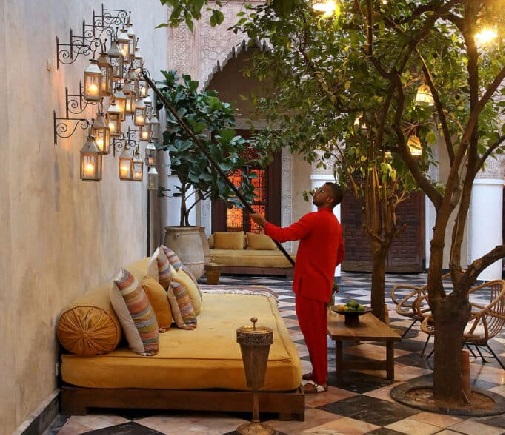 El Fenn is all about a home from home experience and it springs from the fact that the two original owners didn't plan on opening a hotel at all. In 2002, Howell James and Vanessa Branson were hunting for a holiday house in Marrakech. At the end of a long day, the close friends walked into what was then a near derelict riad. By the time they left an hour later, they were on the way to owning not just one Marrakech home - but several. Unknown to them, the main building (today centred on the courtyard that houses our reception) was being sold with a string of smaller properties - some with only one or two rooms. It was only when Howell, a former permanent secretary in the Cabinet Office who has also held senior positions at the BBC and Christie's, and Vanessa - an art collector, gallerist and patron - signed the sale papers that they realised just how much house they were getting. They took a leap of faith and decided to open a small guesthouse.
Vanessa and Howell's original vision was to use the large scale rooms as a backdrop for strong colours, the abundant artisan skills found in Morocco, deep baths, powerful showers, handmade beds, luxury linen, and delicious, simple food. Mixed in would be serious contemporary art and striking mid-century modern furniture. El Fenn opened its doors in 2004 with six bedrooms, soon gained a cult following and expanded into neighbouring properties.
The next phase of El Fenn's life came in 2011 with the start of a two-year a refurbishment that built on the original look and feel. In 2020, El Fenn also expanded into neighbouring properties with the addition of rooms, a new roof top pool and ground floor bar & private dining room. The hotel's drama and decorative abundance has earned it a reputation as one of Marrakech's most beautiful hotels - with Architectural Digest calling it 'Instagram gold' - and today we employ ninety staff and stretch over a site occupying an entire acre of the medina. It's a constant process because nothing stays the same for too long at El Fenn. Paintings, colours, fabrics, furniture and spaces are constantly being repositioned, reinvigorated or reinvented so that each time you come back, you'll find something new.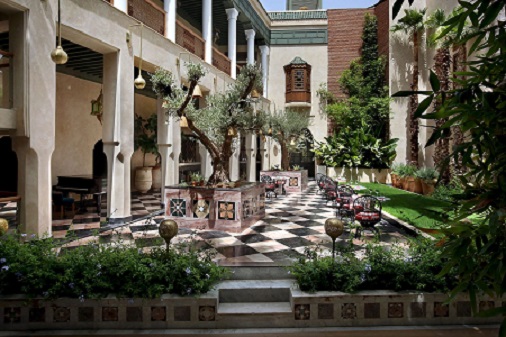 In 2018, El Fenn's newest partners joined the team and a new era began. Painter turned designer Madeline Weinrib ran her eponymous textile brand for more than 20 years blending the beauty of traditional crafts with her own unique aesthetic. She worked with artisans across the world: block printers in India, weavers in Uzbekistan and rug makers in Morocco. You can now find Madeline's rugs in the Cristina Grajales gallery in New York.
Now, in addition to creating truly bespoke pieces for private clients in New York, Madeline is bringing her eye, aesthetic and experience to El Fenn. She's joined by her husband Graham Head, president and vice chairman of the iconic New York store abc carpet and home, who has spent the last 30 years scouring the world for rugs and textiles that have changed the home furnishing world.
Our Ethos:

Authenticity, community and sustainability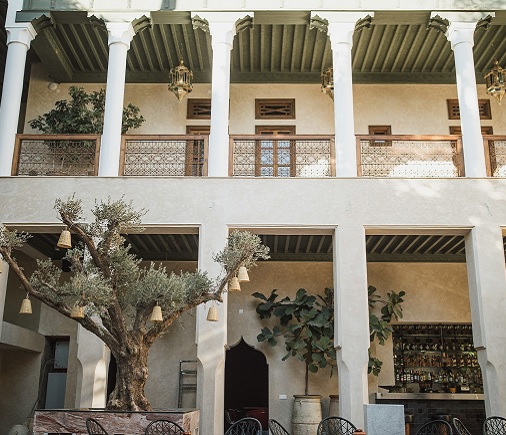 We don't claim to be perfect but we do aim to put these three values at the core of what we do by celebrating the beauty of Moroccan heritage and culture, acting responsibly within our local community and constantly evolving the way we work to minimise our environmental footprint. It's important to us. And we know it's important to you too.
El Fenn was founded on the belief that luxury can also be relaxed and authentic. Our team is local, our artisans come from the souks and our food from nearby. We're part of a community and we want to share that with all our guests. We also aim to be as sustainable as possible so we don't fly in food and we stopped using plastic bottles four years ago.
Authenticity is the heartbeat of our hotel. Brick by brick, person by person, we honour the ancient traditions of Marrakech: whether that's artisanal cedar wood and tadelakt lime plaster in our bedrooms, or food that draws on the rich traditions of Moroccan food. What we hope is that by honouring the key elements of traditional life here, our guests can experience it with us through sight, smell, taste and touch.
Community However beautiful a hotel, however seamless, it's the people that make it feel like a home. And for many of our guests, it's the warmth, generosity and hospitality of the El Fenn team that's the highlight of their stay. Our staff of 90 is drawn from the local area and we're proud that many of them have been with us for years. Just like a family, we work, eat, celebrate and support each other.
Sustainability Minimising our environmental impact in a country that faces challenges such as water scarcity is vital and we aim to operate as sustainably as possible. Four years ago, for instance, we installed a water filtration system that enabled us to eliminate single use plastic bottles and replace them with reusable glass. Our bathroom products are made of local, natural ingredients and provided in large refillable containers. Our kitchen works seasonally and thoughtfully to minimise food wastage. We launder your laundry on request rather than refresh it automatically every day.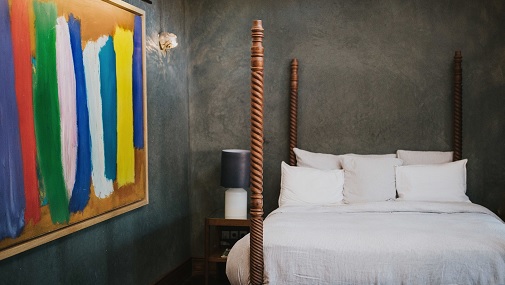 The Art Art and culture are a key thread in the fabric of life at El Fenn. Our co-owner Vannessa Branson brought pieces from her own private art collection to hang in the hotel when it opened in 2004 and today works by contemporary artists including Fred Pollock & Antony Gormley hang throughout El Fenn in bedrooms & public spaces. Elsewhere you'll see photography, sculpture and painting as part of the rolling exhibitions we host several times a year. We were also the hub for the Marrakech Biennale during its six editions and continue to champion the vibrant community of Moroccan visual artists.
Interiors We don't do bland beige here at El Fenn. To really experience Marrakech is to be immersed in its colour, vibrancy and artisanal heritage and our interiors reflect this. Think saturated colours, hand-crafted details and bedrooms filled with art & pieces of classic mid-century design. There's something to see everywhere you look and we hope you leave feeling refreshed - and hopefully a little inspired.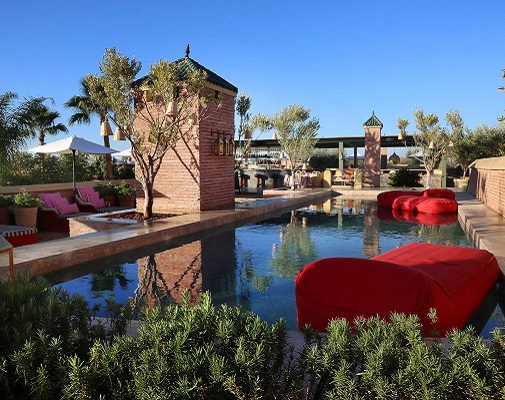 Take time to relax and restore
We're one of the few hotels in the medina with a swimming pool - even better, we've got three. Soak up the sunshine beside our roof top pool which is set against the stunning backdrop of the Koutoubia mosque and rooftops of Marrakech, take a dip in the plunge pool or head downstairs to our lap and spa pools which are lined with carrara marble.
Sundrenched terraces and refreshing waters
We get more than 300 days of sunshine on average here in Marrakech so there's plenty of time to enjoy our pools and terraces. Have a cocktail or bar snack as you lounge on day beds beside our 13m roof top pool and soak in sunshine - as well as the stunning backdrop of the Atlas Mountains. For little ones, there's also a 70cm deep plunge pool for them to enjoy. On the ground floor, our 12m lap pool is surrounded by jungle-like foliage and a pétanque lawn. There's also our 8m spa pool which is heated all year round. Our swimming pools are for the use of hotel guests only and open all year round.
Recharge and revive at the El Fenn Spa
Traditional beauty rituals are given a luxurious twist in the El Fenn spa. Relax in our hammam - or hot room - before having a body scrub or head to one of our candlelit treatment rooms for a facial or massage. Our spa products contain natural ingredients ranging from the essences of rose, amber, jasmine and verveine to ghassoul clay and Argan oil - the super oil produced in Morocco.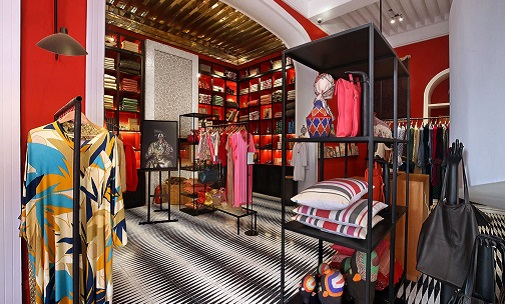 There's a new energy in Marrakech that's all about fusing traditional artisanal techniques with a modern aesthetic. We've brought the best of both together with an emphasis on fashion and interiors. In store, you'll find rugs, cushions, throws and ceramics as well as contemporary and vintage fashion, jewellery and books about style and design. We also stock international designers whose products have their heart in artisanal techniques.
If you like our style then we've curated some of our in-house products as well as all the best work by young, local designers who use age-old artisanal techniques to create fresh & modern pieces. Take a taxi to our front door & shop the El Fenn look before heading off into the souk.