Kalkan Apartments
A collection of Kalkan holiday apartments in premium locations
The Turquoise Collection are delighted to introduce our collection of apartment accommodation in Kalkan's premium locations. Whether you want to be in the heart of the old town within 3 minutes walk of the beach, harbour and restaurants, at the beautiful LaVanta resort, or our "pool" apartments at Elvina, our apartment accommodation offers high standards of holiday accommodation and excellent value.
Extensive and detailed pre-departure information, along with our hosts in resort, and guides in our apartments, inform our guests about the practicalities of an apartment holiday, and the many interesting ways to spend your time. Several good supermarkets in Kalkan, a Thursday market offering an array of fresh ingredients, and an excellent local butcher make self catering a popular option, but dining in Kalkan's historic old town is hard to resist. With over 150 restaurants, offering a range of excellent cuisine and service at some very atmospheric roof terrace and harbour front establishments, an apartment holiday gives you the option to choose.
A range of concierge services are also available to our apartment guests, from dining reservations, private yacht charter, to car hire and transfers. Whatever your heart desires on a Turquoise Collection apartment holiday, we will do our very best to provide it.
We invite you to explore your perfect Kalkan holiday apartment, visit our travel guides section to discover more about the area, and look forward to welcoming you as our guests in Kalkan.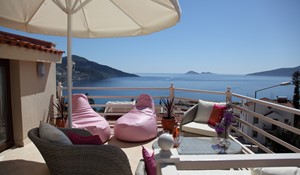 Enjoying a premium location in Kalkan's historic and beautiful old town; the beach, harbour and restaurants, for which Kalkan is justifiably famous, are just 3 or 4 minutes walk away. The Turquoise Collection offer the widest selection of apartment accommodation alongside its old town villas in this highly sought after location. Penthouses with expansive roof terraces and 3 bedrooms to smaller 2 bedroom properties that offer sea views, swimming pools, wireless internet, air-conditioning and furnished pool and dining terraces.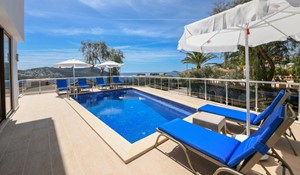 Cool. contemporary and spacious, the four 2 and 3 bedroom Iskele apartments all have their own pools and offer villa like accommodation in an excellent location close to Kalkan's old town, beach and harbour. The properties have large sea view terraces and balconies and plenty of space for parties of up to 6 guests.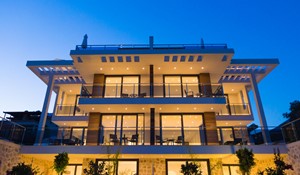 The Mavi Su Apartments are contemporary duplex apartments with 2 or 3 spacious bedrooms, incredible sea views and each apartment has its own pivate pool. Located in a highly sought-after location, within 5 minutes easy access of the Old Town. Furnished to a high standard, the 2 bedroom apartment sleeps up to 4 guests and the 3 bedroom apartments sleep 6 guests.
Please note: We are unable to accept children under 12 years old at some of the Mavi Su Apartments, please ask for details.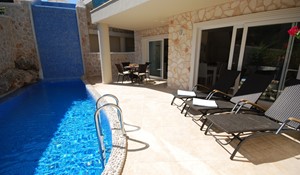 The Asfiya Retreat is a stunning development of 2 and 3 bedroom apartments, completed by one of Kalkan's foremost developers, the Aykan Group. Asfiya Retreat is located just off the Kalamar Road, and is just a 10 minute walk from Kalkan's Old Town. We offer 5 of these beautiful apartments, so they are a great option for groups travelling together but looking for their own space.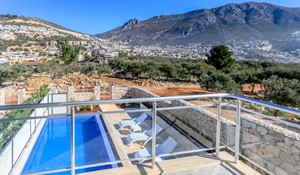 Kalamar Bay offers a quiet location with beautiful sea views, easy access to Beach Clubs and is walking distance from amenities. Our villas in this area are in a great position overlooking the beautiful bay of Kalamar with views to Snake and Mouse Islands and just 20-25 minutes walk to Kalkan centre.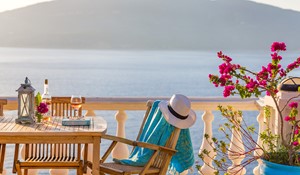 Kisla is around 20 minute's walk East from the centre, just past Komurluk. Kisla is in an excellent position to enjoy the spectacular vista of the sun setting behind the mountains. The harbour views are breathtaking, especially at dusk when the old town lights start to illuminate the mountainside. There are several beach clubs close by which offer free shuttle boats to the harbour during the day.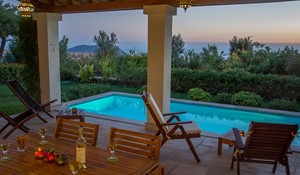 LaVanta offers a 5 star holiday experience with easy access to the buzz of Kalkan's night-life, which is just 3-4 minutes away by car. With a range of apartment accommodation and town houses alongside LaVanta villas, there is a good choice of holiday apartment accommodation with either one or two bedrooms. Lavanta offers a cocktail bar, restaurant, central clubhouse with pool table, darts and table tennis and a large 25m communal pool with views over the Mediterranean.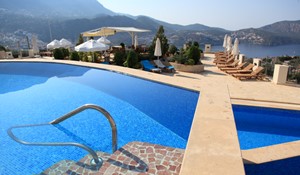 This is a wonderful setting where you can relax in beautiful surroundings, enjoy some of Kalkan's best views, and all within 12-15 minutes walk of central Kalkan. The Elvina apartments offer an unrivalled combination of private and public spaces making this development an ideal holiday solution for couples and families alike. Each apartment has 2 bedrooms and sleeps 4-6 guests.
Useful information for your Kalkan holiday