FAQs
Frequently asked questions about Kalkan
1) Where is Kalkan situated?
Kalkan is located on the Southern Mediterranean coast, known as the Turquoise or Lycian coast. Kalkan is 87km to the west of Fethiye and 27km to the east of Kas.
2) What is the nearest airport?
Dalaman (also known as Mugla Airport) is the nearest airport and is only around 1 hour 30 minutes' drive from Kalkan. You can also fly into Antalya, however, the drive is around 3 hours.
Dalaman has a new international terminal completed mid 2018 meaning the airport altogether will have the capacity to deal with 15 million passengers every year.
If you have a connecting flight via Istanbul, you would fly into the domestic terminal at Dalaman. Non-stop flights from the UK will fly into the international terminal.
There is a restriction on liquids contained in hand luggage, just as there is departing UK airports.
Find out more about flights to Dalaman.
3) What is the nightlife like in Kalkan?
Kalkan's Old Town comes alive at night with the buzz of many cafes, restaurants and bars. There are no nightclubs as such but there are a number of bars in the Old Town and on the Harbour front which usually stay open until the last customer of the evening leaves. The music bars are small and intimate, playing a wide mix of music to cater for all tastes and ages and some have small dance floors. Because of Kalkan's strict code, a large amount of noise from the bars is avoided.
A Turkish night is held at many of the hotels in Kalkan. This is a fantastic evening with excellent food such as a buffet with a selection of freshly barbecued meats, mezes, desserts and fresh fruit, as well as entertainment with traditional Turkish dancers performing their regional dances in full costume.
4) What are the restaurants like in Kalkan?
Kalkan is said to have the highest number of restaurants and bars per square metre on the Turkish coast. Kalkan is particularly renowned for roof top dining, with many restaurants and cafes having large roof terraces where you can enjoy your meal while watching the sunset. You will feel spoilt for choice in Kalkan. It may be worth trying; Aubergine; A unique dining experience in the heart of Kalkan directly on the harbour front. Aubergine offers a large variety of freshly caught fish and seafood, meat, poultry and vegetable dishes, all made using only the finest quality of local produce. Belgins Kitchen; Seating is provided in the form of cushions strewn on the floor and low tables, adding to a relaxed atmosphere. The menu is traditionally Turkish dishes, cooked with fresh ingredients. Korsan Restaurant; Located next to the harbour, on the beach front, Korsan's offer the most amazing views from the rooftop terrace.
5) Would you recommend hiring a car in Kalkan?
There are many places of interest situated around Kalkan. Hiring a car can open up a different experience and help you make the most of Kalkan. However, it is not always essential to hire a car as there are plenty of things to explore which are walking distance, depending on where you stay, and there is public transport available. The speed limit in Kalkan is 50km (30 miles) per hour in built up areas and rises to 90km (56 miles) per hour on motorways and open roads. If you are unfortunate enough to have an accident or your car is damaged in any way, it is necessary to call the Police to the scene before moving the vehicle as the insurance is void without a Police report. You must also contact our local car rental partner immediately and take a photograph (if possible) before doing anything else. You will need to carry your passport and drivers licence along with the vehicle documentation and licence (normally found in the glove compartment or driver's sun visor). The Jandarma (traffic police) stop cars as a matter of routine and if you are stopped, you will be expected to produce this documentation. Child Seats are usually available by request for babies and young children at no extra charge. It would be a good idea to specify the ages of any children so that we can provide a suitable seat for your child. Please be aware that the child seats and booster seats provided may not meet UK/EU requirements.
6) How efficient is public transport in Kalkan?
The local Dolmus (shared minibus) is the most cost-effective way of getting around Kalkan and the surrounding areas. They will take you to places such as Kas, Patara, Kaputas beach and Xanthos. The main bus stop is about 10 minutes from the centre of Kalkan, past the market on the right-hand side. Taxis are also widely available and run from early morning until late evening in peak season. Taxis can be ordered by taking a business card from taxi drivers or from the taxi rank which is situated on the main roundabout at the top of the main street.
7) What is the cheapest way to call someone in the UK?
The easiest way to call back to the UK whilst in Kalkan is by using the mobile app 'Whatsapp'. By connecting to a Wi-fi connection which is normally supplied in your rental accommodation, you can call for free for as long as you require. The other option is by using a phone card. Phone cards can be purchased at the post office located at the top of the main street in Kalkan. The post office's normal opening hours are 09:00 to 18:30 (closed between 12:30 - 13:30 for lunch) however, the times are extended during August from 09:00 - 12.00(pm). You are able to use the public telephones at the post office, which are in air-conditioned rooms, at the same rate as a standard telephone box. The call boxes require a card that is made up of units of 30, 60 or 100. To call the UK, dial 00 44 omit the 0 for the standard code, and continue with the rest of the code and number. The best rates are usually for calls made between 22:00 and 08:00 or all-day Sunday (there is a 25% discount on normal rates during this time). Public telephones have three buttons on the right-hand side, the bottom one changes the instructions into other languages.
8) Are mosquitoes a problem in Kalkan?
Mosquitos shouldn't be too much of a problem in Kalkan as the council has started periodic spraying, which has reduced the number considerably. "Sinkov" and "OFF" are the two widely available makes of mosquito sprays and plug-ins in Kalkan.
9) What healthcare is available locally?
Healthcare is not covered under the EU, so private health cover is necessary. Kalkan has a number of private doctors, and the nearest hospital is in Fethiye.
Doctor:
Dr Niyazi - +90 532 261 5600. Dr Niyazi is English speaking and available around the clock, 7 days a week. A consultancy fee will apply if you need him to visit you at your accommodation.
Health Centre: Tuana Medical Centre (close to Tesko in Kalkan), Kalamar Yolu, Kalkan.
Kalkan Medical Centre, Kalamar Road: +90 242 844 1000. With 2 English speaking doctors.
Pharmacy: There are 3 pharmacies in Kalkan, the Turkish name for pharmacies is ECZANE. There is usually a large red 'E' signposted outside.
Opening Hours are normally; 09:00 - 19:30
10) Are there beach clubs in Kalkan?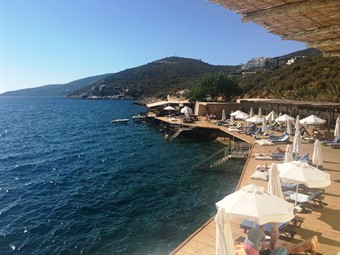 Yes, there are 13 beach clubs within close proximity to the harbour, and they can be reached on foot, by taxi or by boat. All beach clubs have access to the sea, normally with platforms that have steps into the water. Most offer water sports and you can even go scuba diving.
11) What are the beaches like in Kalkan?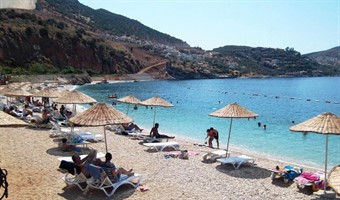 Kalkan's beach is a man-made pebble beach, next to the harbour which has a blue flag award for cleanliness. The calm waters are great for swimming. Most of our properties are within walking distance of Kalkan beach. There is also Patara beach and Kaputas beach which are within a 10-20 minute drive from Kalkan. Patara is one of the longest beaches in the Mediterranean; around 11 miles of sand. Kaputas is a long sand/shingle beach located between Kalkan and Kas at the foot of a mountain gorge. Read more here.
12) I like to be active on holiday, what can I do?
There are a range of tours on offer for you to explore the local sights, and watersports are available from the nearby beach clubs in Kalkan. If you are interested in trekking/walking, it is worth looking at the Lyican Way; rated as one of the top ten walks in the world.
You may also be interested in diving/scuba diving, and mountain biking. For more information, check out Getting Active on your Kalkan holiday.
13) I like to keep fit, is there a gym in Kalkan?
There is an air-conditioned gym in Kalkan and it is located near the Deniz bank in town.
Opening times:
Monday - Friday 08:30 - 20:00
Saturday 09:00 - 18:00
Sunday Closed
14) Do you arrange gulet trips?
We would be happy to arrange a gulet trip for you. We arrange private daytime or evening charters for you and your party and the price is set for up to 10 guests. It is a great way to explore the surrounding bays, and you can swim and snorkel. Find out more on our Gulet Charter page.
15) We are thinking of getting married in Kalkan, are you able to help us?
We would be happy to help you, just let us know when you are wanting to get married, what you are looking for, and we can put you in touch with the right people. Find out more here.
16) What is the currency in Turkey?
The currency is Turkish Lira (TL) and the exchange rate to British pounds is usually very good, making Turkey an affordable holiday destination. Find out more on our currency and cost page.
17) What is the climate like?
Kalkan enjoys typical Mediterranean weather with long, dry, hot summers and short, cool winters. If you are not keen on hot weather, we recommend traveling in May/early June or September/October, as the weather is cooler in the evenings and pleasantly warm during the daytime. Find out more on our climate page.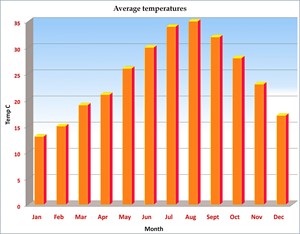 18) Do many of the Turkish people speak English or do I need to know some helpful phrases?
Many of the Turkish people in restaurants and shops will speak some English, though the locals do appreciate it when we go to the effort of learning a few Turkish words, such as please and thank you. Learn some Turkish words and phrases and find out more about the Turkish language here.
19) What tours are there on offer in Kalkan? Are there many places to visit?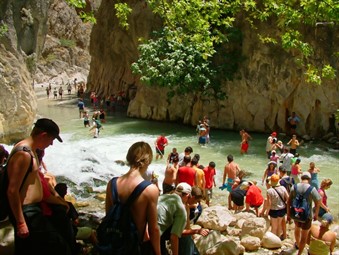 There are many places of interest that are worth a visit and many are within close proximity to Kalkan. Saklikent gorge is highly recommended and it just a 20-30 minute drive. Find out more about tours in Kalkan.
Useful information for your Kalkan holiday
Kalkan Accommodation Inspiration