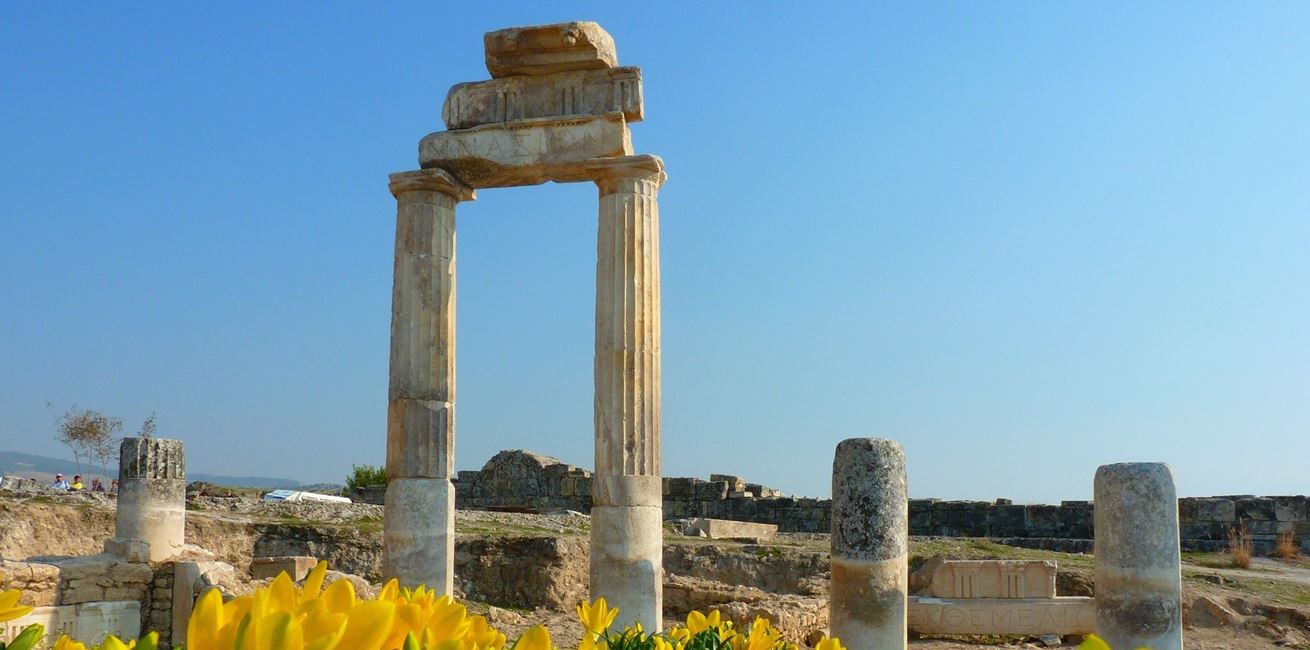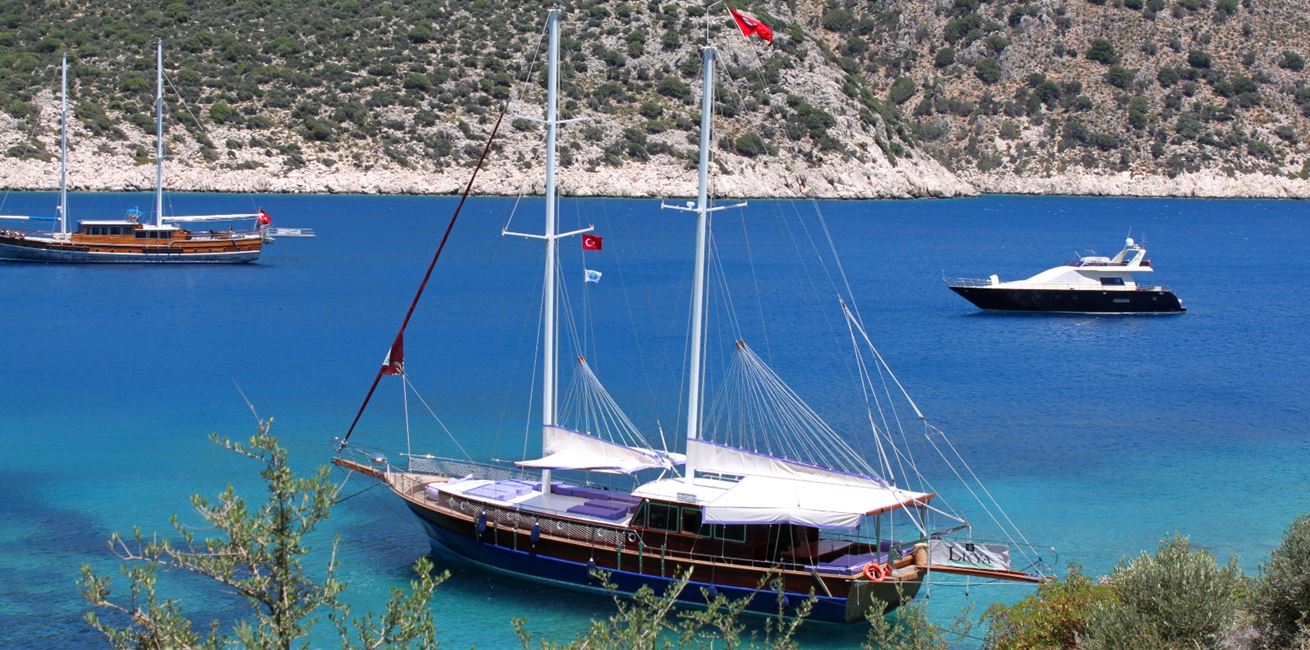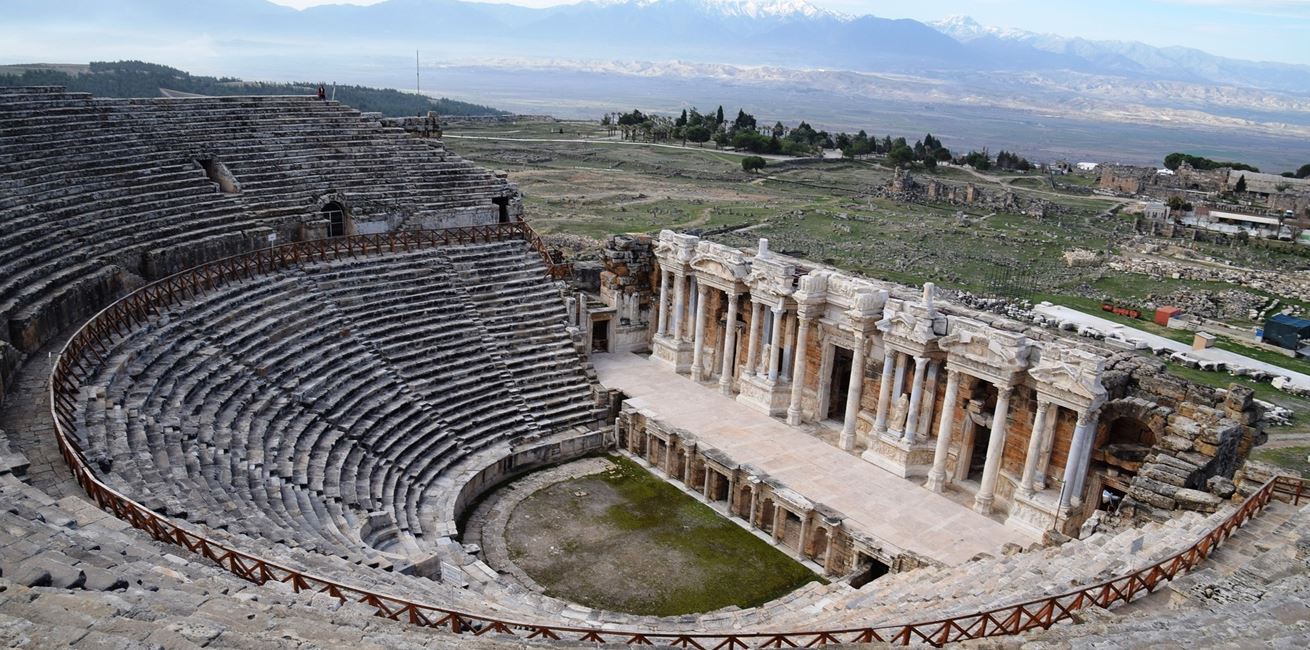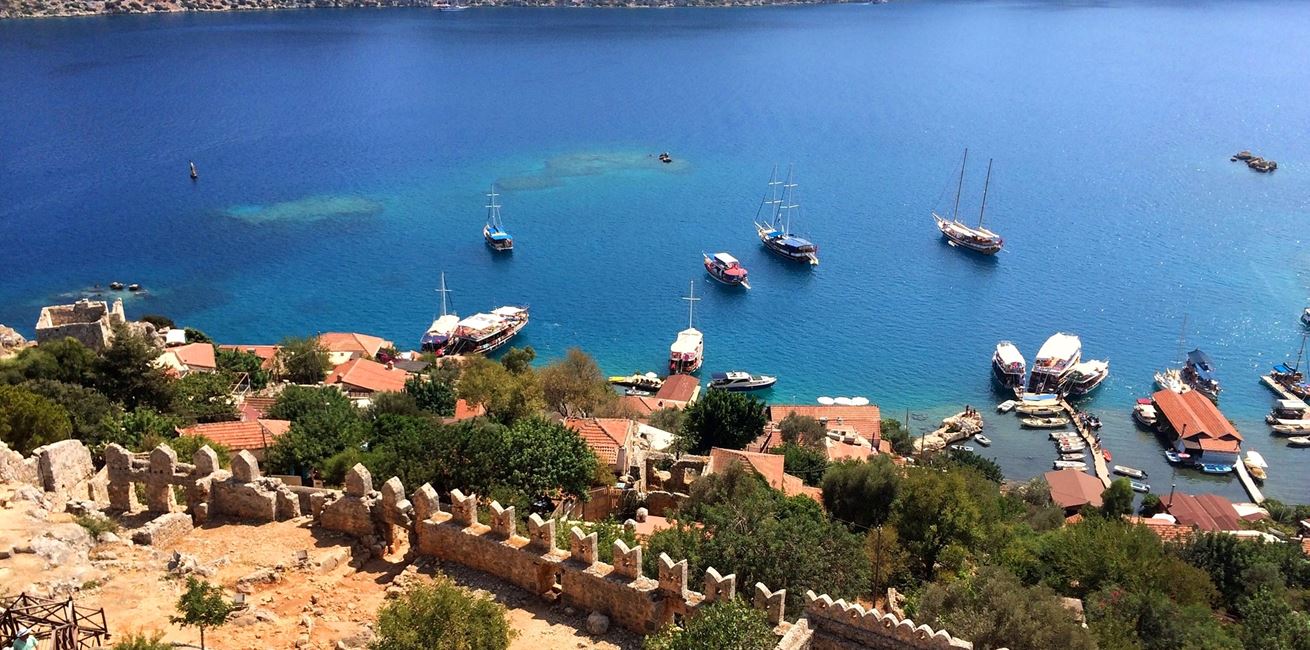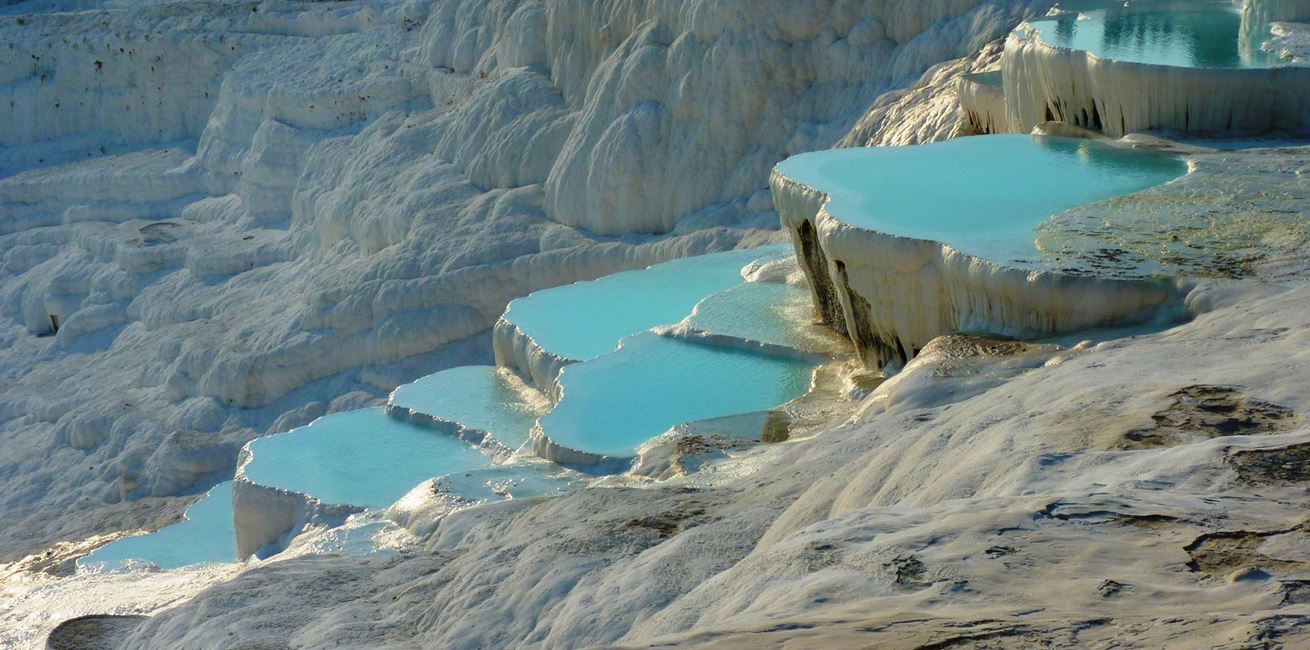 Day trips and Tours in the Kalkan area
Things to do in and around Kalkan
Kalkan is a great base for exploring Turkey as there are so many historical sites and cultural activities to experience nearby. There are many places within an hour's drive, and you can spend a whole day out with the family. Local tourism agencies offer daily trips, and our guest services rep, Umut, will also be able to help you arrange a day out in resort.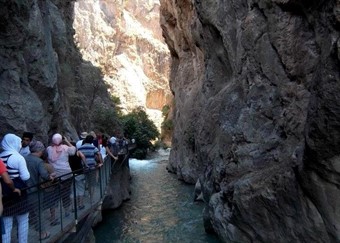 Saklikent, meaning "hidden city" in Turkish, is located 50km from Fethiye in the Mugla province. It is set in 1,643 hectares, is 18km long and 300m deep; one of the deepest canyons in the world. It was opened to the public as a national park in 1996 and it has proven popular since. There is a small entrance fee per person.
You can visit all year round, although you wouldn't be able to walk through the gorge between November and March as the water gets too high. From April onwards, 4km of the gorge is walkable. The water is cold and you have to cross a few metres of the main river to get to the main opening of the gorge.
A visit to Saklikent Gorge is normally packaged in a daily tour which also includes the historic site of Xanthos and Patara beach. Read more about a trip to Saklikent Gorge here.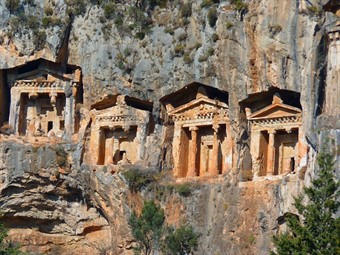 Tlos is an ancient hilltop citadel located around 4 kilometres Northwest of SaklikentGorge. Tlos is believed to be one of the most important religious Lycian cites, and settlement on the site is said to have begun more than 4,000 years ago. Ancient temple like tombs are carved into the hillside and you can still walk into them. You can walk to the very top of the hill, and the views from here are breath-taking, with 360 degree views over the Xanthos valley.
On the opposite side of the hill is an ancient amphitheatre, with seating for 2,500 people. The village of Yaka is not far from here, and a fresh trout farm known as the Yakapark, sees thousands of tourists each year. Tours to Tlos will normally include a trip to the Yakapark for lunch and drinks. Fresh. cold, water cascades throughout the site and fresh trout swim around the bar.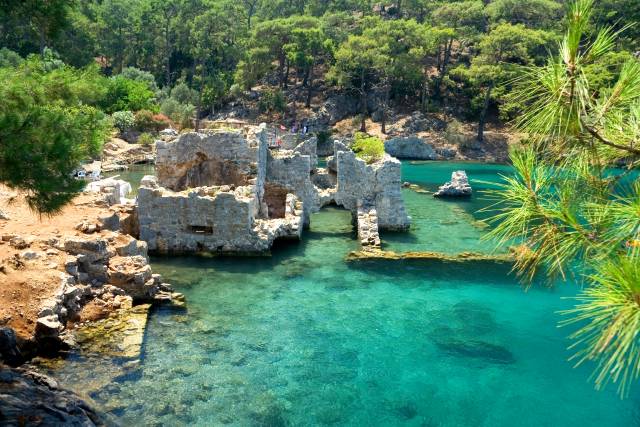 One of the most exciting boat trips is to visit the sunken city of Kekova. A terrible earthquake in the 2nd century AD caused a downward shift of land and submerged the ancient houses. You will travel by car to Kas and then take a boat to Kekova where you will witness the remains of the ancient city now underwater through glass bottom boats.
The day usually begins with a drive to Üçağız village to board the boat which will then stop for a swim at Tersane Bay.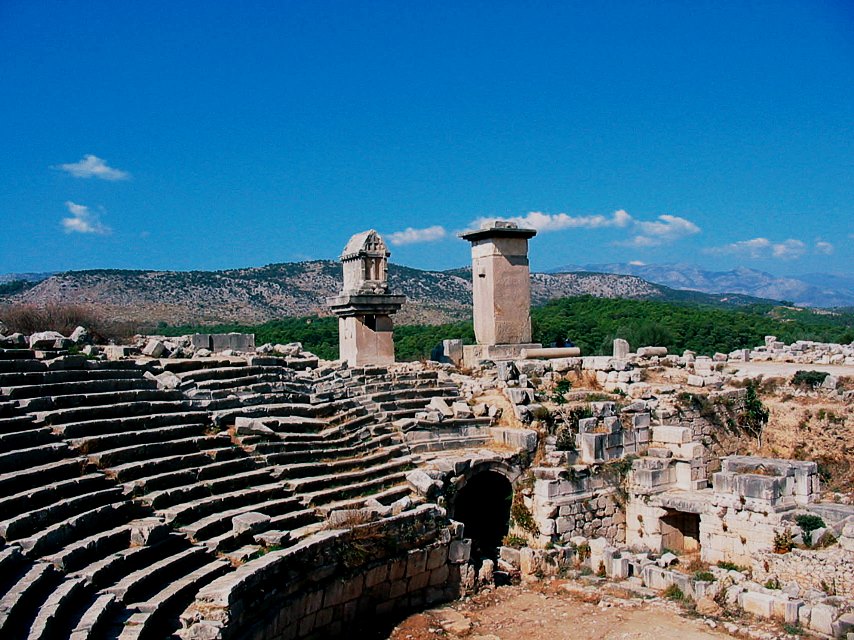 The capital of ancient Lycia, Xanthos stands in an elevated position in the Xanthos Valley. The Xanthos river flows close by and there are fantastic views of the valley amidst the Taurus mountains. Xanthos is listed with Unesco world heritage. You can visit ancient tombs, an amphitheatre, a Roman arch, a fortress at the top of the acropolis and a Byzantine church with original mosaic flooring. If you like to experience a bit of history, it is a beautiful site to see.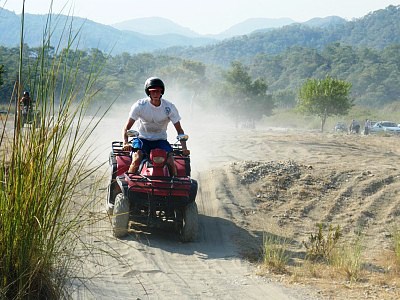 Your quad biking excursion will start from the small village in Patara. You will drive through the village and up to the sand dunes where you can admire the views of the whole 18km stretch of Patara beach. You will then continue through various forests and pathways of Patara national park towards the far end of Patara beach. Following the river, you will have the opportunity to see the local wildlife, including birds and turtles. When you reach the far end of the beach, you can drive your quad bikes on the sand and enjoy a short break. You will then return following the river. Typically, you will leave for 9:30 and return for 15:30. You can also take a shorter trip which is around 2.5 hours, where you will go to Patara beach. Please note: the quad biking is unsuitable for children under 12 yrs.
The Greek island of Meis (Kastellorizo);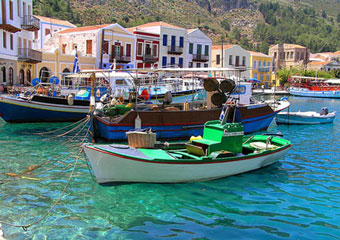 The Greek Island of Castellorizo (known as Meis to the Turkish), is just a 30 minute boat trip from Kas harbour. Kas is around a 20 minute drive from Kalkan's town. Meis' harbour is a pretty warren of alleyways and charming houses, and is home to waterfront shops and a lovely Greek Tavernas. You can visit the local castle, churches and museum and experience Greek cuisine. If travelling in the heat of summer, take the opportunity to swim in pretty hidden bays. Duty free goods are also available. The ferry to Meis operates Monday to Friday. You will need to take your passport if travelling to Meis.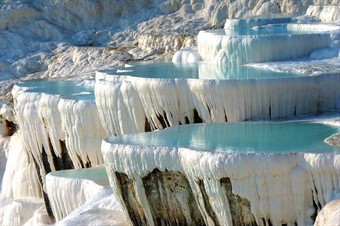 Known as 'the healing centre', Pamukkale (meaning 'cotton castle') is a natural site in southwest Turkey, containing calcium carbonate deposits and fresh hot springs, contained in artificial pools. It has been declared as a world heritage site, and the hotels which used to stand amongst this ancient city were demolished, and the site is now protected. Wearing shoes in the water is prohibited, to protect the natural deposits. An English speaking guide will talk you through this ancient marvel, and you can fully immerse yourself in the history of this beautiful country.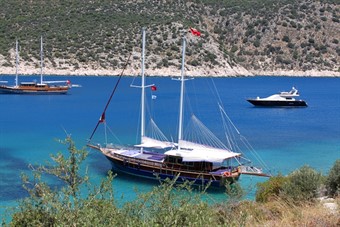 No holiday in Kalkan is complete without the obligatory 'Lazy Day at Sea' trip. Several boat companies offer this trip which takes a day travelling in a leisurely fashion around Kalkan Bay with several stop off for swimming and snorkelling. A delicious lunch is provided. A great way to meet people or simply sunbathe on deck all day.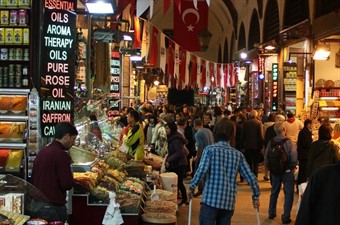 Kalkan has a market on Thursdays and there are a number of different products on offer. Fresh fruit and vegetables are brought in by locals and you can get all your salad for a BBQ at a very reasonable price. Turkish delight, Turkish teas, fake Gucci and leather purses are just some of the many items for sale. They are great places to practice your haggling and you can get some real bargains.
Fethiye, which is just around 1 hour drive from Kalkan, has a much larger market on Tuesdays, so if you're looking for something bigger, this is a good place to be. Fethiye is a great place to spend a day out and it is most famous for its beautiful sandy beach at Ölüdeniz.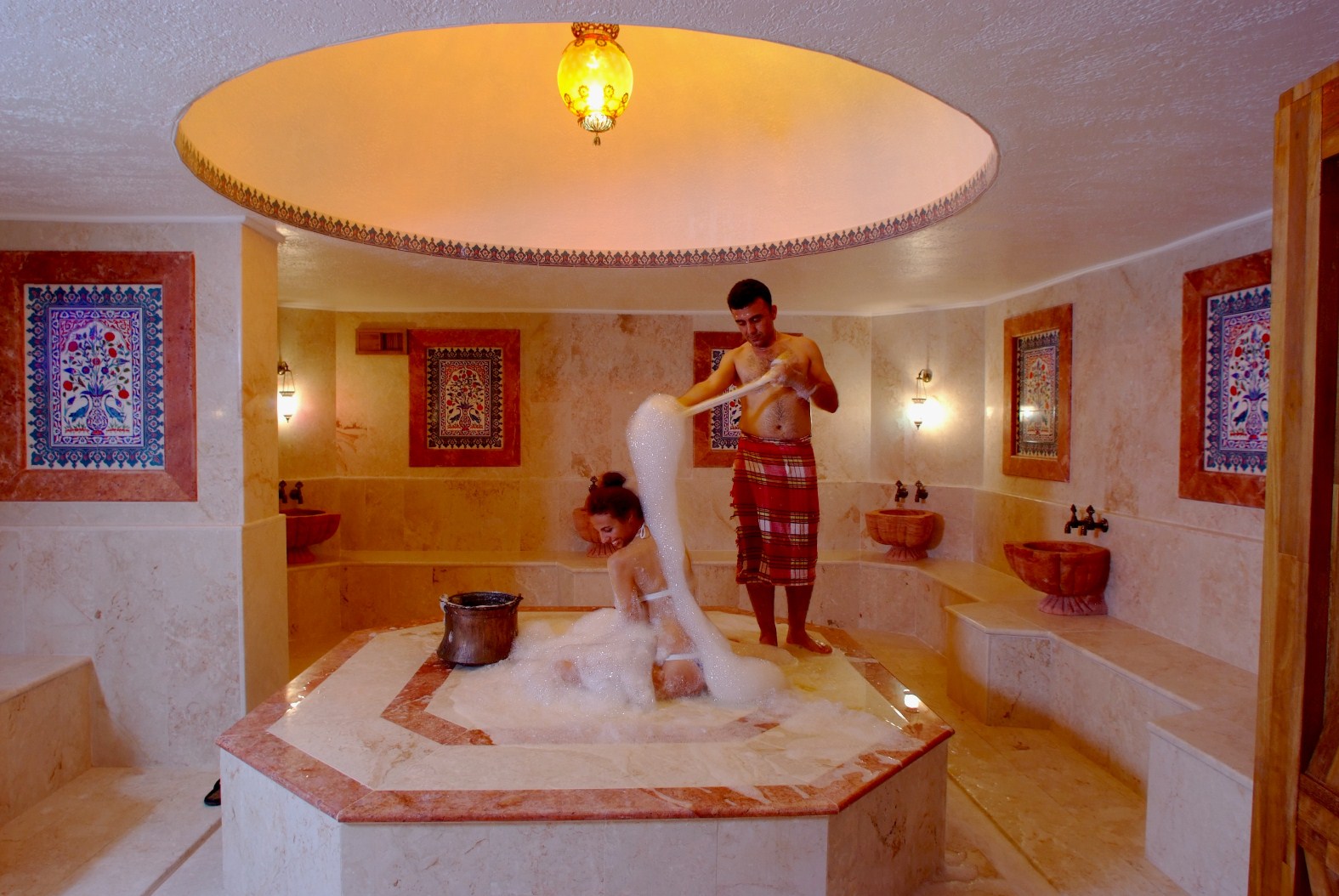 Experience a traditional Turkish bath; a wonderfully relaxing way of becoming very, very clean in an ancient style. At first you enter the sauna, and after a little while you enter the marble hammam room, where a professional Turkish 'bather' will scrub you with a hand cloth and remove all of your dead skin. Once they have scrubbed you clean, you can enjoy a lovely warm soapy, massage. You will leave feeling refreshed and in particular, very clean! This will give you a great head start to a nice tan. There are a few Kalkan hotel 'hammams' open to non-resident guests, such as the Likya Spa, Rhapsody, Asfiya, and Regency. Otherwise, you can find more traditional Turkish baths around Kalkan and Fethiye. The Asfiya Hotel is just a 10 minute walk from the centre of Kalkan, and we can help with directions.
Mountain Trout Farm Restaurants;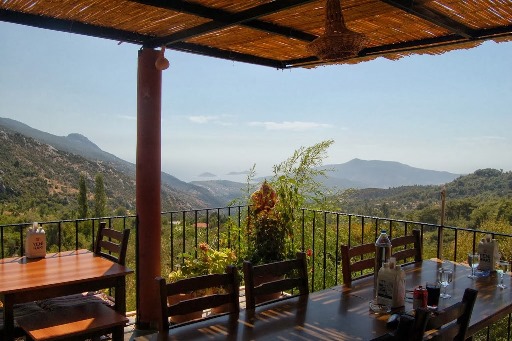 If you like fish, we recommend a trip to one of the nearby trout farm restaurants nestled in the mountains near Kalkan; about 20 minutes' drive away. The locals have made good use of the abundance of water springs and the result is delicious! In addition to the excellent food and views, a visit to these restaurants gives a welcome respite from the summer coastal heat. Degirmen restaurant/trout farm is very good, as well as Bodamya and Mahmoud's. As you approach Islamlar village there is a road that bears off to the right, and the Degirmen is about 50 yards on the right hand side. There are several of these restaurants in Islamlar village, about 6-8 kilometres from Kalkan. Here you can dine in the open air overlooking a mountain valley with a spectacular view to the sea while enjoying your excellent meal of fresh trout and mezes. These restaurants are also open in the evening (but you won't be able to enjoy the view).
Kalkan Accommodation Inspiration