KALKAN BEACH CLUBS
Discover the beach clubs in Kalkan
Kalkan has 14 beach clubs around the bay, most of which can be reached by water taxi from the harbour, making it very easy to enjoy the sea. The beach clubs are set into the bottom of the mountain side, complete with paved platform terraces and gardens, and they offer everything from swimming and sunbathing, to water sports and restaurant facilities. You can spend a whole day at a beach club entertaining the family and it is the perfect place to experience the Mediterranean, whether you're swimming, snorkelling or just watching the world go by from the terrace. Sunbathe, swim, or just have fun; there is plenty for all to enjoy.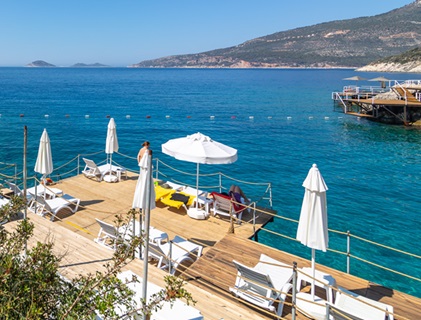 The Kulube Hotel Beach club is located in the Kalamar Bay area of Kalkan. It is within walking distance to many of our Kalamar Bay villas. Nestled into a small cove at the end of Kalamar Bay, you will find terraces and decking for sunbathing, and ladders for you to be able to get in and out of the clear waters for a swim. There is also a waterside restaurant, toilets and showering facilities.
Phone/WhatsApp: +90 536 266 73 33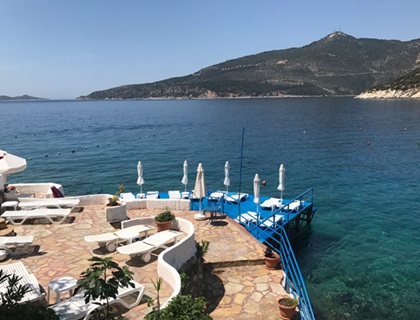 The Kalamar Beach Club offers kayaks, pedalos, sunbeds and showers available for use which are included within the entry fee. This beach club is especially popular amongst families with children and young adults and can occupy up to 200 guests. There is also reasonably priced food and drink readily available. The Kalkan Dive Centre and their joint company, "Aquasports" can be found here, offering everything from scuba diving to jet skis and private boat hire to trampolines. Book a diving trip with the team and discover stingrays, turtles and starfish which make an appearance from time to time around the reefs and islands, with visibility of up to 30m in clear blue water and sea temperatures between 18 - 30C. The Kalamar Bay Beach Club also provide a complimentary transfer service for guests.
Phone/WhatsApp: +90 545 844 10 61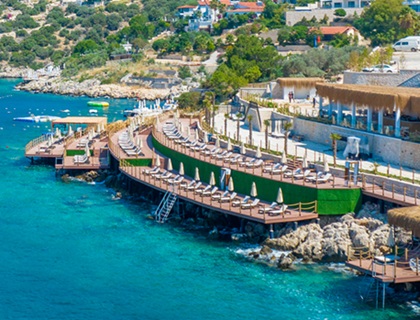 Located just in front of the hotel guests will find the hotel's private beach club, the tier platforms lead right down to the water's edge. For many guests this will be the perfect way to spend their day relaxing on one of the comfy daybeds soaking up both the sun and the sophisticated atmosphere of this chic beach club. The beach club provides direct access to the clear Aegean waters, whether for an energetic swim, snorkelling or a cooling dip. For those looking for a more exuberant experience, private cabanas are available for hire. Located on their very own platforms out over the sea. These are available for an extra charge upon reservation.
The Beach Snack Bar is open throughout the day for drinks, snacks and light lunches. With a menu that includes seasonal salads, wraps and seafood dishes, a range of drinks and only a few steps from the beach platforms.
The beach club opens at 10:00 daily and is open to both hotel guests and public. There is a private area for hotel guests only. The public has access to the beach snack bar and kitchen.
Phone/WhatsApp: +90 532 592 08 44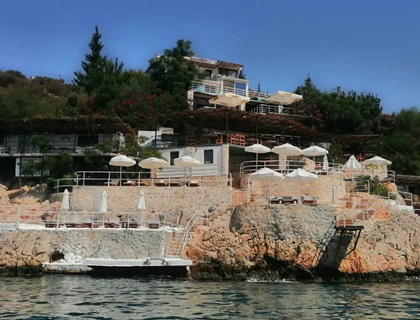 Caretta is a part of the Caretta Hotel, located just outside of Kalkan's town centre. This beach club has many different levels with shaded and open areas all furnished with sunbeds and umbrellas that you can rent for a small fee. There is a bar and restaurant at the top of the beach club, and at the bottom are steps leading into the ocean.
Phone/WhatsApp: +90 507 924 70 08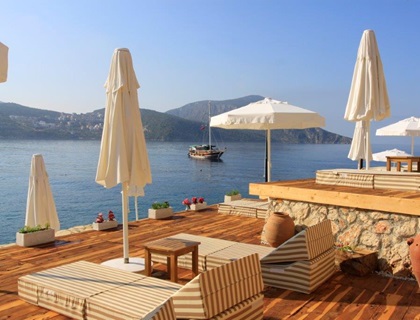 With a restaurant, bar, sun beds and beautiful views across the bay, The Yali beach club is a great place to spend a day chilling out. Perched on the rocky mountainside above the water, this beach club boasts swimming platforms with direct access to the beautiful clear blue sea, comfortable sun loungers and an Ottoman seating area where you can hide away in the shade with a glass of chilled wine. It is just a 5-10 minute walk from the Likya Residence Hotel and Spa, so when you feel like spending a day by the sea without the sand on your feet, take a short stroll down the hill and experience peace and tranquillity at its best. The platforms are made of decking and they are set at different levels for added privacy. The beach club is open 7 days a week from morning until night and the restaurant serves everything from breakfast to evening meals. The Yali Beach Club is more suited for couples/adults.
Phone/WhatsApp: +90 542 727 01 62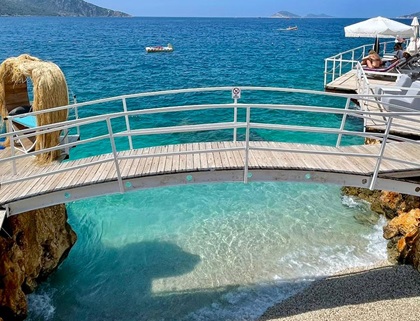 Newly opened in 2020, Cakil Beach Club, (affiliated with the Pirat Hotel) is located just past Indigo Beach Club, a short walk from Kalkan's Old Town. Cakil Beach Club offers a wide variety of water sports such as water skiing, parasailing, jet skiing, banana boat and scuba diving. There is a large deck furnished with sunbeds and umbrellas for hire with a ladder going into the sea providing direct access to the water. Guests can enjoy sea views from the restaurant and bar area which offer a great vantage point to watch the boats coming in and out of the harbour.
Phone/WhatsApp: +90 538 699 62 24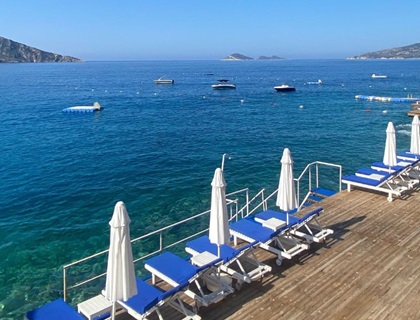 Indigo beach club is located just past the harbour wall so is walkable from the old town. Indigo was formerly known as IBO beach club and was re-launched in 2008 after new owners took over. It is now a modern beach club with a restaurant, sunbed platforms and water sports and there is an entrance fee. The upper terrace holds the restaurant and the lower terrace, with direct access into the sea, has sunbeds and parasols. A great place for a late afternoon drink watching the boats coming back to harbour. Water sports are available to book such as ringoes, banana boat & jet skis.
Phone/WhatsApp: +90 242 844 21 12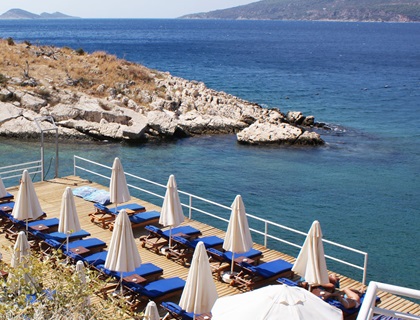 Just across from the harbour, Palm Beach Club is a contemporary, family friendly club with a restaurant and bar facilities. Free water taxis operate from the harbour during the day, and they also offer free taxi pick up and return from your accommodation in Kalkan. They will open a tab for you when you arrive and the sunbed charge will be put onto the tab. There are platforms for sunbathing, cushioned sunloungers, table tennis, shower facilities and they offer a range of watersports. A trampoline in the warm sea keeps children entertained throughout the day and weekly BBQ evenings with fresh fish and a choice of meat bring families together. It is a great place to watch the sunset behind the mountains and Kalkan light up in the evening whilst enjoying a chilled glass of wine or a cool Efes.
Phone/WhatsApp: +90 533 303 53 10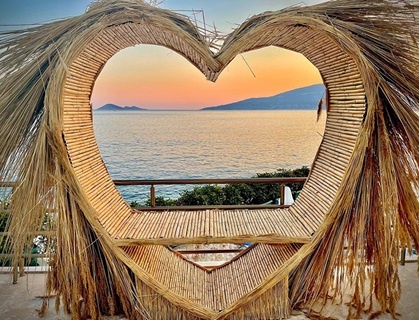 Denizim Beach Club is located in Komurluk close to Zest Beach Club, offering ​great views of Kalkan harbour and the sunset in the evening. There is ​a waterside restaurant, sun​-bathing platforms with ladders providing direct sea access and a very small beach area for those who prefer to access the sea in shallower waters. Sun-loungers ​and parasols are available for hire ​and ​there are also some ​fun activities​ ​such as table tennis & billiards​ along with watersports​. ​A unique ​heart shaped photo area​​ framing the islands in the background offers the ideal spot ​to capture ​those instagram shots!​
Phone/WhatsApp: +90 532 265 20 80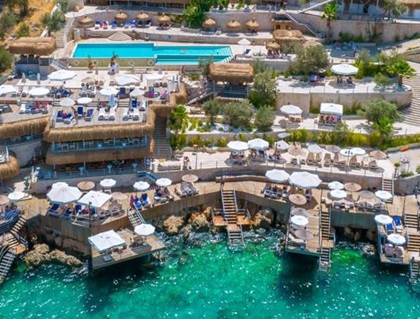 Zest Beach Club is located in Komurluk and was brand new for 2019. Zest Beach Club is walking distance from many of our villas in Komurluk or can be reached by a free water shuttle service from the harbour.
This family friendly beach club provides direct access to the sea from various platforms as well as use of the large salt water swimming pool. There are various terraces furnished with sun loungers.
Phone/WhatsApp: +90 530 360 86 96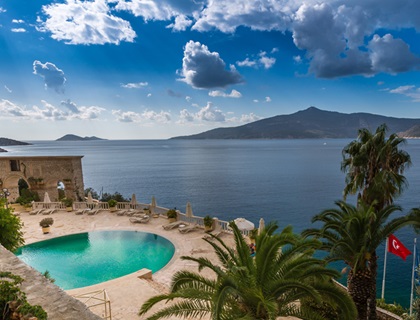 This is one of the largest beach clubs, with shoreline sunbathing platforms, two sea water swimming pools (including an adult only pool) and a sea front restaurant. Situated next to Zest and Villa Mahal Beach Club. Visitors can get a water taxi from the harbour and they will take you straight to the beach club (there is a charge for the taxi and for the use of the club facilities).
Phone/WhatsApp: +90 242 844 39 20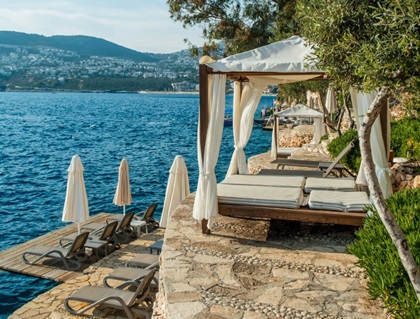 To the left of Kalkan bay, further up the coast, Villa Mahal Beach Club offers a waterside restaurant and water sports. Sunbathing platforms lined with olive trees offer space to relax and soak up the sun, and ladders from the terraces go straight into the sea. There is a water taxi from the harbour which takes you across to Mahal and there is a charge for hiring sun beds.
Phone/WhatsApp: +90 531 721 88 61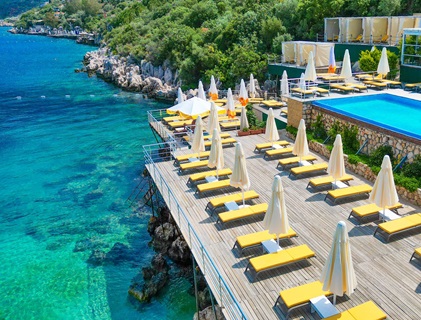 This beach club is part of the Green Beach Hotel. Their restaurant offers a wide selection of food and drinks with many cocktails to enjoy. On the deck of the beach club there is access to the sea where you can go snorkelling around the rocks, there's also a large pool on the deck if you don't want to go into the sea. The sunbeds and umbrellas are free to use while you're there too.
Phone/WhatsApp: +90 545 525 83 42


​​Kalkan Beach Park ​has been newly renovated for 2022. This beach club caters for both adults and children and has a private white pebble beach ​with shallow​ access to the crystal clear waters​.​ ​L​ocated ​in Kisla, ​free ​transport ​is provided for customers ​via shuttle boat ​from the harbour​or taxi​. ​An entry fee allows the use of a swimming pool​, water slide, children's play area and sun loungers and parasols. There is also​ a bar​ and restaurant​​​ and a variety of water sports​ available.
Phone/WhatsApp: +90 242 844 29 89

Further pages - ways to spend your time
Kalkan Accommodation Inspiration