Dining at Riad El Fenn
Eat, drink and relax
Riad El Fenn is open for meals, snacks & drinks every day. Non-residents are welcome to visit the rooftop restaurant where lunch and dinner are served daily, as well as the bar which serves cocktails, juices, light meals and tapas throughout the day and evening. Both are open from midday until 10pm. You don't need to reserve for the bar but if you'd like to eat in the restaurant please email: reservations@el-fenn.com. Downstairs, in-house guests also have the use of our colonnade bar which is open for drinks and food from 10am to 7pm.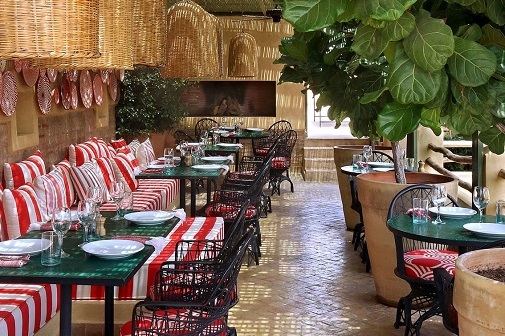 El Fenn is a relaxed kind of place and so is our food. The emphasis is on local, seasonal plant-based food - with meat and fish available too. Each dish is made with freshly harvested fruits and vegetables from local farms and markets, combined with the bright herbs, exotic spices and fragrant aromatics. It's fresh, flavourful & packed full of goodness.
SERVING TIMES
Breakfast 8:00-11:30am
Lunch 12:30-3:30pm
Dinner 7:00-10:00pm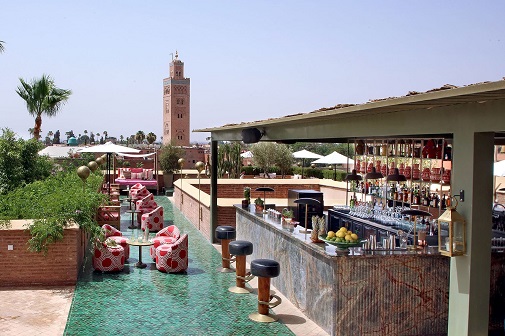 The roof terrace is El Fenn's most popular spot. It's 7000 square feet, has a close-up view of the iconic Koutoubia Mosque as well as the rooftops of Marrakech and there's a mass of daybeds and lounging areas to enjoy it all from. There's also a 30-foot marble bar and a team of mixologists on hand from midday until late if you're in the mood for a drink.
Whether you want to lounge on a day bed in the sunshine, or watch the sun set over the Atlas Mountains, we're open every day for fresh juices, cocktails and food - plus just enough buzz to make the nights come alive. To access the roof top, use our boutique entrance on Rue Fatima Zahra before heading upstairs for drinks & food.
Open Midday - 10:00pm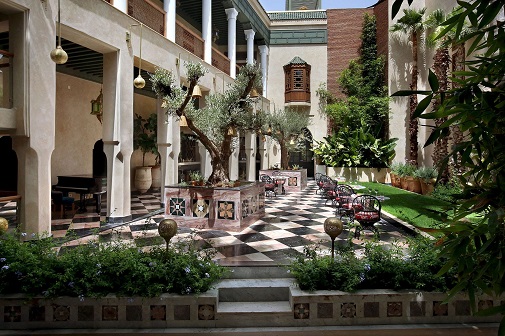 Our downstairs bar is reserved for in-house guests and open from 10am to 7pm each day. Enjoy drinks, juices & light meals against the stunning backdrop of a courtyard filled with tumbling vines & our beautiful marble-line swimming pool.
Open 10:00am - 7:00pm