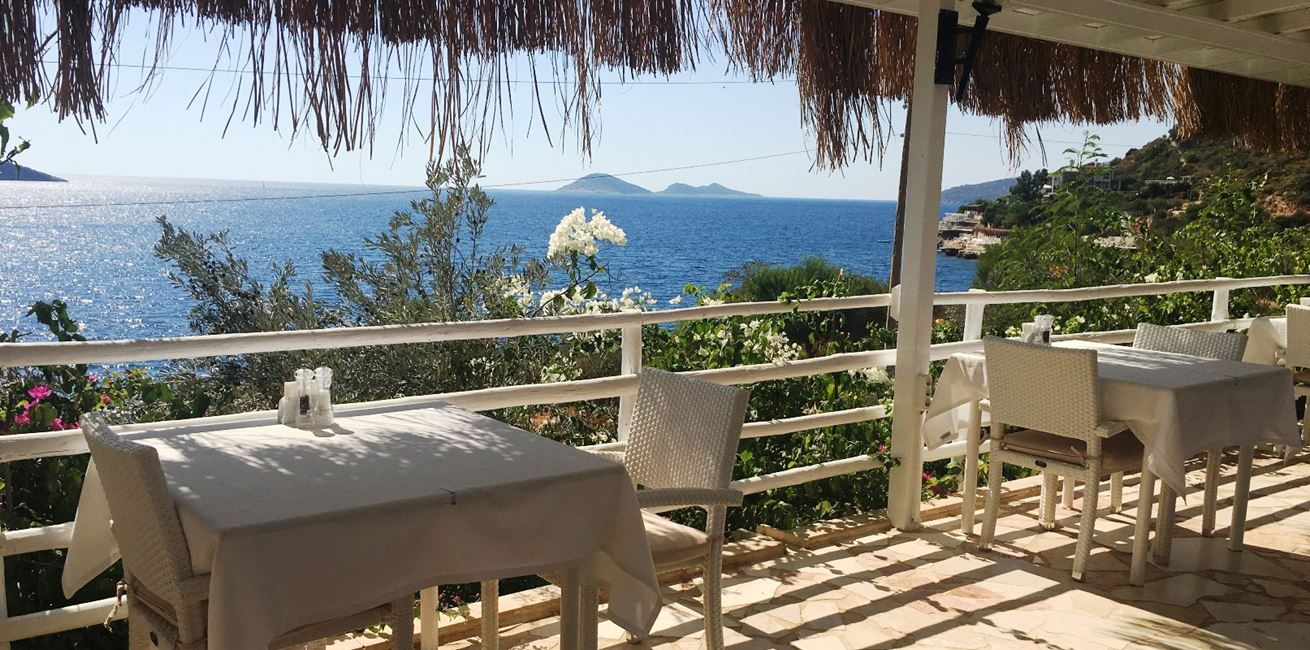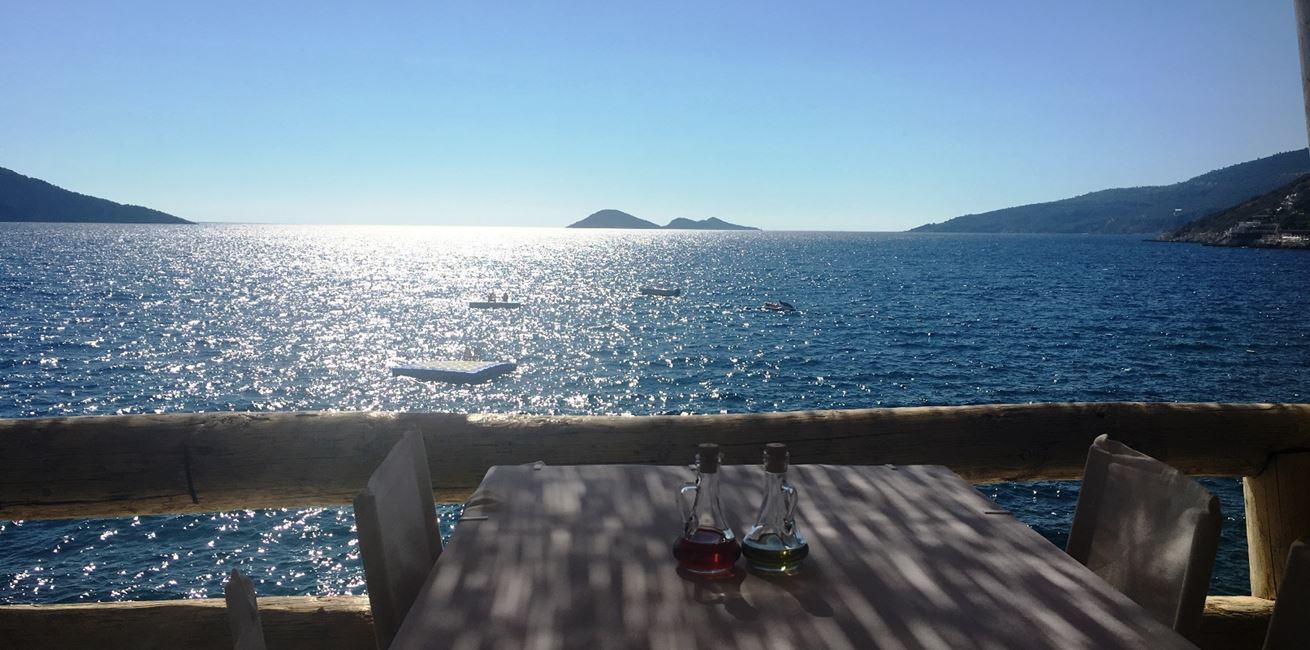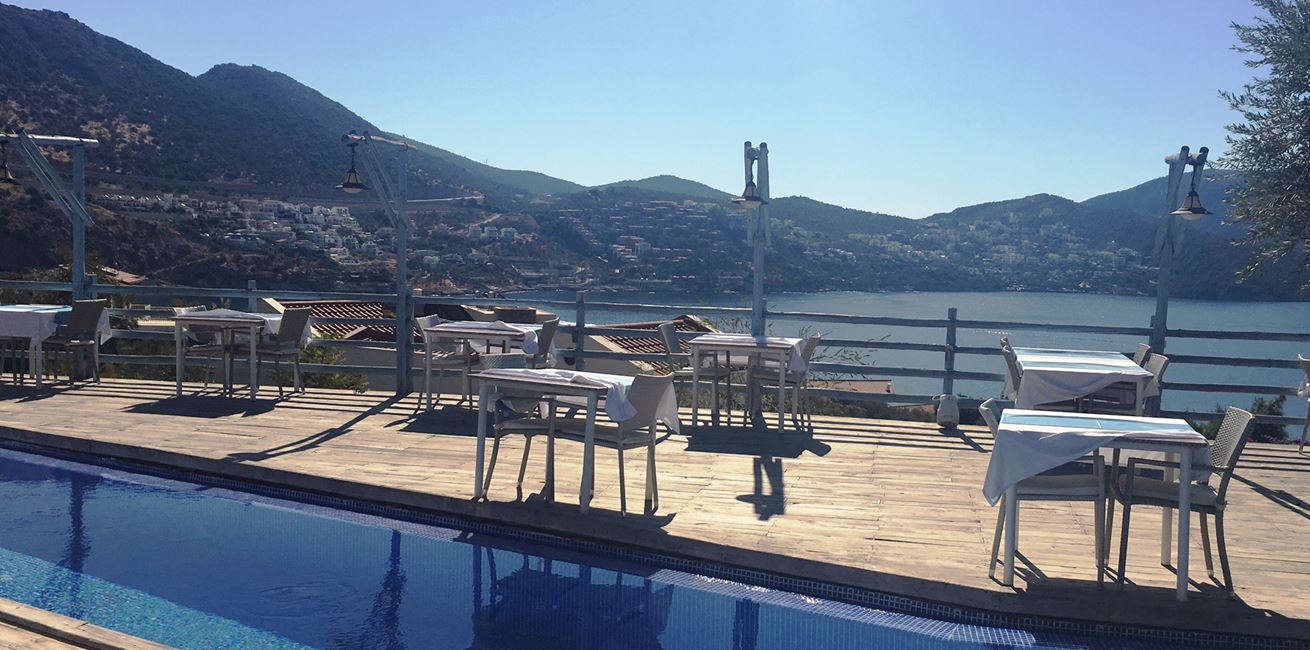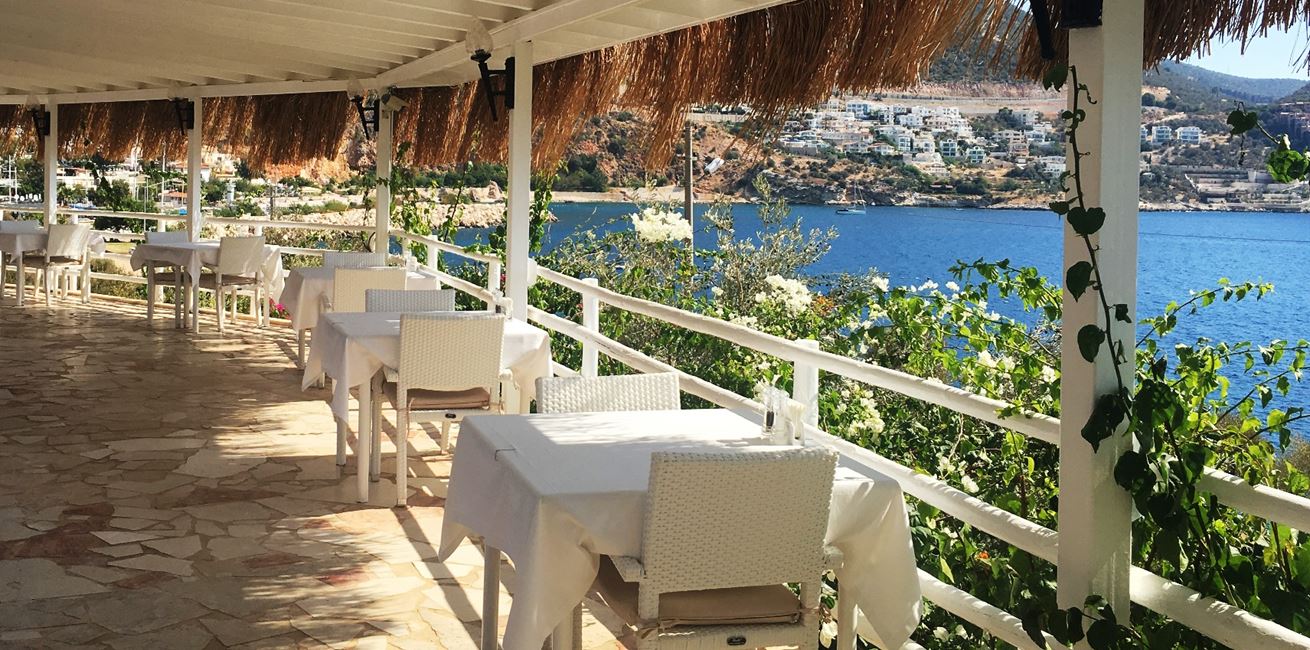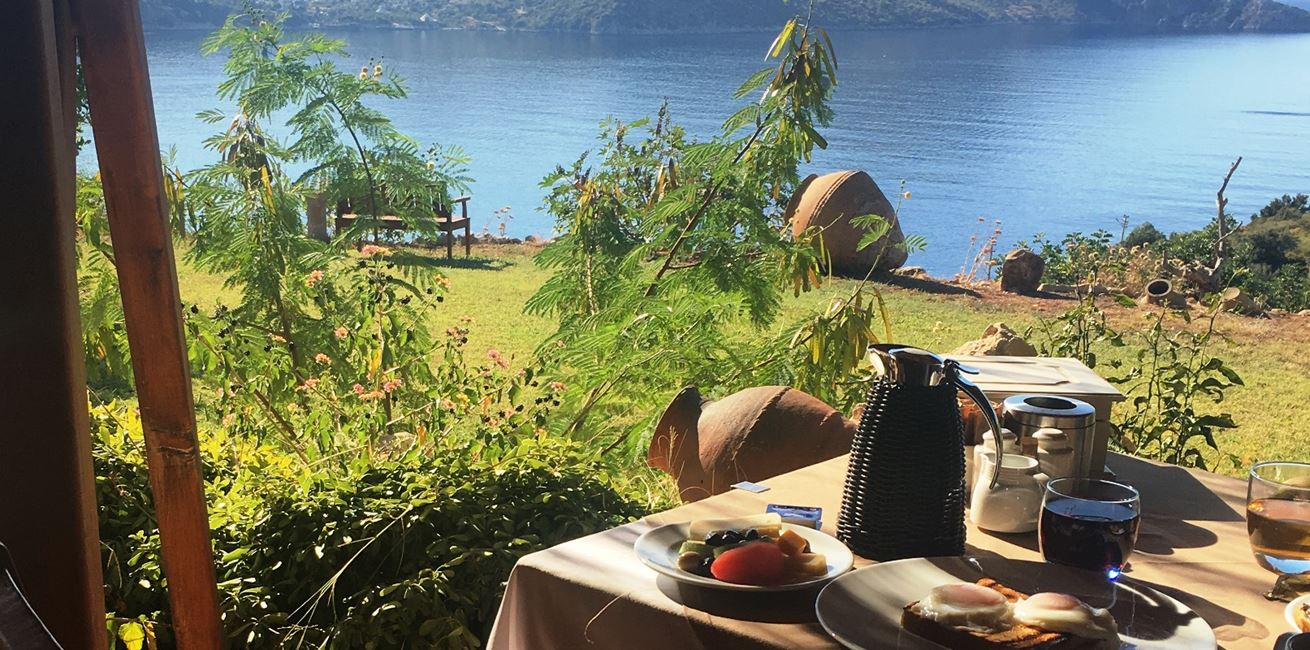 Kalkan restaurants by the waterfront
Some of Kalkan's best restaurants overlooking the harbour
Kalkan is said to have the highest number of restaurants and bars per square meter on the Turquoise coast (over 160), some of which are smart harbour-side restaurants along the waterfront. Watch as the gulets and fishermen return with the day's catch in the evening while the sun sets behind the mountains. Most of Kalkan's waterfront restaurants have additional comfortable seating areas to relax and enjoy a cocktail whilst admiring the stunning views across Kalkan's picturesque harbour.
Below we have outlined our relative price rating guide to help you:
T = Value T T = Moderate T T T = Indulge
The Likya Pavilion Restaurant, Kalkan
With spectacular views of the Mediterranean and little bridges and waterways, the new Likya Pavilion Restaurant is now one of Kalkan's most highly acclaimed eateries. The restaurant serves both Turkish and international dishes, freshly prepared by exceptional chefs, who's beautifully refined cuisine is now the talk of the town and highly rated on Tripadvisor.
Gluten free options available.
Location: The Likya Pavilion Restaurant is part of the new 5 star Likya Pavilion hotel (the restaurant is open to non residents). Conveniently located just 10 minutes walk from Kalkan's harbour along the scenic coastal road past indigo beach club.
Price Rating: T T T
Phone: +90 242 844 2120
email: info@likyapavilion.com
Credit cards accepted. WIFI available
Coast is a contemporary restaurant highly rated on Tripadvisor with beautiful views over Kalkan's picturesque harbour.
The breakfast options are Turkish breakfasts and egg dishes, such as omlettes. Lunch is a selection of wraps, burgers, salads, pizza and brushettas and the dinner menu is extensive offering a delicious selection of Asian, European and Turkish dishes.
Location: Along the harbour front, next to Aubergine and Jimmy's restaurant (Yakamoz).
Price Rating: T T T
Phone: +90 242 844 1480
Credit cards accepted. WIFI available
Aubergine Restaurant Kalkan
Aubergine is a popular restaurant by the harbour, offering fresh, made to order meals using local produce with tables right on the marina, as well as cosy rattan seats inside - a great spot to enjoy a cocktail. There is plenty to choose from on the menu, and they cater very well for children, vegetarians and vegans.
Aubergine Restaurant is open daily all year round for breakfast, lunch and dinner or for just tea/coffee & cake. You can view their menu and book a table online.
Location: Along Kalkan's harbour front, next to Coast restaurant.
Price Rating: T T T
Phone: +90 242 844 3332
Facebook: www.facebook.com/kalkanaubergine/
Credit cards accepted. WIFI available
Korsan Meze Restaurant, Kalkan
Located in a prime position overlooking the beach, Korsan Meze, established in 1979, was one of Kalkan's first restaurants and remains a firm favourite with residents and tourists. Korsan Meze offers a wide and varied menu and is particularly well known for its selection of traditional Turkish meze and tasty lamb dishes, as well as its fresh seafood and vegetarian choices. The menu also includes traditional kebabs and succulent chicken and beef dishes. The atmosphere at the Korsan Meze is inviting, and the staff provide a friendly service.
For those evenings when you want to stay in Korsan Meze also offers a take-away and home delivery service.
Location: on the upper level of the harbour front, to the left of the steps leading down to the beach.
Price Rating: T T T
Phone: + 90 242 844 3622
Email: info@korsankalkan.com
Credit cards accepted. Free WIFI available
Trio has a relaxed friendly atmosphere and an extensive selection of dishes. Wherever possible their chefs buy local, organic ingredients, and the menus always make the most of seasonal produce. Excellent service and presentation ensures you will have a memorable dining experience.
Vegetarian, vegan and gluten free options available.
There is also a separate bar with comfortable seating, so if you're not out to eat, don't resist relaxing here for an evening drink.
Location: along Kalkan's harbourfront, near Aubergine.
Price Rating: T T T
Phone: +90 242 844 3380
Facebook: www.facebook.com/triokalkan/
Credit cards accepted. WIFI available
Doy Doy Restaurant, Kalkan
Established 30 years ago, Doy Doy prides itself in being one of the first restaurants opened in Kalkan. It has built up a great reputation with its fine cuisine, great service, and welcoming atmosphere. They offer a mixture of Mediterranean and traditional Turkish dishes all produced using fresh locally sourced ingredients. Along with meat dishes, they also offer a selection of vegetarian and childrens dishes.
Doy Doy restaurant occupies a fantastic location with unforgettable views across the harbour and beyond to Mouse and Snake islands.
Location: To the right of Salt & Pepper along the harbour (Hasan Altan Cad.)
Price Rating: T T T
Phone: +90 242 844 2441
Credit cards accepted.
Salt N Pepper Restaurant, Kalkan
Salt N Pepper offer a delicious fusion of Turkish and European dishes. Their meals are made using fresh, organic ingredients grown on the families very own farm. There is something for everyone, and the unobstructed view of the harbour and bay will take your breath away. The perfect setting for a romantic meal, or an evening amongst friends and family.
You can view some dishes and make a reservation online.
Location: On the upper level of Kalkan's harbourfront, close to Doy Doy, next to harbour steps (Atatürk Cad).
Price Rating: T T T
Phone: +90 242 844 1 445
Facebook: www.facebook.com/saltandpepperkalkan/
Credit cards accepted
Kalkan Accommodation Inspiration
Useful information for your Kalkan holiday