Dining at L'Hotel Marrakech
L'Hôtel Marrakech offers the best in Moroccan home cooking using fresh, seasonal local produce. Dishes prepared by our chef, Bouchra, capture the subtle aromas and colourful enchantment of Marrakech. Guests can enjoy a vibrant array of salads, fresh vegetables, slow cooked tagines, grilled meat and fish as well as the perfect steak and chips. To complete the meal, there are refreshing home-made sorbets, ice creams and fruits to choose from as well as traditional Moroccan desserts.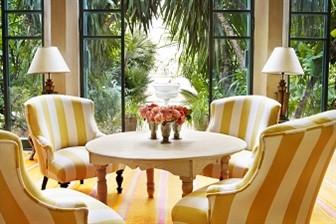 L'Hotel Marrakech's Dining Room is open to guests and non-residents every day for lunch and dinner. Tables are set with fine Egyptian cotton and inviting armchairs offer comfort and ease in the restaurant. The finest seasonal ingredients are celebrated in The Dining Room's menu with dishes such as fresh, vibrant salads and slow-cooked tagines. On warmer evenings, The Dining Room opens out on to the garden and on cooler nights a fire is lit, creating a relaxing atmosphere.
Please find a link to a sample menu here.
Bookings must be made in advance.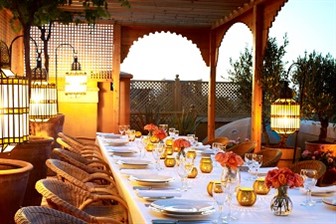 With breath-taking views of the Atlas Mountains and surrounded with orange, fig and olive trees, jasmine, bougainvillea, honeysuckle and geraniums, the roof terrace is the perfect place for guests to enjoy breakfast, lunch or dinner in the open air.
Tables are set with crisp fine Irish linen under an open pergola trained with vines. Along with the famed Moroccan mint tea, other traditional teas such as sage and the heavily spiced blend, Khodanjal, are available. Iced drinks made from seasonal fruits such as avocado, melon, lemon and peach can also be enjoyed under the tranquil shade of the pergola.
Bookings must be made in advance.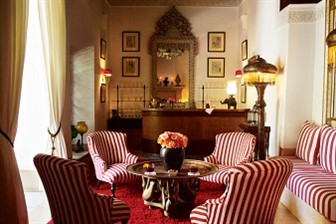 L'Hotel Marrakech's cedar lounge with inviting striped armchairs is the perfect spot to relax after a long day exploring the souks or a pre-dinner chat with friends both old and new. Alternatively, the lounge provides comfort on colder, rainier days.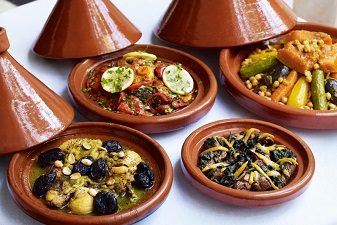 L'Hotel Marrakech is a warm and inviting setting for parties, family occasions and intimate weddings. The hotel can accommodate 10 to 16 people seated either on the roof terrace under the vine covered pergola or in the dining room which opens out onto the luscious courtyard garden.
Bookings must be made in advance.