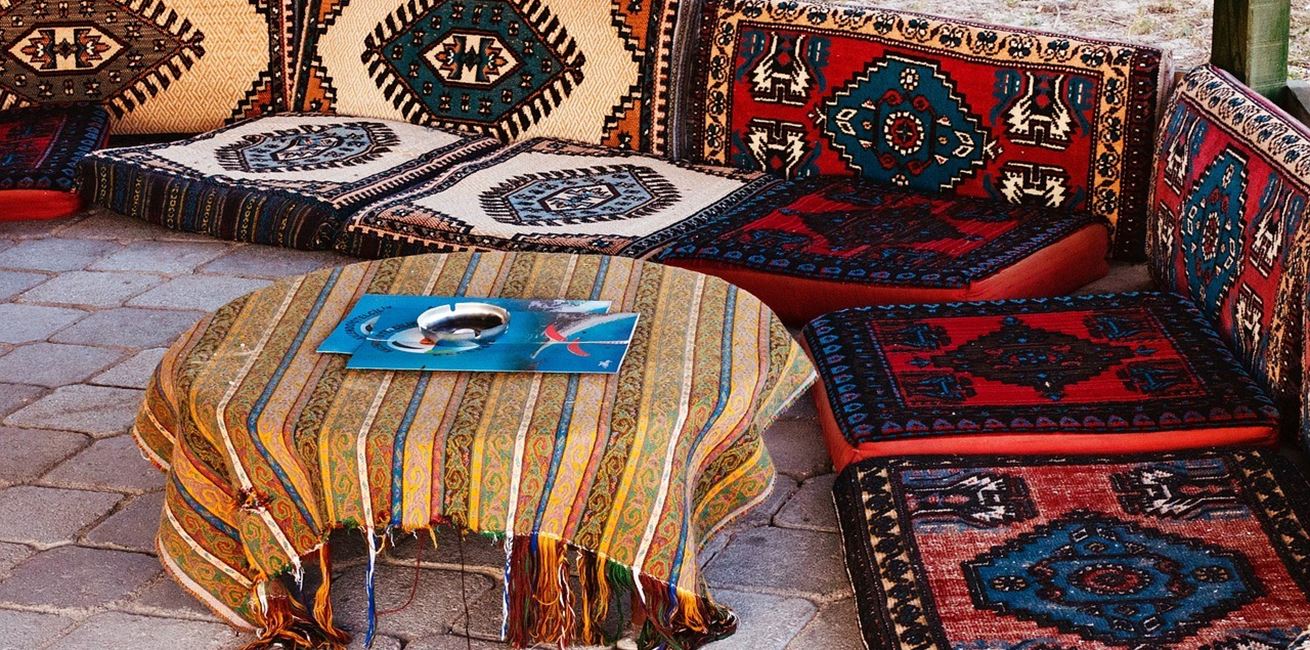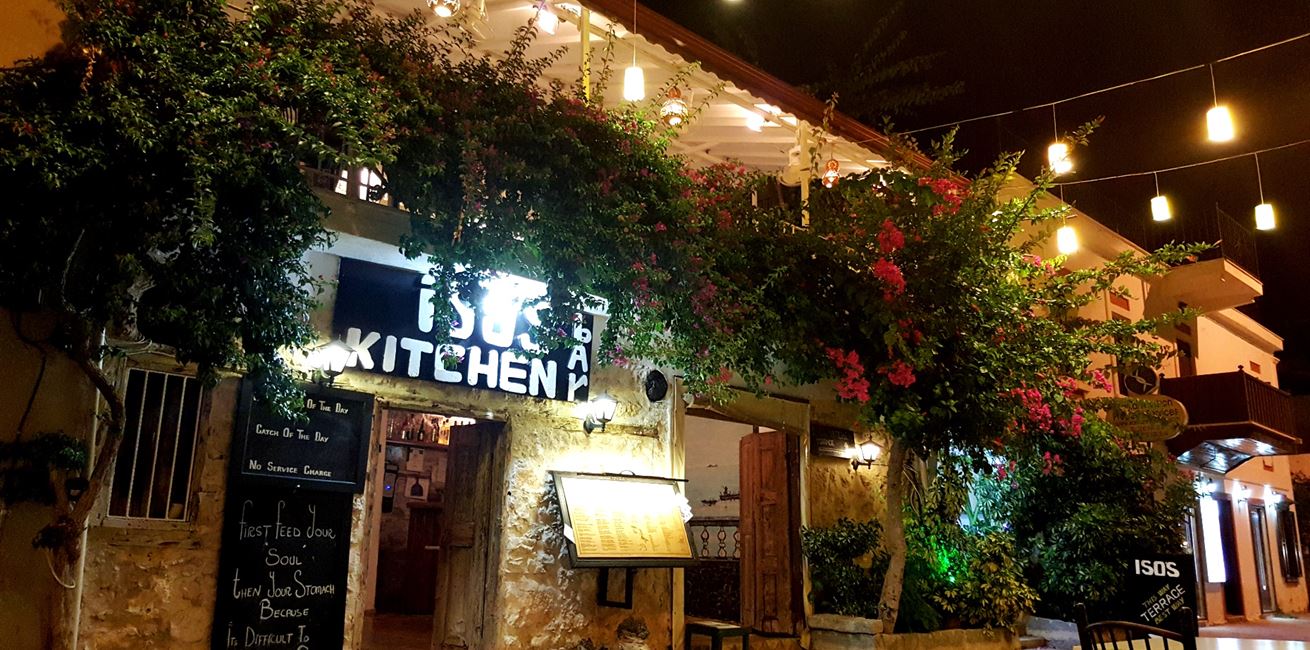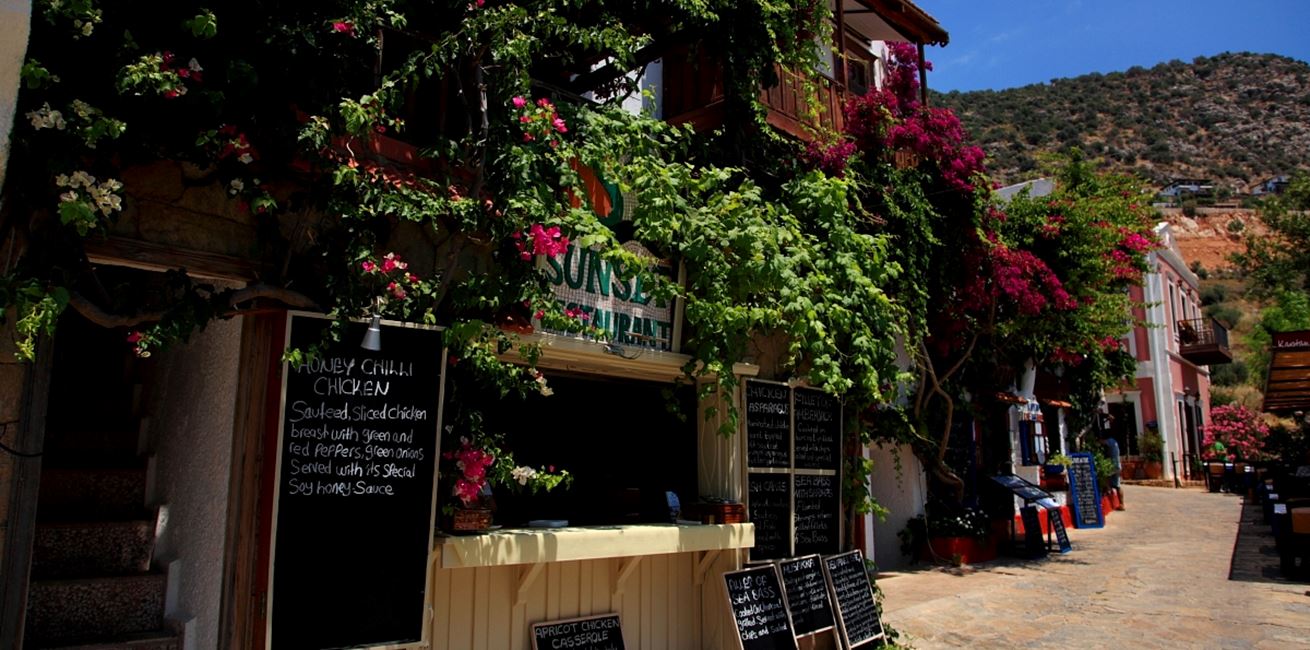 Traditional Kalkan Restaurants
Restaurants in Kalkan serving traditional Turkish cuisine
Below we have outlined our relative price rating guide to help you:
T = Value T T = Moderate T T T = Indulge
Adana Ocakbasi Restaurant, Kalkan
Adana Ocakbasi are known for serving traditional Turkish food. Fantastic Kebabs, home made pides, fresh fish and Baklava are just some of the great dishes this restaurant has to offer.
There is no menu so you need to ask what is available on the day.
Location: Round the corner from Kaya restaurant, next to Rose restaurant.
Price Rating: T T
Phone: +90 242 844 1001
Credit/debit cards not accepted.
Belgin's Kitchen Restaurant, Kalkan
This former 150 year old Olive Oil pressing workshop is now a popular restaurant serving traditional Turkish meals. Get a true taste of Turkish cuisine and dine in the traditional Ottoman cushioned seating area with beautiful views. There are normal tables also available on the highest roof terrace.
Location: In the Old Town next to Yali bar.
Price Rating: T T
Phone: +90 242 844 3614
Credit cards accepted.
Ayse's Kitchen Restaurant, Kalkan
Run by a local family, Ayse's Kitchen in Kalkan is popular with locals and serves fresh, made-on-the-day, traditional Turkish cuisine. A unique restaurant with beautiful sea views offering indoor and outdoor seating and allowing customers to venture into their kitchen and select their choices from a large array of authentic Turkish dishes made that morning.
There is no set menu and so you are usually taken into the kitchen where you can choose what you would like to eat.
Location: By the bus station in Kalkan
Price Rating: T T
Phone: +90 242 844 1150
Olive Garden Restaurant, Kalkan
A beautiful traditional Turkish restaurant located above Merkez Cafe in Kalkan's Old town. Their traditional menu includes a daily special, and there is plenty to choose from. They create a lovely atmosphere here, with mellow music and fabulous views over the town and out to sea. There is a roof Terrace aas well as indoor seating.
Vegetarian, vegan and gluten free options available.
Location: Above Merkez Cafe in the centre of Kalkan's old town (Hasan Altan Caddesi)
Price Rating: T T
Phone: +90 242 844 3408
Credit cards accepted. Free WIFI available
Oz Adana Restaurant, Kalkan
Oz Adana are well known for their fantastic, traditional, Turkish kebabs, pides and Lahmucan (very thin Turkish pizza made with spicy mince meat). They also offer plenty of other options including pizza, vegetarian dishes and burgers, so there is something for everyone. An opportunity to sample real, authentic Turkish cuisine. There is no alcohol served here. Excellent value for money.
Location: Şehitler Caddesi - near the road to Kas.
Price Rating: T
Phone: +90 242 844 1140
Email: fistirakresul@hotmail.com
Credit cards accepted. WIFI available
Kucuk Ev (Small House) Restaurant, Kalkan
A very small, popular, family run restaurant in Kalkan's town, offering traditional Turkish cuisine and warm, friendly service. This restaurant is well known for providing delicious authentic meals in a homely atmosphere, and gets fully booked in advance throughout the season. Small House restaurant only seats 14-16 people so if you intend on a visit, we recommend making a reservation before you arrive in Kalkan to ensure you secure a table. There are a few tables inside and one table which seats 4 on the balcony.
Location: Yaliboyu Mah. Hasan Altan Cad. No:18. in Kalkan's old town, above a property agents next door to Sade restaurant.
Price Rating: T
Phone: +90 242 844 2817
Email: smallhousekalkan@gmail.com
Our Home Restaurant, Kalkan
A delightful authentic restaurant run by a friendly and welcoming family. They offer some of the finest simple Turkish dishes, and always use well sourced local, fresh produce. They offer daily specials, and a selection of beers, wine and soft drinks to accompany your meal. Highly rated on Tripadvisor.
Location: Yakamoz Sokak. On the road that runs up the hill from the BIM supermarket (on the main road near the Thursday Market), situated between BIM and the school. If you head up the hill from BIM, you can't miss it.
Price Rating: T
Phone: +90 242 844 1366
Kalkan Accommodation Inspiration
Error parsing XSLT file: \xslt\[XSLT][TBS]Properties.xslt
Useful information for your Kalkan holiday