Dining at La Sultana Marrakech
La Table de La Sultana - Fine dining with Moroccan & French inspirations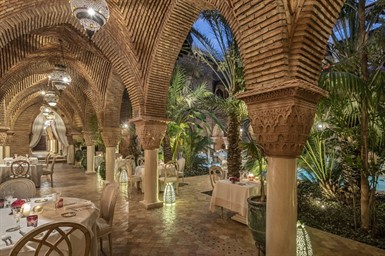 La Sultana offers contemporary and innovative cuisine to celebrate culinary journeys around two seasonal menus: French inspirations & fine Moroccan cuisine.
As part of La Sultana's philosophy of "Terroir Cuisine", they showcase the best ingredients Morocco produces with "100% Botanical" options and local & ethically-sourced meat & fish. The cuisine is inspired by their network of small local producers to follow their harvest time and incorporates wholesome & fresh vegetables purchased locally.
Enjoy a large selection of French & Moroccan wines.
Open every day for dinner from 19:30-22:00, set up in the poolside patio garden.
La Table du Souk - The best from the Market & Moroccan Street Food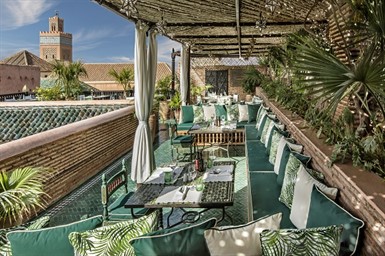 Located on the rooftop Bahia, La Table du Souk offers views as far as the eye can see of Marrakech and the snow-capped Atlas Mountains. For lunch, the restaurant offers two cuisine types both focusing on freshness and simplicity.
On the menu from the Market, taste the heritage of Moroccan products like the Saffron from Taliouine, salt from Zerradoune, cumin from Alnif and Argan from Souss.
The Street Food menu is reminiscent of Moroccan rituals and culture. It offers many options for a light al-fresco lunch such as salads, grilled fish, crayfish, seafood and vegetarian couscous…
Open every day for lunch from 12:00-15:30.
The Odette Rooftop Bar & Mezzé - Cosmopolitan Cuisine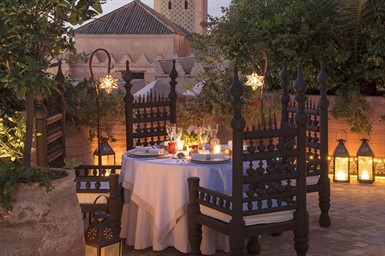 Located on the spacious outdoor terrace overlooking the UNESCO listed Medina, the Odette Rooftop Bar & Mezze offers a cosmopolitan dining experience. With food inspired from popular global cuisines, matched with a large choice of signature cocktails flavoured with Moroccan spices, this adventure in dining is made to be shared with friends. The restaurant has an array of small plates on offer, such as Lamb saddle & Sicilian Carponade, Risotto of Clams & Cheese and Crunchy sesame vegetable Nems.
Open every day from 17:00-22:00, depending on the weather forecast for the evening.