Dining at Ritz-Carlton, Koh Samui
A collection of 11 restaurants offering stunning views
Restaurants at this Koh Samui resort mirror the island's offerings: chili-spiked southern cuisine, bustling food markets and an impressive bounty of local ingredients. Each restaurant offers its own unique interpretation of gastronomic delights, transforming a meal into an unforgettable journey.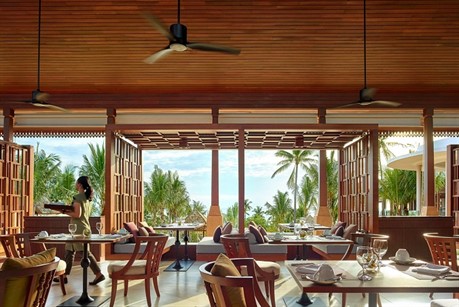 Awake to the aroma of homemade bakery delights and a delectable selection of breakfast offerings that will meet every palate's desire. The morning culinary presentation showcases the best of local and international offerings. The dining room features cosy booths with wood screens for added privacy.
Cuisine Type: Breakfast
Opening Hours: Daily: 6:30 a.m. to 10:30 a.m.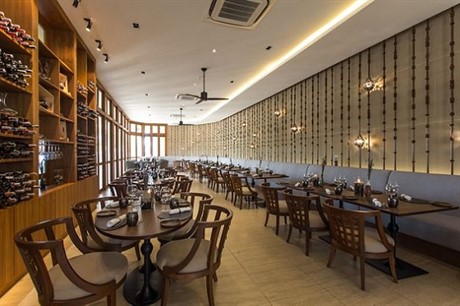 The resort's steakhouse offers an enticing menu where guests can pick their own cuts of steak with options ranging from filet mignon to wagyu poterhouse, complete with luscious entrées, sides and fresh seafood from the raw bar selection. A fine collection of wines is available to pair with dinner.
Cuisine Type: Steakhouse
Opening Hours: Dinner; Thurs-Tues 6.30pm - 10.30pm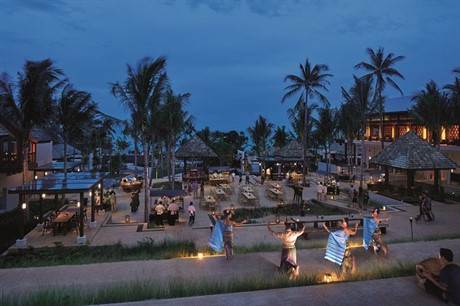 Baan Talat ('market house' in Thai), a weekly outdoor dining experience, serves a vast and authentic selection of à la minute Thai street food dishes. Feast like a local on much-loved Thai street food favourites in a unique al fresco market-style atmosphere, delivering a dining experience that is brimming with kinetic vibrancy. The cosy space features ceiling-hung lanterns and wood accents.
Guests may also browse the market stalls where locally handcrafted accessories and souvenirs are available for purchase. One must not miss the talented artist who can deftly sketch a portrait on the spot.
Cuisine Type: Asian
Opening Hours: Every Saturday: 6.00 pm to 10.00 pm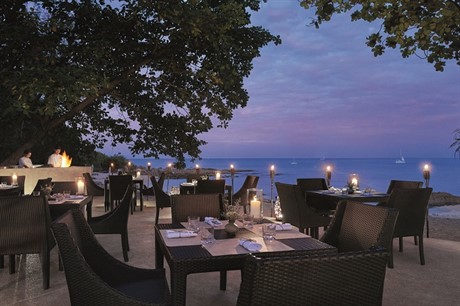 An elevated take on the traditional poolside experience, this casual yet stylish venue serves lunch featuring international comfort classics along with Thai favourites. Selected evenings see a vibrant beach barbecue and entertainment unfold by the ocean. Sit back and relax in a casual ambience by the pool and beach during the day where guests can savour delicious Thai favourites and popular international comfort creations including uniquely-flavoured homemade ice creams in a freshly-made waffle bowl.
Dine outdoors in a casual beachfront setting on Sundays and Mondays at the Sea Salt Deck, just steps from the main dining area. A decadent evening featuring freshly caught seafood and locally sourced produce are grilled to perfection. The highlight on Mondays is the spectacular fire show.
Cuisine Type: Asian and International
Opening Hours: Daily: 10.00am to 6.00 pm Sunday and Monday: 6.00pm to 10.30pm
Guests can enjoy their own personal space at this al fresco dinner venue. The menu features a southern interpretation of Thai cuisine prepared with ingredients from the local market.
For southern Thai dishes perfected through generations, relish in regional Thai specialities in private dining alcoves, each of which faces the resort's unique reef pool. Nightly live cultural dance or musical entertainment accompanies the exquisite dining experience.
Cuisine Type: Southern Thai Cuisine
Opening Hours: Sunday to Friday: 6.00pm. to 10:30pm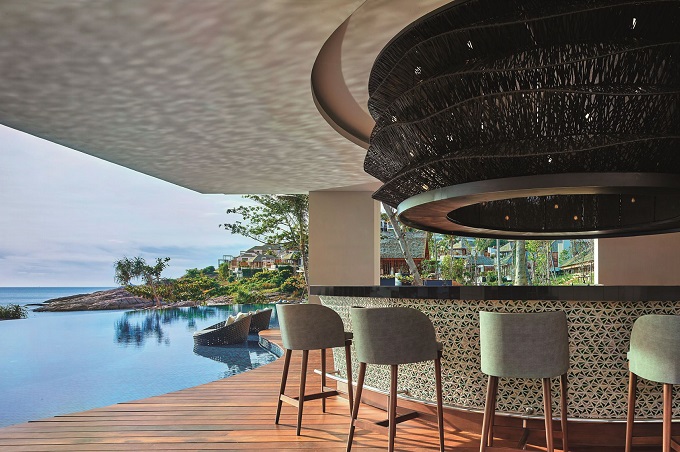 Bathed in the light of the glowing sun, this poolside bar offers refreshing cocktails and citrus-cured specialties from the cevicheria. The centrepiece bar is the perfect spot for an afternoon drink.
The perfect spot to kick back and take in the impressive ocean view, Tides offers refreshing island-inspired signature cocktails, all of which pay fitting homage to the beach resort setting; and freshly made citrus-cured specialities from our cevicheria.
Cuisine Type: Cocktails & drinks
Opening Hours: Daily: 10.00am to 6.00pm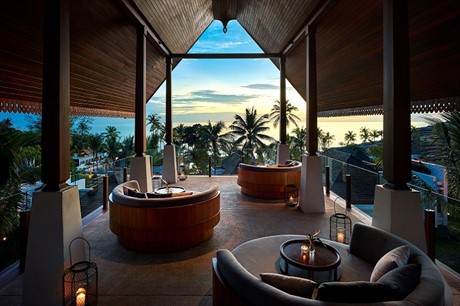 Designed to provide an incredible view, this circular bar and lounge features intimate pod seating, Asian-inspired appetisers and mixologist-crafted cocktails.
The centrally located bar with an elevated view of the ocean, is perfect for a pre-dinner cocktail and light bite. Tantalising Asian-inspired maki sushi rolls and specially designed cocktails make for a palate pleasing start to the evening.
Cuisine Type: Asian inspired light bites and tropical cocktails
Opening Hours: Dily: 6.00pm to 12.00am (Midnight)
Dining Events & Experiences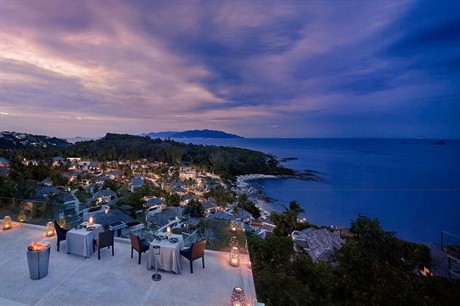 Journey through our gastronomic experiences of seasonal dining specialities, bespoke dining and other special events and offers.
Luxuriate in the stellar vistas of the Gulf of Thailand, bringing to guests the island's unmatched natural beauty. The intimate dining experience, a truly romantic rendezvous located at the highest point of the resort, unveils meticulously crafted creations by our chefs, as the stars dazzle above.