Gocek Restaurants
Dining in Gocek
Gocek offers an excellent selection of restaurants serving International and Mediterranean cuisine, as well as seafood. Many restaurants line the marina or occupy the squares behind it and the streets beyond. Most establishments are open from first thing in the morning until late at night, and serve breakfast, lunch and dinner choices.
D Breeze Restaurant; D-Resort Gocek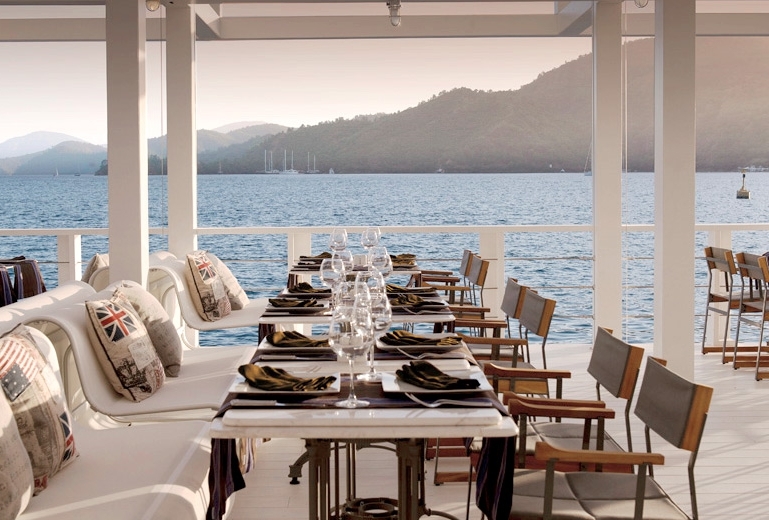 For a unique dining experience in Gocek visit 'D Breeze' in the exclusive D-Resort. D Breeze is a high-end restaurant, beautifully situated at the end of the marina next to the beach with superb views of the Mediterranean.
Serves a beautifully presented varied menu of Aegean and European cuisine and is famous for serving the freshest local seafood.
Cumhuriyet Mh. Camtas Cd. No:12 48310 Gocek, Turkey
Tel: +90 252 645 27 60
Can Restaurant: Seafood restaurant
Location: Skopea Marina
Call them on: +90 252 645 1507
Opening hours: 7am-midnight
Popular with the locals, this Gocek favourite serves a wonderful selection of meze, including a particularly memorable seafood meze. The speciality of the house is Tuzda Balik, a traditional dish of fish baked in salt. The restaurant has an attractive shaded terrace.
Restaurant serving international cuisine
Located at: Turgut Özal Caddesi
Telephone +90 645 2794
Website: www.westcafegocek.com
Relaxed, laid back, and with a tasty and varied menu offering everything from burgers and wraps to meze, seafood and some traditional Turkish dishes. Great coffee, a selection of alcoholic beverages, including EFES beer, served suitably chilled. Wonderful views and friendly service also make for a good experience here.
Kebab Hospital: Antep Sofrası;
Kebab Hospital: Antep Sofrası
Restaurants: kebab, meat, pide and pizza.
Located at: Turgut Özal Caddesi
Telephone +90 645 1873
Open 8am to midnight. A marina side restaurant celebrated for chargrilled meat dishes/ kebabs.
useful information for your Turkey Holiday
Accommodation Inspiration