Discover Shopping in Marrakech
From traditional Souks to modern shopping malls
Marrakech is truly a shopaholic's dream destination! In the new town Gueliz and Hivernage areas of Marrakech you will find modern stylish shopping malls and brands such as H&M, Lacoste and Loius Vuitton. There are a number of shopping malls in Marrakech that offer the modern shopping centre experience with food halls and entertainment such as bowling or cinemas.
But of course, the real fun starts when you head into the walled medina and wander the endless narrow alleyways that make up the various souks. The medina is split into different souks and named after the goods traditionally sold there, such as the Spice souk, Slipper souk or Meat souk, and amongst these souks you will find shops selling all kinds of goods including fruit, veg, meat, clothing, footwear, kitchenware, souvenirs, jewellery, furniture, and carpets.
One thing you will notice in the souks is that nothing has a price tag and you will need to haggle over the price. Advice in guidebooks and online usually recommends that you should go no higher than 40% (or another given percentage) than the vendors starting price, however, the vendors are aware of this advice and will of course start with an even higher price. Their starting price will often reflect how wealthy you look, and if you are wearing labelled designer clothing, expensive watches, jewellery or sunglasses then that will influence how much they would like you to pay, so it's definitely worth picking your wardrobe carefully.
The experience of haggling should be fun and enjoyable and often concluded over a cup of Moroccan tea. There are a few tips when looking to make a purchase in the souks, the first thing is not to start negotiations unless you are really interested in buying the item. Decide in your head what the item is worth and the maximum you are willing to pay, start with a low offer and after much animated shock and over-the-top discussions you will hopefully reach a point where you are happy with the price and so is the vendor. If the vendor is not willing to come down to the price you want then walk away; chances are the same item will be available at many other shops in the souk or the vendor will call after you and reduce his price
Be prepared to meet a fellow tourist who will tell you that they paid less for the same item, this will happen, but remember that you agreed a price that you were happy to pay. It is also worth considering that paying a few Dirham too much may be a big help to the vendor and doesn't really leave you out of pocket.
Often the biggest fear when going into a souk is having no idea how much things cost in Marrakech so it is therefore suggested to head to the government run fixed price centre; Ensemble Artisanal Marrakech. Located just outside the medina a 10 minute walk from Jemaa El Fna square, this is a beautifully designed artisan shopping centre offering a relaxed and hassle-free experience. Here you can watch craftsman making traditional products and everything has a price shown. Once you have found an item in Esemble Artisanal you could buy it, or, you can head back into the souk with a price in mind and try and purchase the same for less!
Below are some common goods and souvenirs regularly purchased in Marrakech, together with details of the modern shopping malls.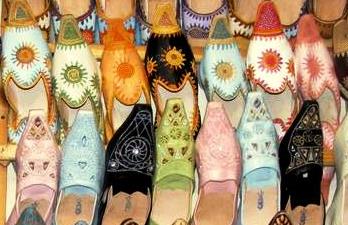 Babouches are traditional slippers made of leather. Look around and you will see many Moroccan women and older men still wearing babouches.
The basic slippers will have a soft leather sole and are made to be worn within the home, whereas the Berber slipper will have a sturdier sole for wearing outside.
You will need to try a few pairs on and try and find a pair that fits your foot tightly, with very little wiggle room. The babouche will be tight for the first few days of wearing them but the leather will give and and then it will feel as if the slippers were made just for you!
The quality of babouches can vary greatly and it is worth asking your hotel, riad or villa host for recommendations on where to buy a pair.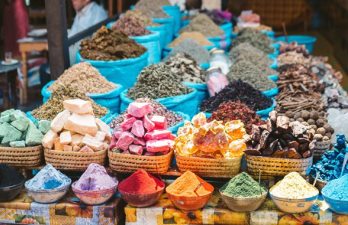 For those that enjoy cooking, the Spice souk is an olfactory delight. Stalls are stacked high with colourful aromatic spices and ingredients from dried rose petals and Jasmine blossom to star anise and saffron.
Try not to buy the spice from the souks directly around Jemaa El Fna square as these will be poor quality aimed at the tourist. Instead, head north to Rahba Lakdima, a short walk to where you will find Place des Épices (spice traders square). It is worth checking the quality of the spices by smell and taste, especially the desirable and expensive saffron. Saffron should smell sweet, but taste bitter, and the saffron threads should splay out at one end like a trumpet. if you rub a thread between your fingers it should turn them yellow/orange.
Finally drop a thread in water, it should keep it's colour and slowly turn the water yellow, taking anything from 15 minutes to an hour. If it turns yellow quickly or not at all it is likely fake!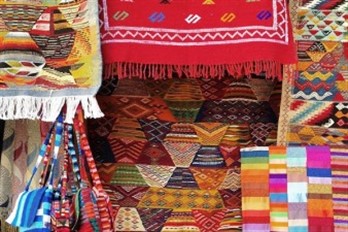 Moroccan rugs are beautifully designed and long lasting, whether it is the Berber style thick blanket or the more traditional carpet. It is worth noting that an authentic hand-made carpet is an investment and, depending on the quality and how well made it is, could last a lifetime or more.A genuine rug/carpet will be hand woven and made of wool, but this is Morocco and there are of course many fakes! Try not to buy from the shops nearest the Jemaa El Fna square as these really are aimed at the unsuspecting tourist. One tip is to hold a lighter to a frayed edge of the rug (ask permission first), wool will not ignite.
Once you enter the shop it will at first be frantic with the seller showing you lots of options in order to better understand your preferences. Thereafter things will become a little calmer and Moroccan tea will often be produced whilst you look through the choices, until you have settled on the perfect one.
Now is the time to haggle and remember never pay over your set budget; be prepared to walk away!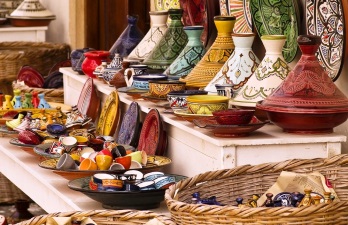 Everywhere you go in Morocco, whether it be walking around the Marrakech medina or driving along mountain roads, you will see tagine pots and other ceramics on offer.
The glazed serving dishes can add a splash of vibrant colour to your home and are a great reminder of your Moroccan experience. Just remember that you have to get that large tagine back home on the plane! If you are limited on suitcase space then a set of small olive bowls are perfect for packing amongst your clothes.
Within a few days of arriving in Morocco you will no doubt have enjoyed a delicious tagine or two, these pots are fantastically easy to use at home. If you are planning on using a tagine for cooking then best to get unglazed and for serving a colourful glazed one is ideal.
There are many tagine recipes online together with a guide to cure and season your tagine before use.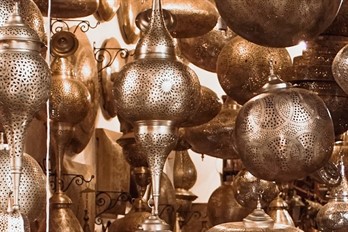 Look online at pages dedicated to Marrakech and one of the iconic images you see time and again are of the lanterns and lamps souks. These beautiful lamps will make intriguing colour patterns in your home or garden.
Lamps and lanterns can be found throughout the medina; they come in all different shapes and sizes, and are often made of copper, brass or glass mosaic. Be aware of the aluminium ones as these can get easily damaged and can become troublesome on the journey back home.
It is well worth buying the larger, heavier ones if you can transport them back.
Do get any electrical ones checked by a qualified electrician once home.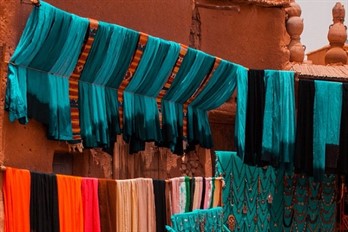 When it comes to clothing, you can find anything in Marrakech, whether in the luxury shops of the new town or whilst wandering around the seemingly endless souks.
Most visitors are usually looking for traditional Moroccan scarves, pashminas, kaftans and patterned trousers, but you can also find t-shirts, jeans and sportwear.
You will see many Moroccan men walking around in what is often described as a Jedi robe (think the Star Wars franchise), these robes, often hooded, are called Djellaba and are the traditional attire of North Africa. The thick wool winter Djellaba makes an ideal dressing gown back home.
On the east side of the medina you will find the tanneries, and you wiull actually smell them before you see them! Here you will see the tanner dying and drying the leather. Due to the proximity of the tanneries, Marrakech's souks are full of handmade leather goods, from footwear to bags, belts to pouffes.
If you choose good quality, well-made leather goods then they can last you many years.
Leather pouffes are an excellent choice as they come 'unstuffed' so easy to pack in your suitcase and will certainly bring a touch of Moorish delight to your home.
If you are looking to buy a leather handbag or travel bag whilst in Morocco, consider bringing a smaller bag with you and use your new leather bag as your hand luggage on the way home.
Useful information for your Marrakech holiday
Useful information for your Moroccan holiday