Out and about in Marrakech
Discover ways to relax, see the sights or find an adventure
Marrakech is a vibrant colourful city that invites tourists to do as much or as little as they desire, whether that's relaxing by the pool under the African sun or a non-stop adventure into the history and culture of this ancient desert trading post.
Marrakech city centre is ideal for exploring on foot and most places in the city can be reached in about an hour's walk. Outside of the ancient walled medina the orange tree lined avenues have wide pavements and many parks in which to rest with an ice-cream or tea.
Head to the new town (villa nouvelle) districts of Gueliz and Hivernage and explore the modern shopping malls offering international brands and cinema/bowling, glitzy cocktail bars, casinos and nightclubs.
Step inside the ancient walled medina (a UNESCO World Heritage Site) and get lost in its narrow winding alleyways (derbs). If it was not for the scooters buzzing pass or the shrill of the mobile phone you can really get a sense of bygone days, here you will see that the donkey or hand cart is still an important method of transporting goods around the medina. The medina is a mix of souks and residential homes/accommodation. There are two types of homes; riads (multi-storey homes with a central garden) and dars (smaller than riad and have a smaller central courtyard).
With many museums you can explore the history of Marrakech, the culture of the Berbers, or the art of the region.
There is plenty to keep the young at heart entertained, from riding the water slides at the aquapark to whizzing around the go-karting track, and from desert quad biking to experiencing a ride on the original 4x4; the camel.
Below is a selection of places in Marrakech to explore;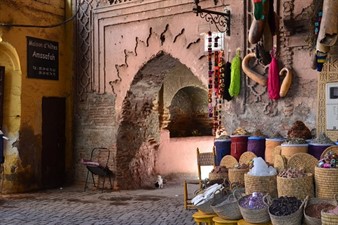 The historic heart of Marrakech is its walled medina which was constructed in the 11th Century and this warren of narrow lanes is home to many houses and souks.
Wander around the souks that sell almost everything possible from spices to clothes. The souks are open until late so why not have your evening meal at the Jemaa El Fna food market followed by some evening shopping.
You will get lost but that is all part of the experience. There will be many people offering to show you the way, but you will invariably be lead to a friend's/relative's shop or asked for money. Instead ask one of the shop keepers for directions or keep an eye out for the blue signs overhead that direct you back to La Place (Jemaa El Fna Square).
The medina lanes (Derbs) are very narrow which means the barrow or scooter is the main way to move goods around.
Jemaa El Fna is the beating heart of the Marrakech, this large open area known locally as 'Le Place' is located between the medina and the Koutoubia Mosque. During the day it is the starting point for many tourists embarking on their first adventure into the medina, usually after a refreshing orange juice from one of the many vendors. Restaurants, shops and cafés surround the square and offer the perfect place to sit back and enjoy the ever-changing vista.
Each evening, come dusk, locals and tourists converge and the square evolves into a large outdoor eatery with row upon row of street food stalls, selling everything from Tagines to snails, lamb kebabs to sheep's head.
Snake charmers, acrobats, dancers and traditional story tellers (in Arabic and Berber language) keep the crowds entertained, and you may even witness natural healers, dentists and barbers plying their trade out in the open.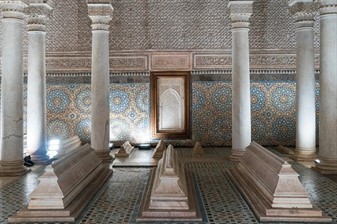 Since the rediscovery of the Saadian Tombs in 1917 by French aerial photography, they have proven to be one of the most popular attractions in Marrakech. The tombs go back to the sixteenth century and were designed by sultan Ahmad al-Mansur. They are now the final resting place of over 60 Saadi dynasty members including sultan Ahmad al-Mansur. The Sultan and his family are located in a crypt in the main mausoleum which is the star attraction due to its beautiful Italian-marbled and gold polished design.
Address: Rue de La Kasbah, Marrakesh 40000, Morocco (located behind the Kasbah Mosque)
Opening hours: 9am-4:30pm
Price: 70DH (approx. £5.60)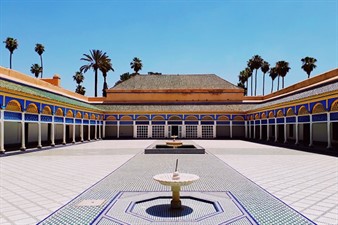 Bahia Palace was built in the 1860's by Grand Vizier Si Moussa before being expanded and embellished by both his son and successor. The palace is set over a vast two acres of land in the Marrakech medina and is home to 150 rooms as well as a beautiful Court of Honour.
On occasion the palace still hosts the Moroccan royal family, however it now mostly serves as a must-see tourist attraction.
Address: Avenue Imam El Ghazali, Marrakech 40000, Morocco
Opening hours: 9am-4:45pm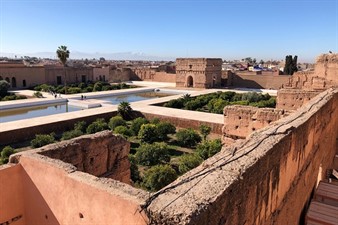 Built in the sixteenth century, the palace was built by sultan Ahmad al-Mansur in order to celebrate victory over the Portuguese army in the battle of the Three Kings. The palace had various countries, such as Italy and Mali, import materials for its decoration and was generally used for receptions where the sultan could show off his wealth and power.
After the death of the sultan in 1603 and decline of the Saadi dynasty, the palace fell into ruin and today is a popular tourist attraction as well as an exhibit space.
Address: Ksibat Nhass, Marrakech 40000, Morocco
Opening hours: 9am-6pm Price: 2 euros (approx)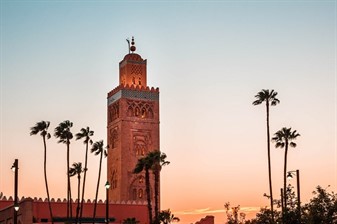 Set amongst large gardens in the heart of the city, the Koutoubia Mosque stands out for its rose colouring and height of 70m. This is Marrakech's largest mosque and the minaret is still the highest building in the city, so it certainly should not be missed.
The mosque was originally built in 1147 before being rebuilt in 1158. This second version is what still stands today.
Address: Medina Jamaa El Fena, 40000, Morocco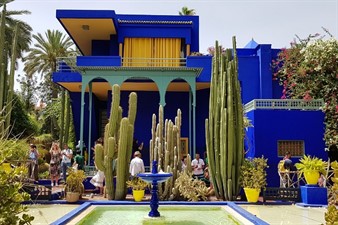 The botanical garden is set over two and a half acres and was created over a 40 year period by Jacques Majorelle, a French Orientalist artist. The gardens feature a Cubist villa, designed by Paul Senior, which was his residence until the 1950's whereby the famous fashion designers, Yves Saint-Laurent and Pierre Bergé, purchased and restored it. The villa is now home to the Islamic Art Museum of Marrakech alongside the Berber Museum which features a collection of Majorelle's paintings.
Address: Rue Yves St Laurent, Marrakech 40090, Morocco
Opening hours: 9am-6pm. Closed on Monday and Tuesdays
Website: jardinmajorelle.com
Established in the 12th century, the Menara historic public gardens and orchard are set next to a reservoir and a pavilion dating back to the 19th century. The pavilion, with its green tiled roof, has become a symbol of Morocco and its design is considered typical of royal pavilion architecture during the Alaouite period.
Address:
Les Jardin De La Menara، Marrakesh 40000, Morocco
Opening times: 8am-5pm
Website:
www.jardin-menara.com/en/home/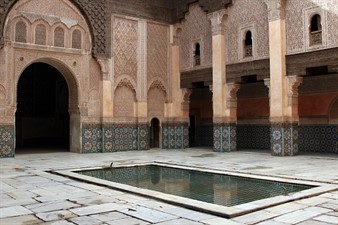 Built almost 500 years ago, the Ben Youssef Madrasa was the largest and most important Islamic college in Morocco. Stepping inside is like stepping back in time where little has changed since the 16th Century.
The madrasa has 130 rooms and at its peak housed over 900 students in very basic dorms. The highlight of the college is its magnificent interior patio.
Address: Rue Assouel, Marrakech 40000, Morocco
Opening hours: Daily 09:00 -18:00
Entrance Price: approx. 60MAD (£5) per person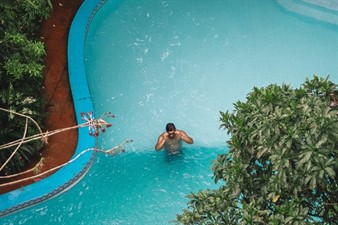 Oasiria is an aquapark located in Marrakech, with various waterslides, lazy river and swimming pools set within 10 acres of gardens, it provides the perfect place for the whole family to cool off.
Located a 10 minute drive from Jemaa El Fna square and easily reached by taxi or alternatively there is a free shuttle bus service. The bus is blue with the Oasiria logo, and it picks up from just behind the Koutoubia Mosque.
Price: Adults 250MAD/20GBP & Child under 1.5m 150MAD/12GBP
Address: Km 4, route d'Amizmiz, Chrifia - Marrakech
Email: info@oasiria.com | Website: www.oasiria.com/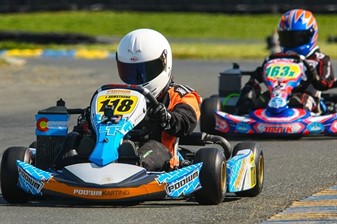 Marrakech Kart Racing track is located on the outskirts of the city, a 10 minute taxi ride from Jemaa El Fna square.
Choose to join an open session or if you have enough people book the track for a Grand Prix session.
Karting Marrakech operate 270cc single as well as two-seater karts.
Price: A session start from around 250MAD/20GBP
Address: Circuit Automobile Moulay El Hassan, Tourist Area Agdal, Route de l'Ourika, Marrakech
Email: y.moumane@marrakechgrandprix.com
Website: www.marrakechgrandprix.com/marrakech-kart-racing/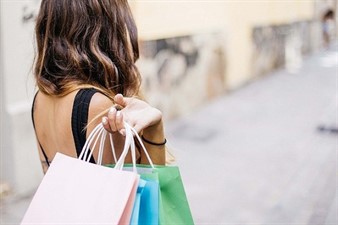 Marrakech has two modern shopping malls, offering a mixture of internal shops, food courts and entertainment (cinema, bowling, children's play zones)
Carre Eden Shopping Centre - Located in the Gueliz district of Marrakech (30 minute walk or short taxi ride from Jemaa El Fna square), this shopping centre has both international and domestic brands as well as a large Carrefour Supermarket (with Alcohol).
Website: www.carreedenshoppingcenter.com/
Menara Mall - Located in the Hivernage district of Marrakech (30 minute walk or short taxi ride from Jemaa El Fna square), this shopping centre has the usual international brand shops it has also recreated a 'souk' area selling traditional Moroccan goods.
Website: www.menaramall.com/
There are various places around Marrakech where you can experience travel on a 'ship of the desert'.
Menara Gardens - A short 10 minute taxi ride west from Jemaa El Fna square is Menera Gardens, just outside the gardens you will find camels and donkeys available for a 10 minute ride, ideal for the children or to tick the 'I rode a camel in Morocco' box.
La Palmeraie (Palm Grove) - A 15 minute taxi ride north of Jemaa El Fna Square the Palm Grove of several thousand trees, you can take a longer camel trek (1-2 hours) amongst the trees.
Agafay Desert - This arid rocky desert is about 30 minute taxi ride from the city, longer camel treks are available (1-3 hours) and can include tea/lunch in a Berber tent.
Calèche Ride (Horse & Carriage)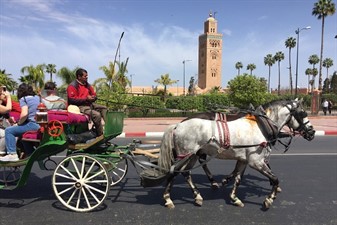 Throughout Marrakech you will see many horse and carriage (Caleche), often stopped at one of the drinking troughs installed for the horses.
These make a great alternative to a taxi or for an hour or two ride around the city.
The caleche can be picked up from various places around the city, however the main place is at the edge of Jemaa El Fna square. The fixed prices are shown on the carriage, however, always agree a price before getting into the carriage, and expect to pay around 150MAD (12GBP) for an hour. Please be aware that you may get told the price is per person, it is not, if you feel the price is going too high walk away, another driver will no doubt approach you.
If you ask your driver for a 1 hour tour of Marrakech, he will take you through some of the old parts such as the Mellah as well as up through the new city and the luxury casinos.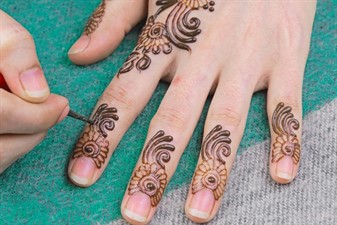 You will see ladies on Jemaa El Fna square offering henna tattoos, it is recommended to stay away as there is no guarantee of the quality and type of ink used, you may get an allergic reaction. Actually, it is advisable for you to stay well clear as they may just start applying henna on your arm or hand whilst you walk by, if so, firmly say no and pull your arm back.
If you do want a traditional henna tattoo, then head to the henna café. Not only do they offer henna tattoos but they also serve delicious food.
Ethical travel is important to us. The Henna Café is an "Association Culturelle" charity project. All profits go to help local people in need and fund sustainable development.
Address: 39 Arzet Aouzal, Bab Doukala
Website: www.marrakechhennaartcafe.com/
Useful information for your Marrakech holiday
Useful information for your Moroccan holiday