Experiences & Entertainment at Inara Camp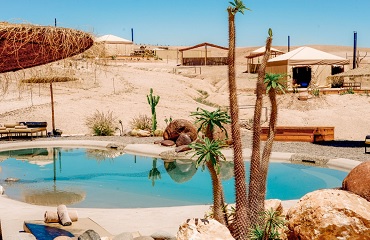 The Desert Lagoon offers you a breath-taking view of the desert overlooking the canyon and is the ideal place to admire the sunset from the blue background and turquoise waters.
The pool features jet streams to create a Jacuzzi area and a beach area complete with sun loungers where you can relax and see the superb view of the Atlas Mountains and the canyon that borders the camp in the Agafay desert.
Made of sand and quartz cast in a porous resin, The Desert Lagoon was built to provide guests with a 'beach feeling'. Helping to create this idea that the pool is a natural source is its specially designed shape and hand crafted 'rocks' created with a mix of resin and sand.
The swimming pool is heated from March through to October.
Massages:
Inara camp offers guests the chance to unwind whilst experiencing a gentle and hyper relaxing massage using Moroccan Argon Oil and Verbena.
Yoga:
Available for groups of up to 4, experience a dynamic awakening in one of Inara's yoga classes.
Please note that both experiences are available for an additional charge.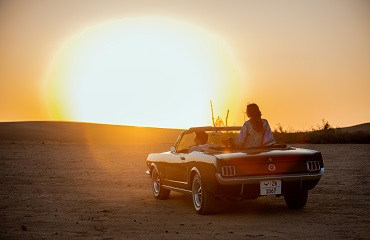 Choose between the Atlas Safari and Chic Picnic Safari during your stay at Inara Camp. />
The Atlas Safari features a full day of visiting the desert and Atlas Mountains with a lunch at the inhabitant's home in IMLIL, part of the national park of Toubkal.
The Chic Picnic Safari is also set over a full day and allows guests to sit and enjoy a picnic in the Atlas Mountains with views over Toubkal.
Toubkal is a famous mountain peak in southwest Morocco and is the highest peak in the Atlas Mountains.
Please note that both safaris are available for an additional charge.
Camel, Horse, Quad & Buggy rides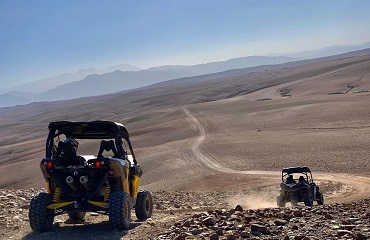 Camel rides:
Discover the wonderful landscape of the Agafay Desert whilst being led straight from the Inara Camp. Alternatively, take a soft walk through the desert alongside the camels with a stop for a gourmet snack.
Horse rides:
Suitable for beginners to those more experienced, spend 1 to 3 hours horse riding with a private guide.
Quad & Buggy rides:
Take a private quad or buggy ride across the desert. A great way to have fun and let off steam whilst discovering more of the landscape!
Please note that all experiences are available for an additional charge.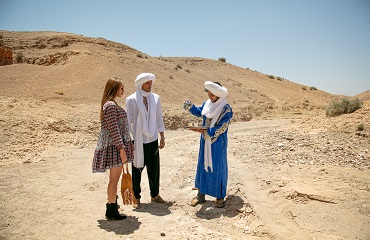 Whether you wish to spend a full day with a stop for lunch, biking across the desert or just spend a morning, Inara Camp will be able to cater for this. Several different grounds are available to discover this unique way.
Take a walking discovery of the Agafay desert with a private guide or take a soft walk that ends with a picnic at the canyon base.
Please note that all experiences are available for an additional charge.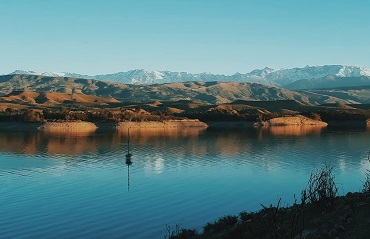 Head across to Takerkoust Lake with its deep blue waters and exceptional desert plains and mountain back drop for some nautical activities, such as canoeing, kayaking, stand up paddle boarding, jet skis and hover boards.
Please note that all experiences are available for an additional charge.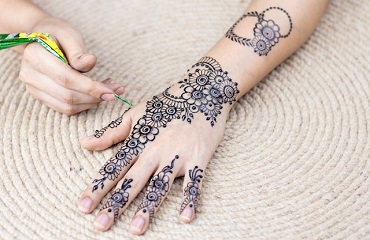 Local shows
Enjoy the sounds of 'Gnaoua' a local live band, watch 'Ahouach' a traditional group of Moroccan men and women who perform traditional dance, singing, percussion and much more, watch in awe as a fire eater performs his tricks or take part in a live cooking show or Moroccan tea ceremony.
Shows from afar
Have Inara organise for African percussionists, Oriental belly dancers, tribal percussionists and dancers from Senegal or an Oriental band and tribal belly dancers to show off their skills and provide you with a breath-taking show.
'HENNA' tattoos
Allow Inara's professionals to tattoo 'HENNA' onto you in whatever design you would like.
Parties
Inara Camp can arrange private parties for your group including a DJ and lights.
Please note all entertainment is available to book for an additional charge.