Things to do | Kasbah Tamadot
Whether you're looking to relax in the spa, soak up the sun by the swimming pool or hike the famous Atlas Mountains, there's a whole host of activities to enjoy during your stay at Kasbah Tamadot.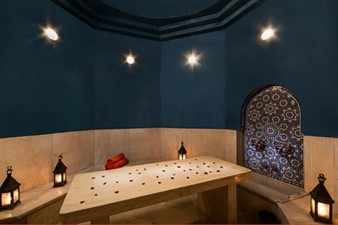 You've come away on holiday to relax, right? Lounging by the pool and soaking up the sun is a good start, but for that extra special touch, the Asounfou Spa has a range of skincare and body treatments for both men and women.
Asounfou, the Berber word for relaxation, describes the Kasbah Tamadot beauty treatment rooms perfectly…
Our spa offering currently is a little limited compared to usual and the Hamman room is currently closed. We also ask that you pre-book your spa treatment.
For a true Moroccan experience try a Hammam, where the skin is deeply cleansed, purified and softened with the traditional Moroccan cleansing ritual. We've selected our favourite spa treatments to get you in the mood…
Treatments are charged additionally - for a full list of treatments currently available, please click here.
Authentically Berber Experience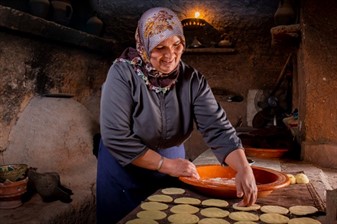 Immerse yourself in a true cultural experience at Kasbah Tamadot and enjoy a 1 hour Mule Trek, tea in a local Berber House, a visit to the Eve Branson Foundation, a 1 hour Berber cooking lesson as well as Berber bread baking. A minimum stay of two nights is required to enjoy the Authentically Berber Experience, which can be applied to all rates, offers and packages available at Kasbah Tamadot.
What's included (MAD 1200 per person)?
2/3 hour walking trek in the Atlas Mountains
Tea in a local Berber house
1 hour Berber cooking lesson
Berber bread making
A visit to the Eve Branson Foundation (an alternative activity will be arranged on Saturdays & Sundays as the Foundation is closed at the weekend)
Tennis Courts & Table Tennis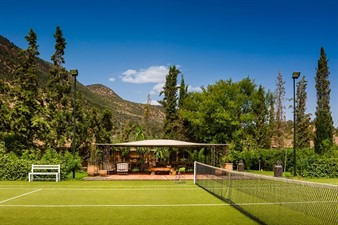 Kasbah Tamadot have two floodlit Astroturf tennis courts and it's one of Richard Branson's favourite activities when he visits. Racquets and balls are available on request. A tennis coach can be hired for MAD 1,300 for two people, per hour.
Or maybe challenge someone to a game of table tennis.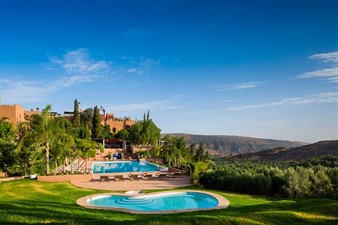 Take a dip in the outdoor infinity pool and take in the stunning views of the Atlas Mountains.
There is also a kid's outdoor swimming pool
All swimming pools are heated to a comfortable at 28°C, so a midday swim in the middle of winter is still the norm!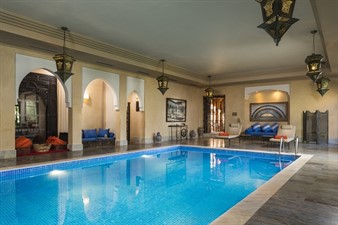 If the outside is a little chilly then try the indoor heated swimming pool with its own lounge area.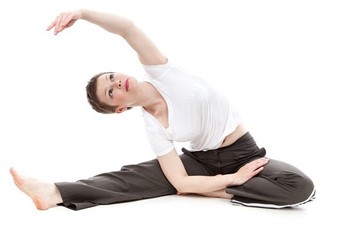 If you're looking to keep fit while you're visiting, the air conditioned gym is equipped with a running machine, bike, multifunctional weight station and free weights.
Relax and rejuvenate with an hour-long yoga class, available every Tuesday and Friday at 11am. Just ask a member of the team who'll let you know the location on the day. MAD 130 per person.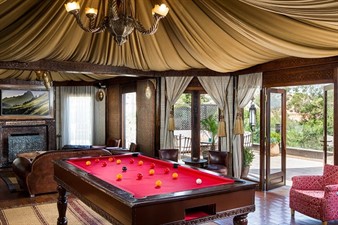 In the Berber language, Asmoun means 'a place to get together or meet', and the lounge is a great place to take in the views over the valley, spend a relaxing afternoon, or enjoy a pre-dinner cocktail. The lounge is equipped with a pool table, satellite TV, DVD player, music system and a fully stocked bar.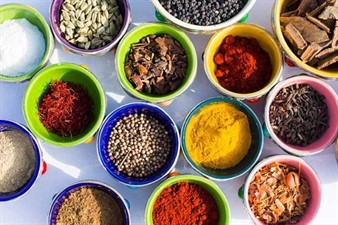 The cookery lessons are hands-on interactive sessions where our chefs will walk you step-by-step through how to make some of our more popular dishes. Sessions take place in the morning and afternoon and last approximately three hours. Each budding chef will have their own cooking station where they'll create a delicious three course meal including salads, soup, tagines and dessert. Then you'll have the pleasure of eating your culinary delights for dinner that evening!
Cost per person: MAD 1,300
Duration: 2 hours
Suitable for: smaller groups and families
We ask for a minimum of 48 hours' notice.
For more information please click here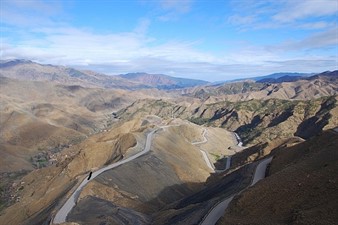 Kasbah Tamadot offer various day excursions by car with guide and private driver.
Tadmamte, Ourika Valley
Total driving time: 5-6 hours
Head towards Marrakech for twenty minutes before taking the Oukaïmeden route that winds its way high above the Tamadant Valley. The scenery is impressive and passes ancient and isolated mountain villages. From this route you will enjoy amazing views of the High Atlas including North Africa's highest peak, Mount Toubkal. After lunch wind your way down the Ourika Valley, which is characterised by its beautiful scenery of fruit trees, little wooden bridges spanning the river to old houses and the magnificent backdrop of the Atlas Mountains. Please be aware that in heavy rain or snow the off-road track will be impassable and an alternative route will have to be followed. Please note the cost of lunch is not included with this tour. MAD 3,800
To see all day excursions by car click here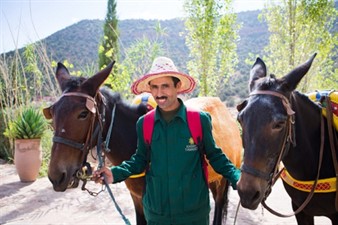 Mule trekking - Discover the surroundings of the High Atlas Mountains in a uniquely traditional way with one of our resident mules. Mules demonstrate a different combination of physical and psychological traits from their horse and donkey parents, and can be identified by their large donkey ears and long horse tail. Contrary to popular belief, mules are not stubborn. They're very intelligent, patient and loyal to their owners.
NB. Children under the age of 12 years must be accompanied by an adult.
One hour trek to a local village - Passing the eucalyptus and olive groves you will make a gentle ascent into a nearby village with its traditional Berber homes. A great way to experience the local culture. MAD 300 per person.
All treks are led by our experienced English speaking guides.
For more information please click here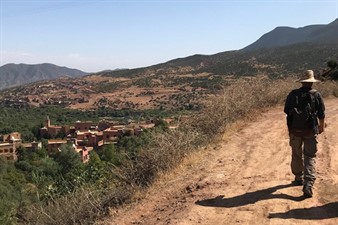 High Atlas Treks
The walking opportunities are fantastic and a definite must do activity! We have listed some of the most scenic and spectacular treks in the surrounding areas.
There are a wide variety of walks to do during your stay at Kasbah Tamadot ranging from easy (2 hours, 4.5km), moderate (4 hours, 3km) and challenging (2 hours, 5km).
To find out more about the treks available speak with your journey planner, otherwise the team on property will be able to help you decide the best walk for your ability once you arrive.
If you are planning on trekking please remember to pack suitable walking footwear and clothing.
For more information please click here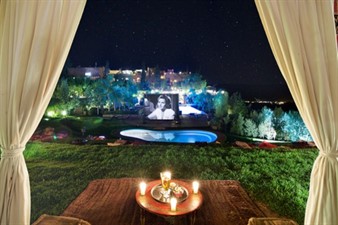 A cinema under the stars? Yes please - Kasbah Tamadot offer free movie nights during the summer months, every Monday & Thursday, in the open-air. We show lots of different films, with Casablanca being the firm favourite, complete with popcorn of course!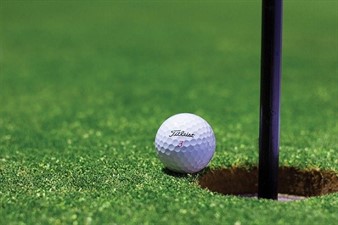 Royal Golf Course - This 72 par 5888 metre course is the private property of King Mohamed VI and was the preferred course of his father Hassan II. Located close to Marrakech, it was built for the Pacha El Glaoui in 1923 and designed by architects Arnoud Massy and Gustaves Golias. Each course has a limit of 4 people per round.
Amelkis Golf Course - This 72 par 6655 metre course was designed by architect Cabell Robinson and is located outside Marrakech.
Palmeraie Golf Course - This 72 par 6345 metre course is located in the Palmeraie and was designed by world famous architect Robert Trent Jones. The greens and fairways lie around 7 lakes and the age-old palms that gave the Palmeraie its name.
Golf carts, clubs and caddies can be arranged by speaking to reception.
The Eve Branson Foundation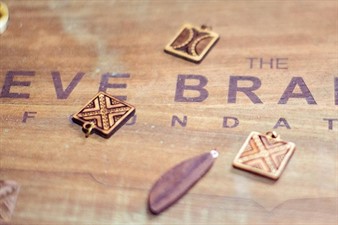 Spearheaded by Eve Branson,(known to us as Richard's mum),The Eve Branson Foundation aims to help the local people in the long term by setting up sustainable enterprises, including a craft house run and managed by locals that teaches skills to the young women and men in the area. Take a visit to the craft house in the neighbouring village of Tansghart where you can learn about the current projects over a cup of traditional mint tea.
A selection of handmade gifts can be purchased at the craft centres or from the Berber Boutique adjacent to the hotel's tennis courts. Sales from purchases go directly back to the artisans and centre operations.
Cost per person: MAD 200
Duration: 2 hours
For more information on The Eve Branson Foundation; https://www.evebransonfoundation.org.uk/
Family Fun at Kasbah Tamadot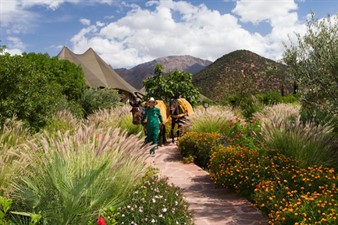 With Kasbah Tamadot teams able to tailor a range of activities for our younger guests, here are just some examples of what your 'Kasbah Kids' may get up to during their stay at Kasbah Tamadot:
Meet the resident mules, Paprika and Parmesan, then go for a ride around the property and the nearby village.
Go on a Moroccan treasure hunt around Kasbah Tamadot,
learn how to make delicious Berber bread, or
discover local culture with a Moroccan tea party.
Kasbah Kids is not a fixed kid's programme. The staff members are happy to help organise activities, but are unable to watch over children at all times. Parental supervision is therefore required for all suggested activities. Please note that some of these activities are subject to availability.