Kasbah Tamadot
Discover this magical retreat in Morocco's Atlas Mountains.
Situated in the spectacular Atlas Mountains in Morocco, the award-winning Kasbah Tamadot was bought by Sir Richard Branson during one of his famous ballooning expeditions. Each of the 28 rooms and suites has been individually decorated to reflect the beautiful architecture of the building and features antiques from all over the world.
"Welcome to Kasbah Tamadot! This magical place is perfect for rest and relaxation. Enjoy the fresh mountain air as you wander around our beautiful gardens, or go on a trek through the High Atlas Mountains... I hope you enjoy your stay." - Sir Richard Branson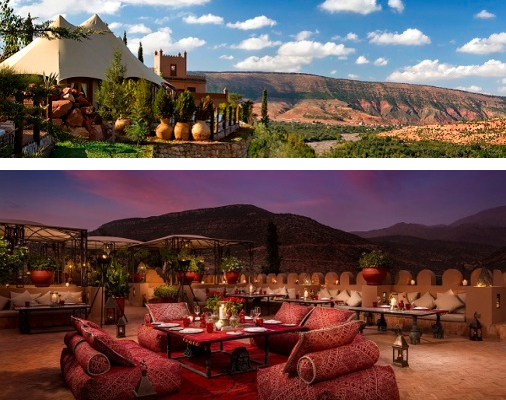 It's easy to imagine you're a million miles away from it all in the gorgeous surroundings of Kasbah Tamadot. We're located in Asni, a little village and marketplace in the foothills of the Atlas Mountains, an area inhabited by the friendly Berbers.
We don't do ordinary and a stay at Kasbah Tamadot is unlike any other experience. Wander through the gardens, experience the magic of our team and step into Sir Richard Branson's Moroccan home and you won't want to leave. Look out for our offers just in case you needed an excuse to visit us.
Kasbah Tamadot was the former home of Luciano Tempo, the renowned antiques dealer and interior designer. Luciano filled Kasbah Tamadot with a huge range of items - tables, sculptures and ornaments collected from India, Indonesia and North Africa. When Sir Richard Branson bought Kasbah Tamadot in 1998, he also inherited Luciano's 1,000 square metre warehouse, filled to the brim with his treasures. As you wander around you will see pieces of Luciano's collection that have been used to furnish the Kasbah today.
Sir Richard Branson discovered Kasbah Tamadot when he visited Morocco with the goal of circumnavigating the globe in a hot air balloon. It was in fact his parents Ted and Eve Branson who found the beautiful Kasbah and dreamed of turning it into a wonderful Moroccan retreat. Richard didn't quite manage to complete his hot air balloon mission but he did purchase that magnificent Kasbah and his parents' dream became a reality when Kasbah Tamadot opened its doors to its first hotel guests in 2005.
The Kasbah Tamadot Family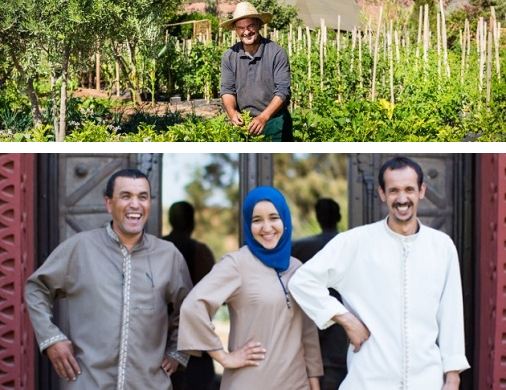 Kasabah Tamadot employs 140 staff together with our extended family of 6 peacocks, 2 mules, 2 donkeys, 2 camels, 6 goats, 2 ewes and 7 ducks. Our staff retention rate is exceptionally high and over 98% of our team are from the local area. Each individual employed at the hotel supports up to 10 other individuals in their extended family.
A message from Vincent Padioleau, our General Manager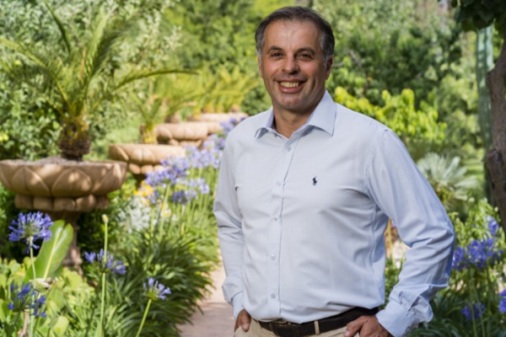 My team and I are so looking forward to welcoming you to our magical Moroccan retreat in the Atlas Mountains.
As the world around us has changed over this last year, we have adapted to make sure we can continue to welcome our guests in the safest way possible, without compromising on the incredible experience we are proud to offer.
No matter how you are arriving, you can be assured that you will always be greeted with the same Virgin Limited Edition magic that we are renowned for. We may be keeping a social distance and our face masks might well hide our smiles, but we will still have smiling eyes, ready and waiting to create your own truly unique Moroccan experience.
It goes without saying that you can have complete peace of mind that we will be carrying out the most meticulous of cleaning measures even before you have set foot in the reserve; ensuring that every single touchpoint is covered throughout your stay. Each member of our team has received new COVID-19 training and we will be continuing to refresh, adapt and improve our processes, to ensure we are always one step ahead.
Kasbah Tamadot 'Our Values'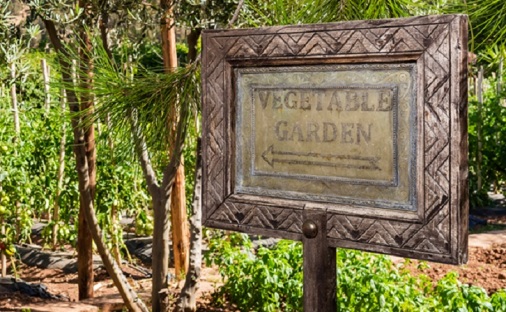 When Sir Richard Branson purchased Kasbah Tamadot, we set up free English classes for the local population, irrespective of whether they wanted to ultimately apply for a job at the hotel. Most had never been formally employed prior to joining the team, and so in many cases we had to start from scratch. We believed that in the long term we could only benefit from focusing on the resources on our doorstep.
Supporting the local community is strengthened even further through projects initiated by Kasbah Tamadot and other charitable projects such as the Eve Branson foundation and Virgin Unite.
Taking care of the environment is also high on our agenda. We're committed to sustainable development of the local tourism industry and we recognise our responsibility towards the environment and the local community. Consequently, we are continually looking to identify new methods for waste disposal, recycling and energy saving.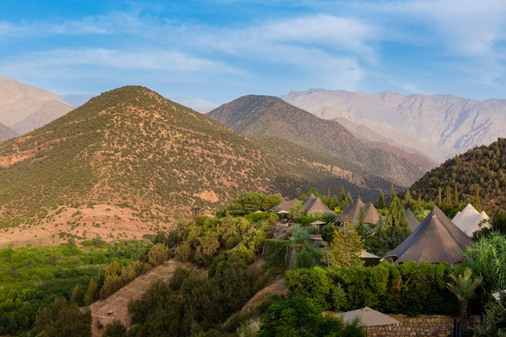 Kasbah Tamadot is open year round and only closes for a brief period in mid-January for routine maintenance. Every season has so much to offer from snow-capped mountains, warm days by the pool and walking in the foothills of the Toubkal National Park.
Spring is when the region starts to warm up, the days are pleasantly warm with just a small amount of rainfall. In April the temperatures can range from 12°C up to 24°C, with the temperature dropping at night.
As we enter July the heat during the day continues to increase and by August we are very much a 'hot sun' destination, but a pleasant 10°C cooler than the high temperatures in Marrakech.
In the autumn months the evenings start to cool and the days become a little less intense heat-wise. Towards the end of September the snow on the tops of the Atlas Mountains starts to return.
December, January and February is the coolest time of year to visit, so get cosy in the library or Asmoun Lounge in front of the fire with a good book and a warm drink. With the average temperature at 13°C and the sun still shining, our heated pools are comfortable at 28°C, so a midday swim is still the norm!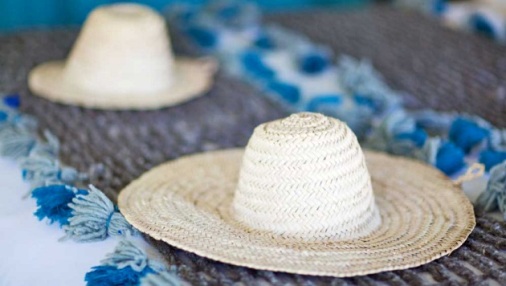 The atmosphere at Kasbah Tamadot is relaxed and informal, so you can simply pack your suitcase for the season and the types of activities you plan on doing during your stay.
Around the pool area, guests are welcome to wear shorts, t-shirts and swimwear. If you wish to go walking, don't forget to pack a good pair of trainers (sneakers), sunhat and sunglasses.
When visiting areas outside our hotel it is helpful to be mindful of local customs. Morocco is a liberal Muslim country and locals are used to seeing tourists and are known for their welcoming and friendly attitude toward visitors to their country. We would recommend that women avoid revealing attire if they wish to observe local custom.
In the evening, you may choose to wear 'smart-casual' attire to dinner. A jacket and tie are never necessary in the restaurant, but feel free to dress up if you wish!
We are proud members of Pack for a Purpose, an initiative that allows travellers like you to make a lasting impact in the community at your travel destination. If you save just a few kilos of space in your suitcase and bring supplies for schools or medical clinics in need, you'll make a priceless impact in the lives of our local children and families.
Since joining in 2012 we have collected around 400kgs of clothing each year for the local community.
Please click below to see what supplies are needed for our project/projects.