Dining at La Sultana Oualidia
With unrivalled fresh produce from sea and land, La Sultana Oualidia showcases the best produce of Morocco with vegetarian, as well as locally and ethically-sourced meat and fish options from local producers and La Sultana Oualidia's very own organic vegetable garden.
La Table de la Plage -
Seafood restaurant using local produce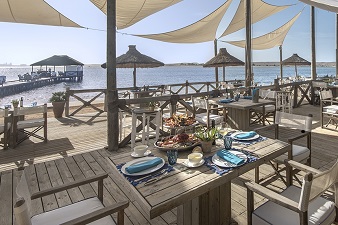 Set on the decking right by the sea, La Table de la Plage showcases the best produce from the hotel's organic garden and local seafood producers.
Open every day for lunch to resident and non-resident guests.
La Table de la Sultana -
French & Moroccan cuisine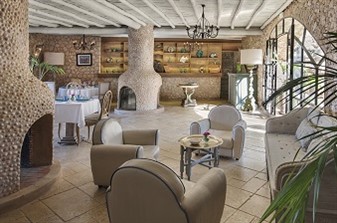 La Table de la Sultana showcases contemporary and innovative cuisine to celebrate culinary journeys around two seasonal menus: French inspirations & fine Moroccan cuisine.
The menu is inspired by the network of small local producers in order to follow their harvest time. Additionally, they share the taste of heritage Moroccan products like Saffron from Taliouine, salt from Zerradoune, cumin from Alnif and Argan from Souss.
Open every day for dinner to resident guests only.
The O Bar -
Showcasing Oyster & Sea urchin specialities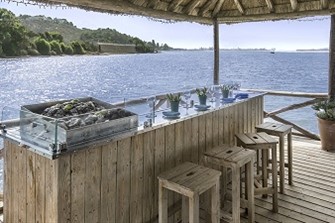 Located at the end of a mesmerising pier overlooking the lagoon and extending onto the Atlantic coast, The O Bar offers both local and international oysters with Moroccan wine pairings. Locally grown oysters from Oualidia's unique lagoon offer a delicate and balanced taste, including the house speciality, the Pied de Cheval Oyster.
Open every day to resident guests only.