Experience & Wellness at La Sultana Oualidia
Discover a range of activities and experiences available for guests staying at La Sultana Oualidia...
La Sultana's cathedral-inspired spa is composed entirely of stone and is the perfect haven for the body and mind. The spa therapists can perform a selection of traditional Moroccan treatments using organic oils from Nectarome - which uses the best Moroccan organic plants and essential oils.
An indoor pool, Jacuzzi, relaxation area, hammams, sauna and fitness room are all features of La Sultana Oualidia's Spa.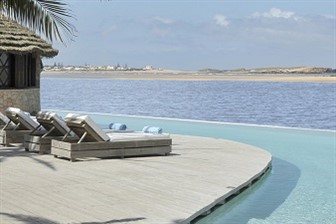 La Sultana's 45-metre long infinity pool is perfectly positioned to provide outstanding views over the lagoon. The sun loungers also all offer 180 degree views of the beautiful surroundings.
To complete the relaxing experience the pool's water has been specially filtered to make it purer and softer and it is surrounded by 5 seawater Jacuzzis.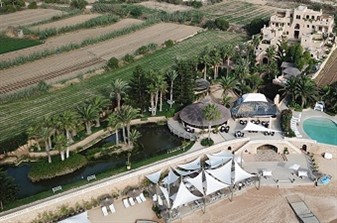 There are plenty of activities that guests can enjoy at Oualidia's beach and natural lagoon. Simply relax and take in your surroundings or get involved in the following range of activities...
- Surfing (Oualidia has an all year surf school)
- Paddle boarding & kayaking (Take a smooth ride along the lagoon or head to the wave break point for a more advanced spot!)
- Windsurfing
- Beach Volleyball
- Horse riding (Free ride on endless beach and stunning country side)
Immersive food experiences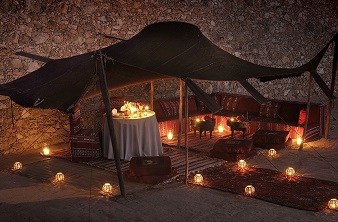 La Sultana Oualidia offers a range of dining experiences to enhance your stay.
Complete a 'must do' experience and enjoy a Berber tent dinner - an authentic Moroccan dining experience on the beach. In addition to this, exclusive dining can be organised on the hotel jetty, around the swimming pool or in the hotel gardens.
La Sultana Oualidia also offers guests Moroccan cooking classes, where you can master the art of traditional Moroccan cuisine.
Other experiences available at La Sultana Oualidia
Bird Watching Safari: Kayak up the lagoon and encounter many bird species with the help of a guide. As a part of this safari enjoy a light lunch by the salt marshes.
Oyster Farm Exploration: A trip out to the oyster farms including a private picnic in a scenic spot and ending back at the hotel with drinks & appetizers at The O Bar.
Atlantic fishing: Morocco's coastline is renowned as one of the richest fishing areas of the Atlantic Ocean and the setting of Oualidia's lagoon offers diverse fishing types from the beach (surfcasting), the cliff or from a small boat.
Cycling: Explore the region by enjoying an off-road biking trail along the lagoon's peninsula and further up the reserve into the salt marshes.
Saturday souk: The weekly local market is a popular event that gathers many locals. Some visitors make the journey by donkey or donkey carriage from small villages 50km around Oualidia.