Mountain Retreats in Morocco
Discover the Atlas Mountains for your next relaxing break
Just a 45 mile drive from Marrakech sits the mighty, often snow-capped Atlas Mountains. Here you can hike the Atlas foothills, explore traditional Berber villages and soak up the sun whilst admiring the wonderful valley and mountain landacpe that's settled in front of you. The ideal time to make this getaway and escape from reality to a peaceful, scenic location, such as the Atlas Mountains, would be between April and October when you will benefit from the warmth of the Moroccan sun, as the temperatures do drop over the winter months.
Whether you are pairing your mountain retreat with another destination in Morocco or planning to enjoy your whole stay here, the Atlas Mountain range is not a destination that should be missed.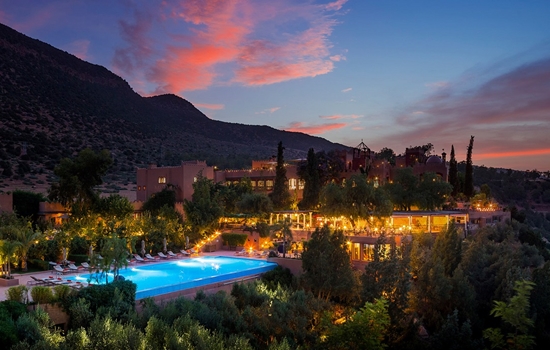 Situated in the spectacular Atlas Mountains in Morocco, the award-winning Kasbah Tamadot was bought by Sir Richard Branson during one of his famous ballooning expeditions. Each of the 28 rooms and suites has been individually decorated to reflect the beautiful architecture of the building and features antiques from all over the world.
Moroccan accommodation inspiration