Our Rhodes Beach Guide
The best beaches in and around Rhodes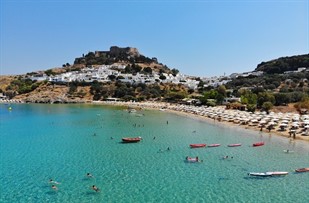 Lindos Beach is a large, sandy beach set at the foot of the charming village of Lindos. It is a popular and busy beach offering sun loungers & parasols to rent, all sorts of water sports and boat rental/excursions.
Running alongside the beach there are plenty of taverns and restaurants, as well as nearby mini markets and kiosks.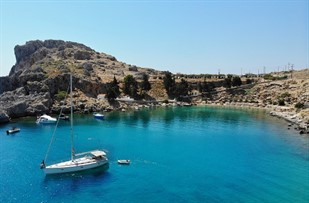 Just south of Lindos sits the picturesque St Paul's Bay. The two beaches in this secluded bay, which are a mix of golden sand and pebbles, provide a relaxing choice that is also great for swimming and snorkelling (they are particularly suitable for children due to the shallow waters).
The bay is also home to a small chapel built in the hillside. This now popular wedding venue is said to be the spot St. Paul first landed when he came to Rhodes to try and convert the locals to Christianity in A.D. 51.
There is a beach bar/restaurant and sun loungers & parasols are available to rent.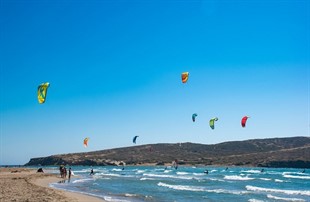 The impressive Prasonisi Beach is located on the southern coast of Rhodes Island. The beach is comprised of two sandy coves that merge together and lead out to a tiny island. It is a very popular choice for surfers and board and wetsuit hire is available. Other water sports, including kitesurfing and windsurfing are also popular here.
If water sports are not your thing, Prasonisi Beach is still worth a visit for its unspoilt views.
The beach has a couple of close by restaurants.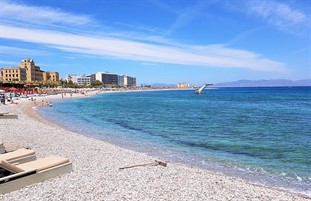 Possibly the most well-known beach in Rhodes Town would be Elli Beach, which offers a cosmopolitan vibe and has some excellent beach bars. The beach is close to the Medieval Town of Rhodes and there are plenty of restaurants around. Colourful sun loungers & parasols are available to rent and there are a variety of water sports on offer, along with a large diving board which is planted in the ocean.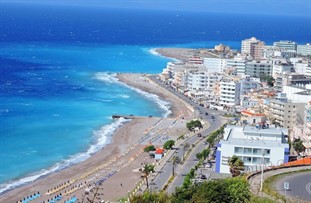 Kanari Beach is another option close to Rhodes Town, just 10 minutes from the city centre. A mixture of sand and pebbles, this beach does not have water sports, yet offers a relaxing spot for sunbathing and eating/drinking.
Anthony Quinn Bay
&
Ladiko Beach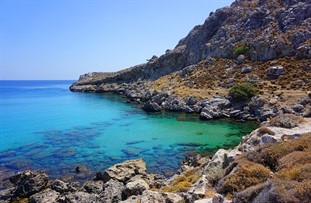 Named after the lead actor in the film The Guns of Navarone which was filmed in the bay, Anthony Quinn Bay is thought to be one of the prettiest and calmest spots on Rhodes Island. The beach is comprised of rocky platforms and some sand and pebbles. It's clear, emerald water makes it great for snorkelling and facilities include a few sun loungers & parasols, along with one beach restaurant.
The bay is located just a few minutes from Ladiko Beach. Surrounded by hills, this small beach is a relaxing choice (although it does get quite busy in the summer months) and offers sun loungers & parasols and a couple of beach bars/cafes.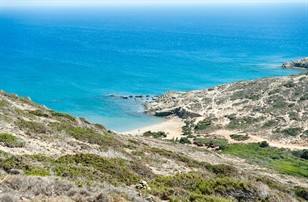 One of the most known beautiful, sandy beaches on Rhodes Island, Tsambika Beach is a long, sandy stretch on the Eastern side of the island.
The sheltered bay which is backed by rocky cliffs is a popular family choice with sun loungers & parasols available to rent, as well as water sports (including Jet Ski hire) and restaurants.
Faliraki Beach &

Kathara Bay
The lively Faliraki beach stretches over 4km and perfectly merges with the crystal-clear water of the Aegean Sea. This sandy option provides tourists with lots to see and do and facilities include sun loungers & parasols, water sports and bars & restaurants.
If you would like a quieter choice, Kathara Bay is just a short walk away, close to the harbour. This pebble beach has a few beach cafes/restaurants and sun loungers & parasols are available to rent.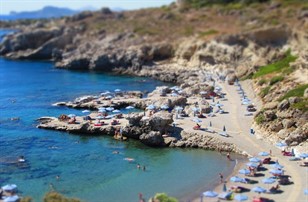 Kallithea resort is set alongside an array of beaches, coves and bays. Each brings something different, with the beaches offering sun loungers & parasols to rent, along with a good choice of cafes and restaurants, whilst the many rocks and coves offer plenty of chances for snorkelling and diving, amongst other water sports.
Greek Island Accommodation Inspiration
Useful information for your Rhodes holiday