Eating and drinking
Everything you need to know about dining in Greece
The Greek cuisine has had a culinary tradition of some 4,000 years and is a part of the history and culture of Greece. Its flavours change with the season and its geography. Greek cookery, historically a forerunner of Western cuisine, spread its culinary influence via ancient Rome. It has influences from the different people's cuisine the Greeks have interacted with over the centuries, as evidenced by several types of sweets and cooked foods.
The cuisine is very contemporary in Greek cookery. Greeks use a wide of vegetables, olive oil, grains, fish, wine and meat (white and red, including lamb, poultry, rabbit and pork). Other important ingredients include olives, cheese, aubergine, courgette, lemon juice, vegetables, herbs, bread and yoghurt.
Eating out in Greece is a social event and is often very good value, however many Greek families like to host dinner parties. Guests will prepare deserts and bring them along to the party.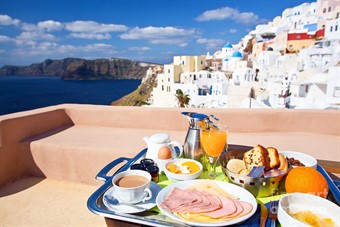 In the villages of Greece, breakfast used to consist of large quantities of animal fats that provided energy for the day's labours. The most important meal of the day in terms of nutrition, it also the most filling.
In Rhodes, Mykonos and Santorini the locals have a variety of different breakfast meals, like breads topped with nutritiuous sesame paste (tahini) and local honey or homemade jam. Many go for the sliced Peloponnesian or Macedonian ham or salami with their bread. However there are some more English based breakfast meals like Peloponnesian scrambled eggs with fresh tomatoes or fluffy textured Andriot froutalia omelet with potatoes and sausage. The number one drink at breakfast is Elliniko Cafe (Greek Coffee), and other drinks served are freshly squeezed orange juice, iced coffee (Frappe), black tea with lemon, chamomile or herbal mountain tea.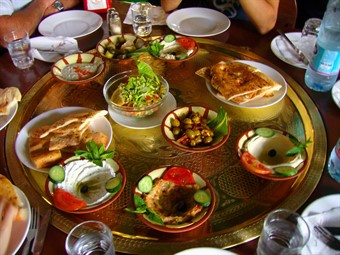 Meze or 'orektiko' is a selection of starters which can be served on a large platter for sharing or ordered individually. It can be served as an accompaniment to drinks or as a light meal or appetisers. Normally hot or cold, spicy or savoury. In Greece you might be offered seafood dishes such as grilled octopus with salad, sliced hard boiled eggs and garlic bread. As well as kalamata olives, fava beans, fried vegetables, aubergine salad and grilled cheese (sheep, goat or cow cheese).
Classic Moussaka is a casserole made by layering eggplant with a spiced meat filling then topping it off with a creamy bechamel sauce that is baked to golden perfection.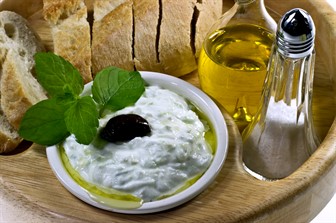 Cool and creamy, tangy cucumber dip flavoured with garlic is the perfect compliment to grilled meats and vegetables. It's served on the side with warm pita bread triangles for dipping.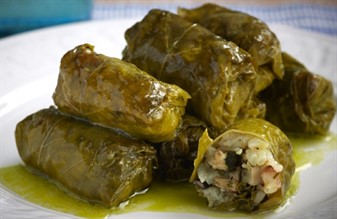 The use of grape leaves to wrap food dates back to the days of Alexander the Great. Stuffed with rice, pine nuts and fresh herbs. They can be served cold or at room temperature.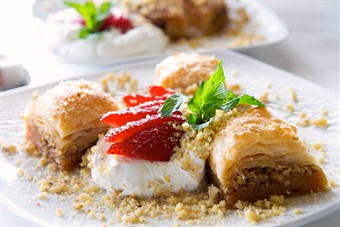 Fine layers of filo pastry interleaved with nuts and drenched in honey.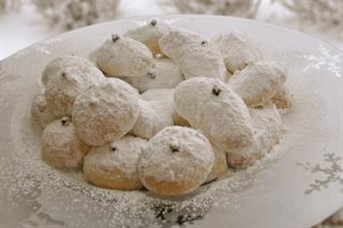 These are very rich cookies with confectioner's sugar and almonds (as are most shortbread cookies).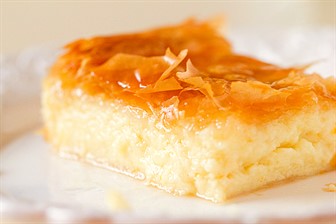 The custard pie is arguably one of the best Greek desserts. Creamy custard and flaky phyllo dough, that is baked to golden perfection then drenched with a lemon and orange infused syrup.
Ouzo
Ouzo is considered the national drink of Greece (some areas use the name raki) and can only be named Ouzo if it is made in Greece, similar to how only sparkling wine from the Champagne region of France can be called champagne.
When water or ice mixes with ouzo, a chemical reaction occurs and the ouzo turns from clear to cloudy white.
Wine, beer and spirits
Greek wines may be the most underrated on the planet. The Greeks have been making wine since around 2000 BC. Certainly, the quality of Greek wines has improved dramatically since the 1980s, and more of them have been appearing in the United States. For fans of the whites like Sauvignon Blanc and Albarino, Greek white wines offer outstanding quality for a reasonable cost. While Greek reds are not as compelling however they have the best bottlings.
Please find details of Greek wine producers below;
Thalassitis Wine
Gaia 'Thalassitis' Assyrtiko, Santorini, 11,75 Euros a bottle: Assyrtiko from Santorini has established itself as Greece's white cult variety. Bone-dry, mineral with high acidity, are the hallmarks of the wines.
Visit Santorini and taste a real white cult variety wine!
Boutari Xinomavro Wine
Boutari Xinomavro, Naoussa, 7,20 approx Euros a bottle: There is no doubt that Xinomavro is Greece's finest red variety, and quite possibly belongs to Europe's best! The Boutari wine is one of best bargains money can buy. The wine has tremendous ageing potential and can be enjoyed for decades. As with Santorini's Assyrtiko, the quality level from the Naoussa based wineries starts at a high level.
Beer
FIX is the historic brand of beer which became popular with Greeks as soon as it was introduced in the Greek market, back in 1864.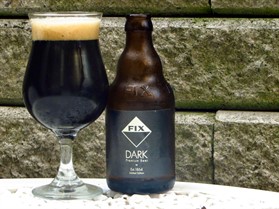 It is a premium lager with a mild taste, the perfect choice of drink at all times. It boasts dozens of awards and distinctions the most recent one being the 2 Gold Stars award presented to Fix Dark.
There are other branded beers like;
Athenian Brewery
Mythos
Macedonian Thrace Brewery
Peiraiki
Greek Island Accommodation Inspiration
Experience the Greek Islands