Kalkan Hotels
Luxurious hotels in Kalkan from The Turquoise Collection
Our Kalkan hotel holidays at a glance....
A 90 minute drive from Dalaman Airport
A choice of a

dult only or family friendly boutique hotels all walking distance into town.
Book accommodation only or an ATOL protected holiday with flights.
Room, villa and suite accommodation options.
Many of our Kalkan hotels have access to a waterside 'beach club' for relaxing by the sea.
Breakfast is included at all our Kalkan hotels with various options for dining available.
Complimentary airport transfers*
Our collection of Kalkan hotels has been chosen to offer Turquoise Collection guests what we consider are the best locations, amenities, views, and hotel rooms in Kalkan. We work closely with hoteliers, and visit the properties in our collection frequently to ensure the highest service standards for our guests. Our extensive pre-departure information, concierge service, and in-resort service from our highly experienced guest services staff are all included in a Turquoise Collection holiday. Ask us to price your Kalkan hotel holiday today.
Why choose a Kalkan hotel for your next holiday?
Kalkan is centred around a picturesque harbour, full of Turkish wooden gulets and small fishing craft, bordered with waterfront restaurants and the beach, where the beautiful and historic Kalkan old town area extends back from the sea. Set in one of Europe's most breath-taking, Mediterranean bays, with the truly majestic Taurus Mountains as a backdrop, Kalkan offers something for everyone.
Kalkan bay is home to several beach clubs with many of our Kalkan hotels hosting their own with excusive access for guests. The beach clubs offer everything from swimming and sunbathing, to water sports and restaurant facilities.
Kalkan is within easy reach of historical sites such as the UNESCO world heritage site of Xanthos, and also Tlos, Myra, Pinara and Patara attracting visitors from all over the world.
Why book with us?
Turquoise Collection guests enjoy complimentary private VIP transfers from Dalaman airport, post check out arrangements (if required for late flight departures) and a dedicated concierge available to you from the moment you book to your return home. Book with our best price guarantee on a bed and breakfast room rate basis, or as part of an ATOL protected holiday with a wide choice of flights.
*Complimentary private VIP airport transfer offer. Book one of our selected Kalkan Hotels for 7 nights and receive a complimentary one way transfer, or book for 14 nights and receive complimentary return airport transfers on any room, suite or villa bookings.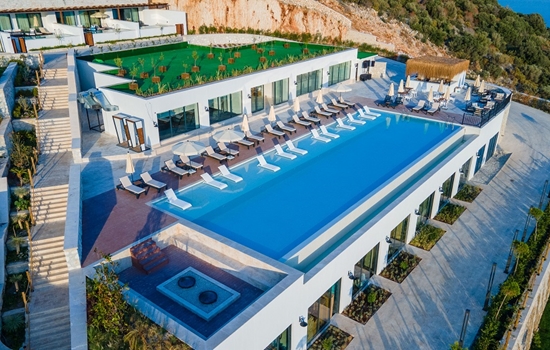 The new place to stay in Kalkan with direct water access and a private beach club.
Stay here from £233 per night for 2 adults B&B
The Lures Hotel is an exclusive, adults-only boutique property and in our view something of a game changer in terms of its offer to guests visiting Kalkan. Just 52 very spacious rooms, suites and villas comprise the accommodation offer, and the hotel choices for dining, relaxing and leisure are extensive. High quality, stylish and comfortable interiors throughout the property's public spaces and rooms feels well considered, and we think the Antalya designers have created something special here.
Book accommodation with breakfast or an ATOL protected holiday with flights.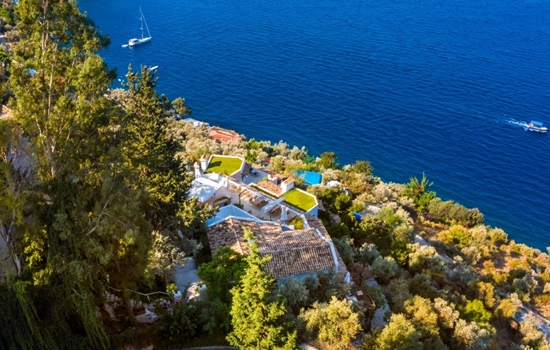 A luxury hotel with direct water access, private beach club and complimentary water taxi services.
Stay here from €240 per night for 2 adults B&B
The award winning Hotel Villa Mahal offers guests a choice of 13 beautifully presented unique suites, all with magnificent sea views and set within the most beautiful surroundings. The hotel offers excellent dining options and its' own beach club with private area for hotel guests. By nightfall the beach club transforms into an atmospheric waterside terrace restaurant with magical views stretching across the sea to the twinkling lights of Kalkan.
Book accommodation with breakfast or an ATOL protected holiday with flights.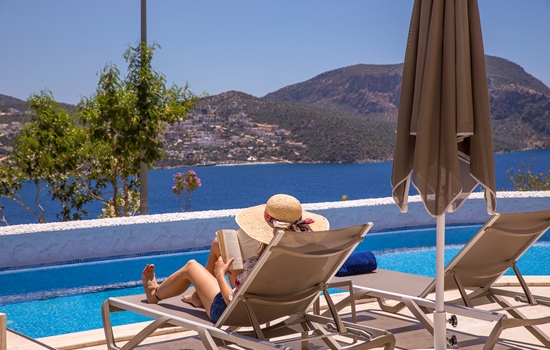 A boutique hotel with spa facilities, complimentary beach club access and close to Kalkan's old town
Stay here from £85 per night for 2 adults B&B
Saray Suites Hotel offers 16 individually styled rooms and suites elegantly dispersed between three unique stone houses. The hotel enjoys an elevated position, perched on the brow of a sweeping slope overlooking Kalkan's vast horseshoe bay. Glorious seascape vistas can be enjoyed from the various sundecks and this hideaway is conveniently positioned just moments from the old town.
Book accommodation with breakfast or an ATOL protected holiday with flights.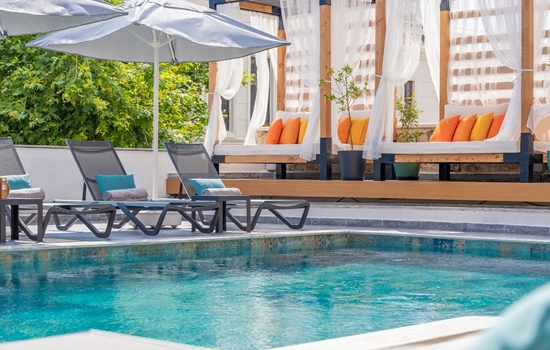 A stylish, boutique hotel in Kalkan's old town within a 5 minute walk of restaurants, the harbour and beach clubs
Stay here from £83 per night for 2 adults B&B
The brand new, adults only, Lupia Suites Hotel offers its guests unique, boutique hotel accommodation and impresses with both its convenient location and spacious outdoor area featuring a sparkling private pool, sun loungers and parasols, and three poolside cabanas where guests are invited to relax in luxury.
Book accommodation with breakfast or an ATOL protected holiday with flights.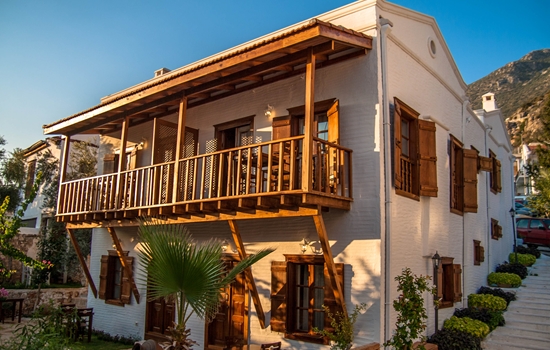 A unique hotel that highlights each room's individual personality and historical character.
Stay here from £170 per night for 2 adults B&B
The Courtyard Hotel, the first and only restoration hotel in Kalkan's Old Town. An intimate boutique Kalkan hotel offering 6 beautifully appointed rooms with en-suite facilities. Kalkan's Old Town, beach and restaurants are just a 2 minute walk from the hotel. Highly rated by previous guests.
Book accommodation with breakfast or an ATOL protected holiday with flights.
KALKAN HOTEL INSPIRATION
Useful information for your Kalkan holiday