Eating and drinking
Everything you need to know about dining in Turkey
Developed from Ottoman cuisine and influenced by Mediterranean, Middle Eastern, Central Asian, Caucasian, and Balkan fare; Turkish cuisine combines an amazing variety of colours and bold flavours to delight the senses. Innovative Turkish chefs have refined traditional dishes using good quality fresh local produce and careful preparation of ingredients to make an array of dishes often considered to be some of the best in the culinary world.
The cuisine in Turkey varies from region to region reflecting the agriculture and availability of produce. Beef is widely used in Turkish cuisine along with lamb, chicken and seafood and you will find an abundance of vegetables in many dishes with aubergines, onions, lentils, tomatoes, garlic and beans among the staples. Olives are also prevalent and used in many dishes and mezzes. Turkey has quite a high Muslim population and therefore finding pork in supermarkets or on the menu in restaurants or is not very common due to low demand.
Eating out in Turkey is a social event and is often very good value, with the cheapest offerings found in establishments which do not serve alcohol (içkisiz), however, in the main tourist resorts you can often pay considerably more in the smarter waterfront restaurants.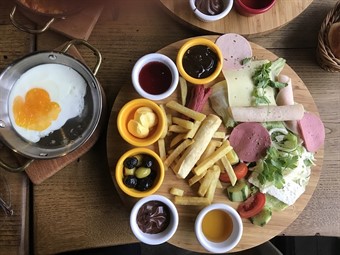 A full Turkish style breakfast (kahvaltı) is considered the most important meal of the day to Turks and can be quite a feast depending on the establishment. A typical Turkish breakfast usually comprises a basket of sliced fresh bread and butter, feta-style cheese and salami, fresh yogurt, jam or honey, olives, eggs (boiled, scrambled or fried) fresh sliced fruit, dried fruit, tomato and cucumber.
In Turkish hotels you can expect a range of breads and pastries, fresh fruit, olives and cheeses, a selection of cold and hot meats, delicious fresh yoghurt, dried fruits and nuts, and fruit juice. Breakfast is a social affair in Turkey and on a Sunday friends or family normally gather together for a big spread.
Here are a few dishes you might want to try;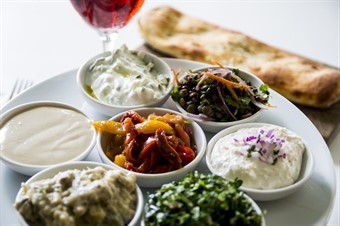 A selection of starters which can be served on a large platter for sharing or ordered individually like 'tapas'. You might be offered stuffed vine leaves, mint and yogurt dip, courgette fritters, deep fried cheese pastries, baked stuffed aubergines (Imam Bayildi), broad bean pate and a selection of delicious salads.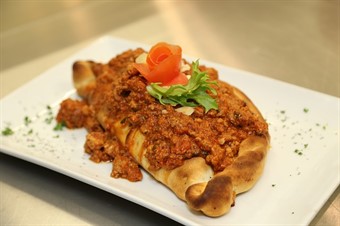 A flatbread similar to pizza with various toppings. Look out for Lahmacun which is a classic version with a meat topping.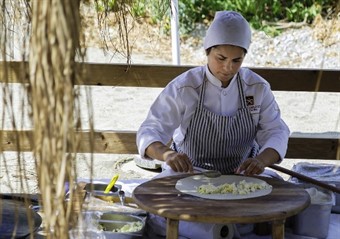 Pancakes. When you see a Turkish lady sitting next to a heated iron cooking plate she will be making fresh gozleme. Fillings range from cheese and herbs to meat or chocolate and fresh fruit - delicious!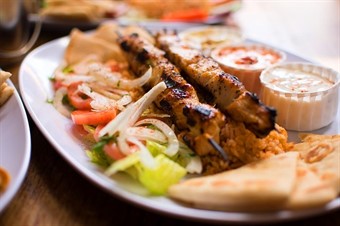 The most famous of all Turkish foods comes in different forms, not always as you imagine! It can be served as kofte which are meatballs, chunks of meat grilled on a skewer or finely sliced doner kebap.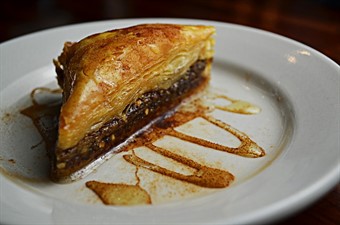 This needs no introduction but is definitely more delicious when eaten in Turkey! Fine layers of filo pastry interleaved with nuts and drenched in honey.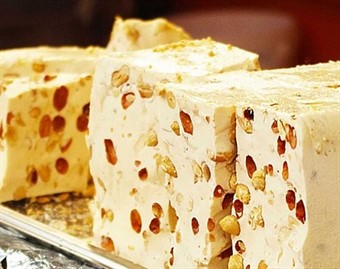 Delicious served either slightly warm or cold, helva is made from sesame seeds and flavoured with pistachios or chocolate.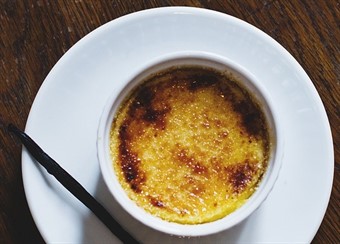 Rice pudding. Served hot or cold and often garnished with cinnamon.
A lot of people are surprised when they come to Turkey and discover that it is a wine producing country. Turkey is a very fertile with lots of underground water. This impacts the quality of grapes produced because the vine does not have to work hard to find water. There are however some excellent wines available from some regions of the country where the local conditions and, or technology have countered this problem.
Please find details of these producers below;
Pamukkale Wine
Is one of the most famous wine producers in Turkey and has been producing since 1962.
The average price of a bottle is 30TL (£12 or $20) and they produce all the most popular grape types types such as Merlot, Sauvigon Blanc and Chardonnay. 30% of all the Pamukkale Turkish wines are exported abroad to Germany, the Netherlands, Austria, Denmark and Japan. Pamukkale wines are available in Kalkan supermarkets and restaurants.
Kavaklidere Wine
This Turkish wine producing company was founded in 1929 and produces grapes in the Anatolia region. They export to European, American and middle east markets and are available in most Kalkan supermarkets. Kavaklidere have an allegiance with a French wine producer in order to improve quality, and have earned numerous awards for their wines
Website address www.kavaklidere.com
Kavaklidere wines are available in Kalkan supermarkets and restaurants.
Despite a high level of taxation on wine, prices remain reasonable, with prices starting at around 10TL (£3.50) in supermarkets and 30TL (£11.00) in restaurants for a 70cl bottle.
Efes Beer
Named after the ancient city of Ephesus, located near the Izmir brewery, is Turkey's favourite brewer, Efes. The clean refreshing taste goes down very well in the warm Mediterranean climate and it is available in all of Kalkan's shops and restaurants.
Expect to pay around 3TL (85p) for a 330ml bottle and 5.5TL (£1.55 for a 500ml bottle) in supermarkets and around 10TL (£2.85) for a 500ml bottle in a restaurant or bar. There is also a choice of other Turkish, European and American beers.
Accommodation Inspiration
Error parsing XSLT file: \xslt\[XSLT][TBS]Properties.xslt