Our Guide to the Atlantic Coast of Morocco
Discover our range of accommodation located on the Atlantic Coast of Morocco
Our growing range of accommodation options on the Atlantic coast includes the Hotel La Sultana Oualidia; a garden paradise in extensive grounds with the ability to capture, energise and sooth in equal measure, Riad Da Bô; a thoroughly charming property located within Essaouira's medina, that mixes traditional and contemporary design aesthetics, and Villa La Fiancée du Vent; a tranquil and secluded property set in a lush private garden.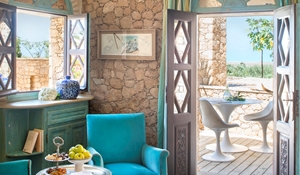 The Hotel La Sultana Oualidia with its 5 rooms and suites, is an enchanting fortress surrounded by orange, olive and jacaranda trees, terraces, fountains and flowered balconies that overlook a serene lagoon on the Atlantic coast. A hidden gem by the ocean, La Sultana Oualidia has the ability to capture, energise and sooth in equal measure - the perfect antidote following a stay in the hustle and bustle of Marrakech.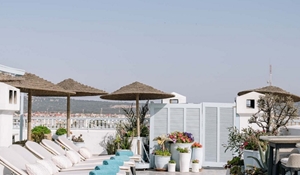 This palace of marvels lies in the heart of Essaouira, a mysterious and spiritual place loved by artists and adventurers alike. L'Heure Bleue Palais has succeeded in preserving the character of a traditional Moroccan house and the hospitality cherished by this country. At the crossroads of African, Moorish, Portuguese, English and oriental influences, the rooms and suites are located around the patio, where a fountain sings and the heart of the Riad beats. The traditional hamman is the perfect place to relax, the panoramic outdoor pool on the terrace overlooks the medina and the ocean, and the cuisine is a subtle blend of French and Moroccan influences.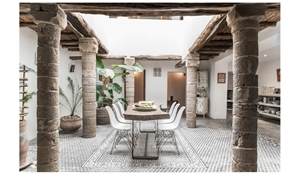 This unique historical riad - 5-Columns - is a beautifully restored 18th Century house situated in the heart of the ancient medina of Essaouira in the Chbanat area which is famous for its colourful textile workshops. The property can comfortably accommodate 8 guests in four double bedrooms all with en-suite bathrooms. The living space is set over four floors and has two large sunny roof terraces with an outside kitchen and bar area as well as a large Eucalyptus wood dining table to gather around. There are two good sized lounge salon rooms with fireplaces, comfortable chairs and a large sofa area for guests to enjoy. The arty cafés, restaurants and shops of the Medina are on the doorstep and the nearest beach is just a 15-minute stroll away.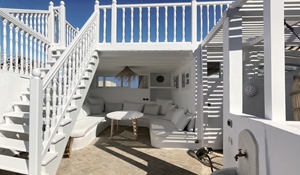 Riad Dar Bô is situated next to a small and quiet square in the heart of the Medina of Essaouira, with views of the ocean from the roof terrace, and is less than a five-minute drive to the main beach, Plage d'Essaouira, which is lined with bars, restaurants and surf shops. The Medina itself is perfect for exploring as it is encompassed with small shops and stalls, as well as featuring colourful blankets, rugs and hand-crafted wooden artwork. Riad Dar Bô is offered for exclusive private rental and the price shown is for up to 10 guests on a bed and breakfast basis.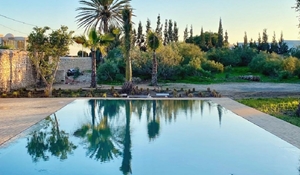 Maison Flamingo is a stylish 4 bedroom modern villa that showcases the very best of traditional Moroccan design techniques, and features a large swimming pool and well established garden, offering its guests simple and understated luxury throughout whilst creating a truly authentic experience. The villa is nestled within the peaceful countryside allowing for rest and relaxation, and is just a 15 minute drive from Essaouira and approximately 2 hours and 30 minutes from Marrakech.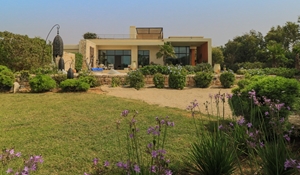 Situated over 600 hectares of forest, dunes and lush nature, Villa La Fiancée du Vent offers guests the chance to escape to a private oasis where they can enjoy views of the villa's gardens, the nearby lake and Atlantic Ocean. Its location, only 800m from the nearest beach and close to the town of Essaouira, makes it an excellent seaside escape providing guests with a range of activities and things to do, whilst still being set in its own magical and peaceful location.
Useful information for your Moroccan holiday
Atlantic coast accommodation inspiration