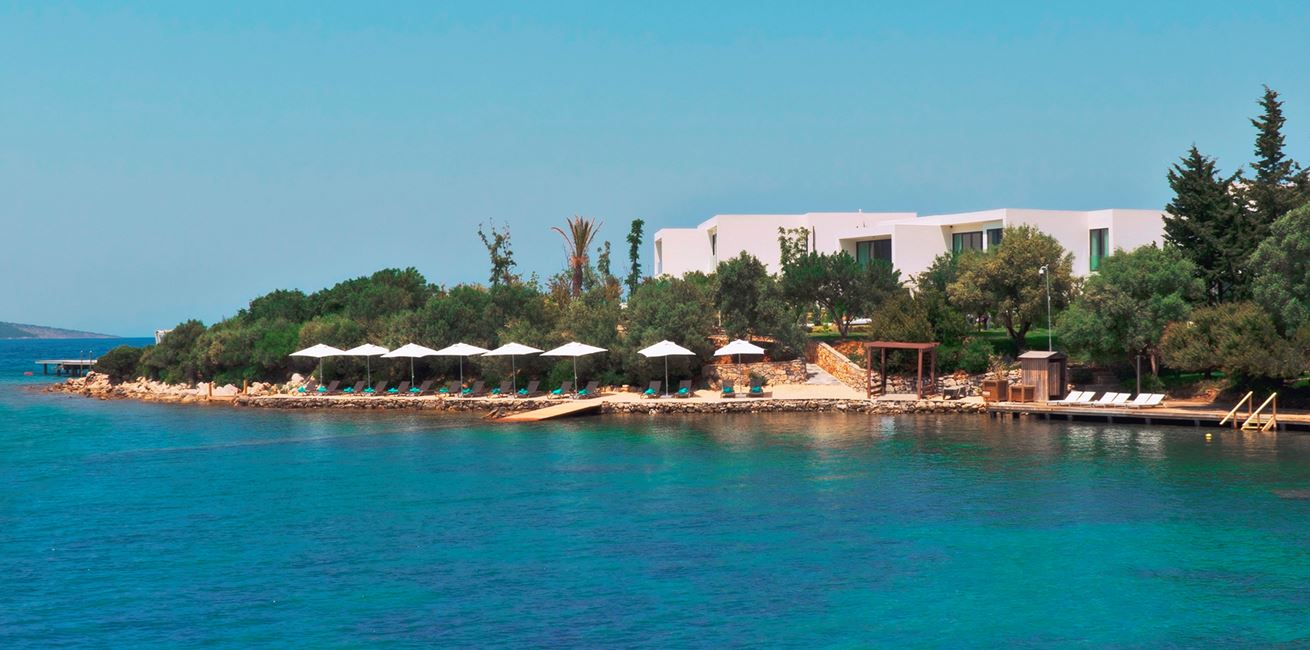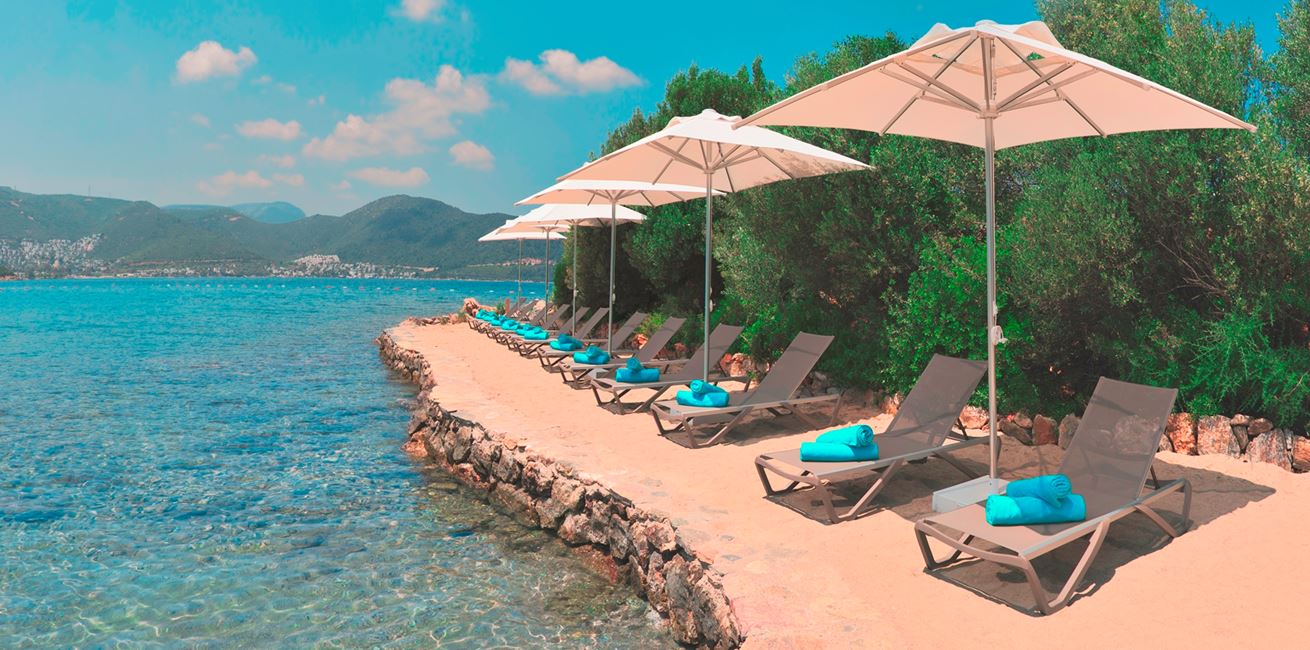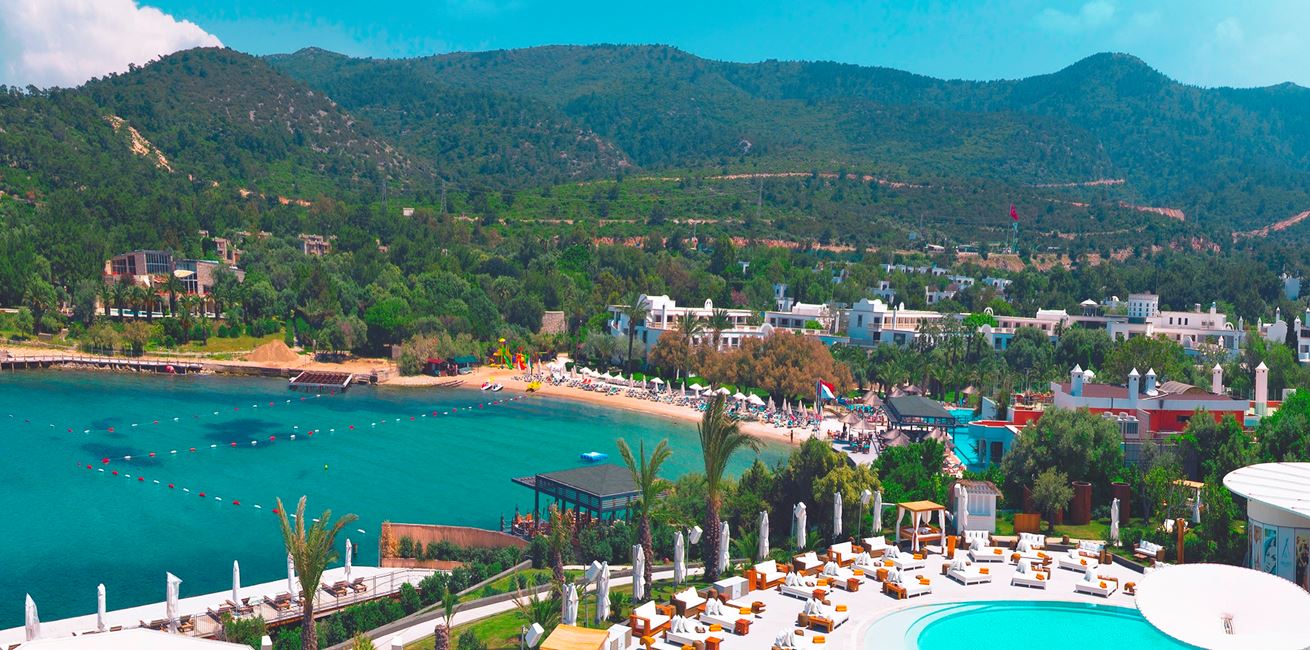 Bodrum Beaches
Our guide to the beaches you can visit in the area on your Bodrum holiday
There are some lovely beaches that stretch out from Bodrum town centre along the peninsula which provide many different options to relax by the Aegean. We list some of the more popular here with details of amenities and locations.
Kumbahce beach, near the castle and marina in Bodrum town centre is a good stretch of sand around 300 metres long. Places to eat and drink nearby make it convenient to take a break from the sun to enjoy lunch. It can get busy in peak season, and is very popular with Turks. If you are looking for peace and a little more space head out to one of the beaches on the peninsula. Gumbet, just 15 minutes and an easy taxi/ dolmus ride away is a good alternative.
The beach at Gumbet is largely shingle but has more sand in some areas. Lined with restaurants, bars and sunbeds/umbrellas, there are plenty of facilities. Gumbet appeals particularly to those who like water sports, as there is a wide variety to choose from here. The beach is located near to many hotels used for package holidays by British tour operators. This stretch of beach runs the length of the resort.
Head west and 6 miles out of Gumbet, Bitez is the next bay along the coastline and appeals to an older crowd . A good stretch of mainly golden sand and shallow waters make this a popular place for sunbathers. Sunbeds very close to the water line the beach, and there is a selection of restaurants nearby.
Further along the peninsula, Yahsi Sahil is the longest beach in the district of Ortakent. It is popular with Turks and has views of the Greek island of Kos on a clear day. Locals boast of the old stone houses and citrus groves, and recommend staying for the incredible sunset from the central beach area. Alfresco dining in the beachfront restaurants is also highly recommended particularly when the moon is full.
Well known on the Bodrum peninsula, Camel beach, also known as Kargi bay offers all the facilities of other beaches on the peninsula but also camel rides, hence the name. Day trippers frequently dock here to take advantage of the excellent long stretch of sand here, and most consider this to be one of the best beaches on the peninsula.
The Resort of Turgutreis;
Nearly 3 miles of sand stretches along the coastline from Gumbatimi beach in the town of Turgutreis. If kite and wind surfing is your thing, then you might want to visit the large stretch of sand further along the coastline at Kadikalesi popular and rated by kite surfers for its good facilities and conditions. The top five Kite Surf schools in Bodrum are Kiteboard Bodrum in Bitez, Fener Windsurf Club located in the city centre, VIP Windsurf Center in Ortakent, Rush Windsurf in Bitez and Bodrum Windsurf in Kadıkalesi.
Gumusluk appeals probably because of its quaint village appearance and laid back ambience. It has won international recognition, particularly among celebrities for its beach side sea food restaurants. It is a largely narrow, but pretty stretch of beach, with shallow water in many places.
A modern, attractive marina attracts a smattering of mega yachts and some more modest craft, and gives this town a rather cosmopolitan air. The town centre beach is easy to reach and is popular with sunbathers for its convenient location and facilities. Hotel beach clubs occupy adjacent beaches and can be used for a small fee.
urther along the coast you will find Turkbuku, a favoured summer destination of well heeled Turks and it is widely recognised as the San Tropez of Turkey. It is a small bay, about a 60 minute drive from Bodrum town and here you will find some of Bodrum's best restaurants, beach clubs and hotels that cater to a high spending sophisticated crowd.
Bodrum Accommodation Inspiration
Useful information for your Turkey Holiday