Getting Active on your holiday in Thailand
Great ideas for some energetic pursuits in Thailand
Thailand has many opportunities for those with energy to burn with some exhilarating experiences to try out! Water based activities are very popular around the islands so you'll be spoilt for choice but there are also plenty of land-based activities to get the adrenaline going. This is our overview of exciting pursuits you can experience on your holiday to Thailand...
Muay Thai boxing is the national sport of the country and it can be a fascinating experience to watch, as fighters possess speed and elegance as they use their whole bodies as weapons in this ancient practice. Fighters use not just their fists and feet, but also their elbows, knees and shins which explains its other name; 'The Art of Eight Limbs'.
There are many schools and training camps across the country where you can watch a fight, and many offer courses of training for those that want to participate, and even accommodation inclusive options for the serious.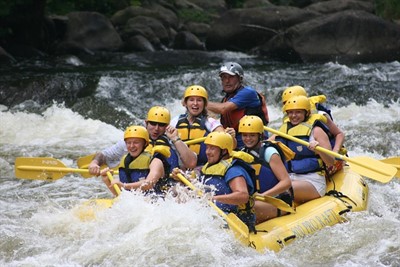 White water rafting is particularly popular on Phuket as well as the mainland between Phuket and Koh Samui. There are many local tour companies offering day trips out to spectacular locations where you can career down the rapids through the jungle with experienced guides. Take in the coolness of the river and appreciate the lush scenery as you fly by.
Most tour companies will include lunch, and some can organise a day that includes other adrenaline activities such as quad biking (ATVs) and Tubing.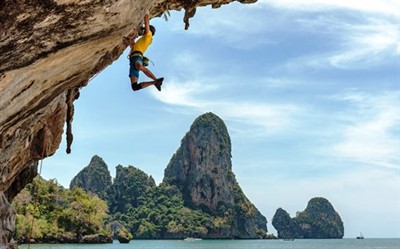 The islands and national parks of Thailand are full of rocks, boulders and cliffs waiting to be climbed. There are plenty of agencies that can help organise a trip and all of the necessary equipment and will take you to the best spots.
There are also many indoor climbing centres where people of all abilities are catered for and instructors are always on hand to help out or offer guidance.
The island of Koh Tao, approximately 3 hours away from Koh Samui by boat, has great climbing and bouldering opportunities in the form of giant boulders on the beach, and huge granite blocks dotted all over the island.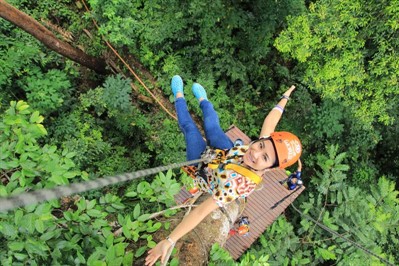 This is a popular pursuit, particularly on the islands, as it gives the thrilling experience of sailing through the air with a bird's eye view above the jungle canopy. It's a great way to experience the island vistas from a unique viewpoint
Many Ziplining centres also offer additional activities such as sky walks and abseiling, and some centres offer the uncanny experience of 'riding' a bicycle whilst ziplining either on a single bike or tandem and it's another great way of getting up close and personal with nature whilst taking part in an exciting aerial adventure.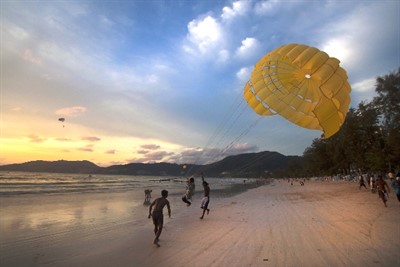 Paragliding is a popular activity on the islands; particularly on Phuket where it's possible to take off from a coastal ridge, or launch from the beach with the aid of a towboat. Flights are usually done in tandem with a guide, particularly for beginners, but it may be possible to do a solo flight if you are an experienced paraglider. Speak to the local tour operators to find out the options.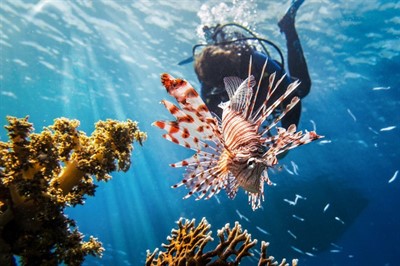 The crystal-clear waters around Koh Samui and Phuket provide a treasure trove of delights for underwater adventurers. There are many diving schools that will organise excursions to areas teeming with a kaleidoscope of vibrant life. You may find yourself swimming alongside turtles, eels, stingrays, and barracuda, as well as the gentle giant whale sharks with their beautiful spotted skin who reside deeper in the waters. Otherworldly anemones, sea fans and a whole host of colourful fish species make diving around the Gulf of Thailand and the Andaman Sea an incredibly rewarding experience.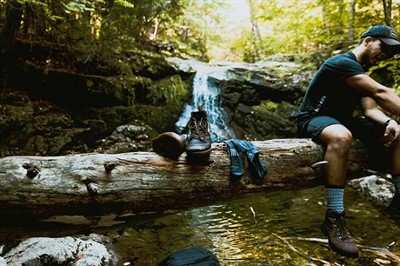 The geography of Thailand lends itself well to those looking to explore some of the numerous hiking trails or get off the beaten track altogether.
Lush green jungle, majestic mountains, cascading waterfalls and boulder-strewn landscapes are just begging to be discovered along with the flora and fauna that makes its home there. Keen walkers will find trails of all levels from easy short walks, moderate, more challenging trails to gruelling mountain treks.
Check out the local tour agencies in your area and see if they can help with planning an excursion with a guide and equipment if required.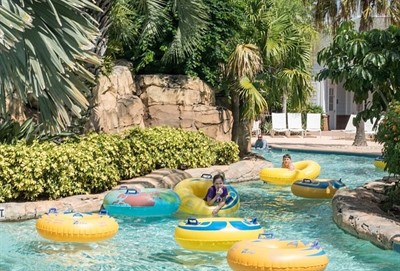 There are many great waterparks dotted around the country and these provide fun for all ages as well as a bit of welcome relief from the heat and humidity.
Most have multiple pools and slides to cater for all ages, and you will usually find café and bar facilities on site.
THAILAND ACCOMMODATION INSPIRATION
Useful information for your holiday to Thailand