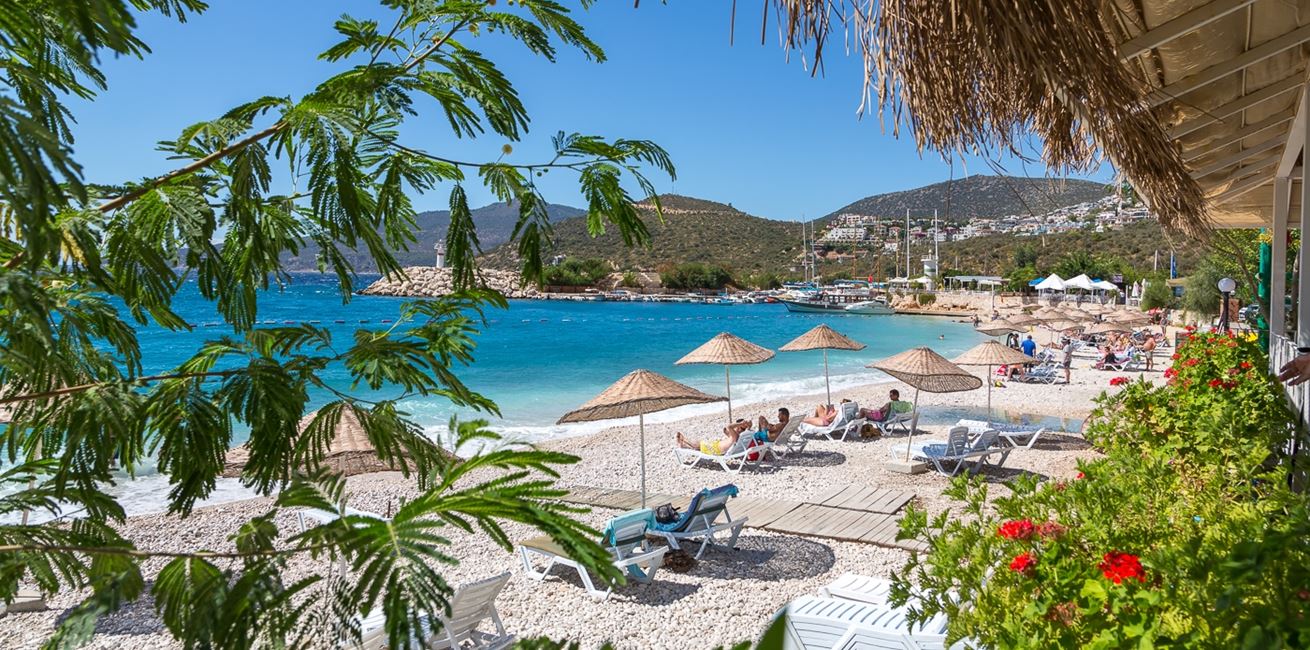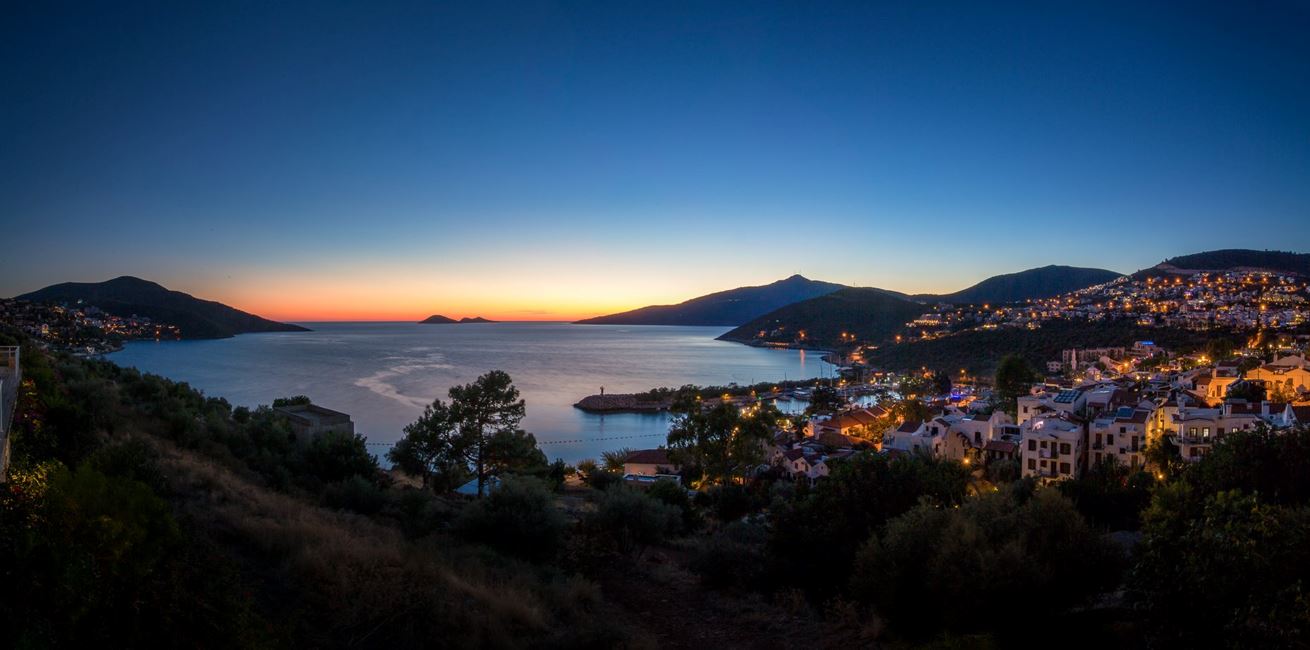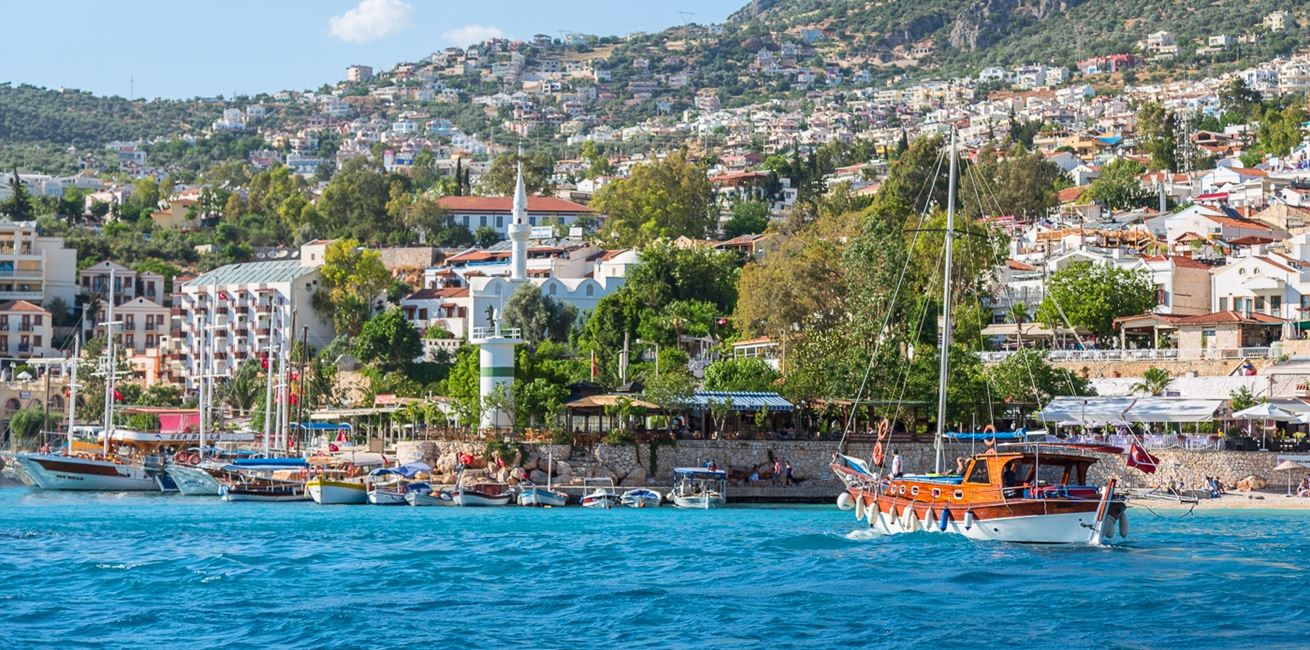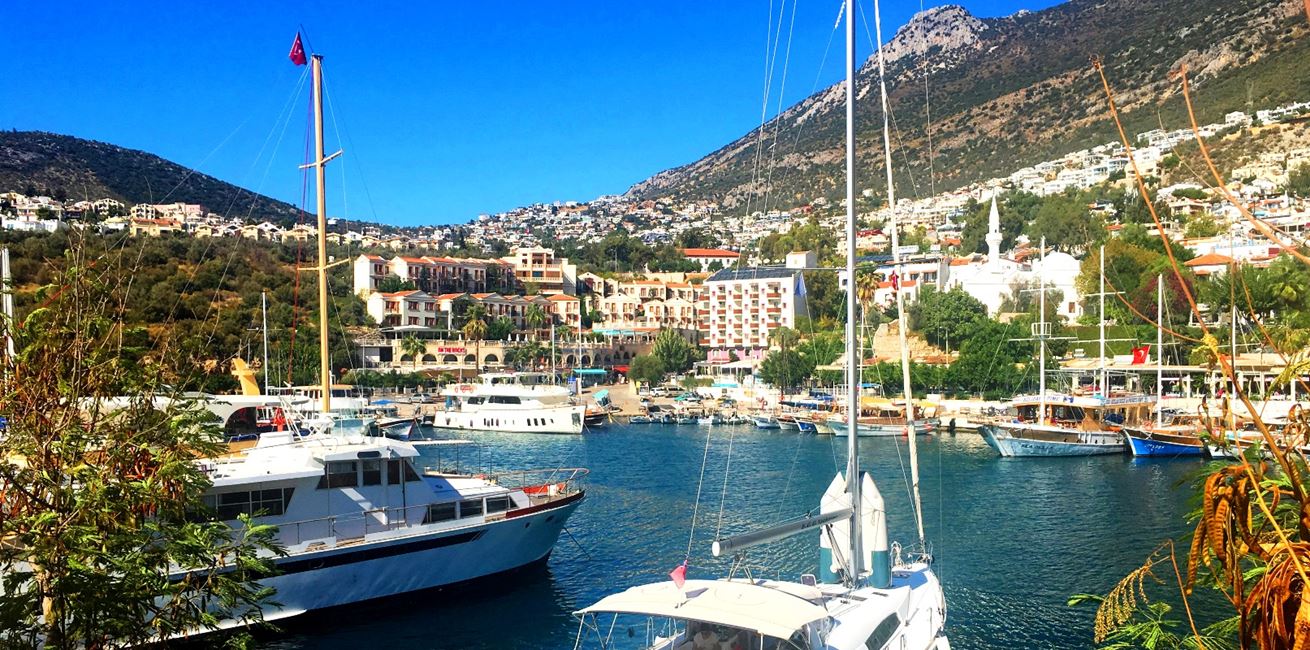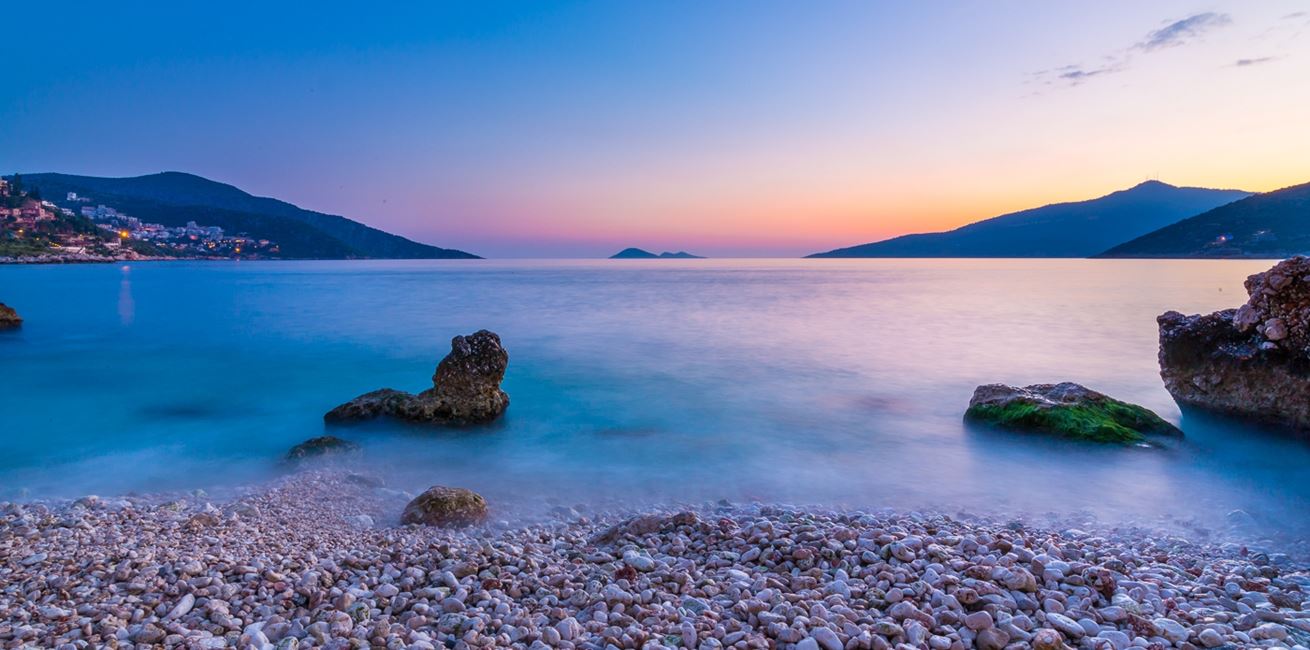 Kalkan Holidays
Discover Kalkan on Turkey's Lycian Coast on your holiday
The Turquoise Collection are specialists in Kalkan, Turkey and have been providing a wide range of accommodation in Kalkan since 2008. We have detailed local knowledge about Kalkan to give you an invaluable insight about the many ways to discover and enjoy your Kalkan holiday. Our collection of Kalkan accommodation has been chosen to offer Turquoise Collection guests what we consider are the best locations, amenities and views Kalkan has to offer. We work closely with the local businesses in Kalkan, and visit the properties in our collection frequently to ensure high standards for our guests. Our extensive pre-departure information and in-resort service from our highly experienced guest services staff are all included in a Turquoise Collection Kalkan holiday.
An overview of Kalkan, Turkey...
Kalkan is set in one of Europe's most breath-taking, grand sweeping Mediterranean bays, with the truly majestic Taurus Mountains as a backdrop. Kalkan has an exquisite harbour, full of Turkish wooden gulets and small fishing craft, bordered with waterfront restaurants and the beach, it is where the beautiful and historic Kalkan old town area extends back from the sea.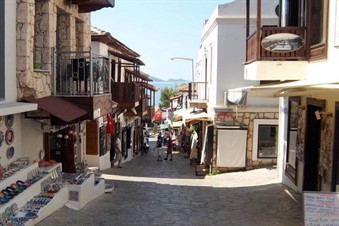 Formerly an important coastal trading port, Kalkan is now a thriving but still unspoilt holiday resort with the bustling historic Old Quarter being the heart of the Kalkan town. After dusk, Kalkan's winding streets full of traditional houses, restaurants, small boutiques and local shops with overhanging balconies teem with people as the tantalising aromas of Kalkan's renowned cuisine entice people down to the harbour and surrounding streets.
Kalkan is an eclectic mix of Greek and old Kalkan architecture, with roof terrace restaurants and lovely views to the sea, Kalkan old town is a place you will want to discover and enjoy. The Greek Orthodox Church by Kalkan's harbour has been converted into a mosque and is the best example of Greek architecture in Kalkan, however at every turn you will still find whitewashed and stone buildings with shuttered windows and balconies which reveal Kalkan's history.
From Kalkan's harbour, many of the beach clubs dotted around the bay are accessed by small colourful boats that provide a often complimentary service to transfer guests staying in Kalkan. You will also find traditional wooden Gulets in Kalkan's harbour that offer boat trips to the beaches, islands and inlets nearby. Water sports, diving and fishing trips are also offered here in Kalkan.
A brief history of Kalkan...
Although Kalkan does not appear to have been a place of significant settlement in the distant past, Kalkan's harbour was the only safe harbour between Kas and Fethiye and so became an important port during the 19th century. It was settled 150 to 200 years ago by people of both Greek and Turkish origin and was known by its Greek name "Kalamaki." Goods were transported by camel from the Xanthos valley nearby and the mountain highlands near Elmali. From Kalkan, cargo ships sailed for the far reaches of the Ottoman Empire laden with cotton, grain, wine and timber.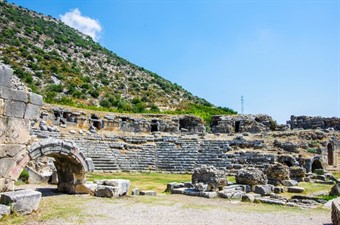 By the early 20th century Kalkan had become quite a sizeable village in Turkey. At the turn of the century Kalkan had its own custom's house and in 1915 there were reportedly seventeen restaurants, a goldsmith, a shoemaker and several tailors. Kalkan's first local elections were held in 1928 and in 1937 the present elementary school was opened.
Following World War I, the exchange in population between the new Turkish Republic and Greece took place in 1923 after the Turkish War of Independence. Most of Kalkan's population that were of Greek origin at the time then left Turkey. Some went to the nearby Greek island of Meis, but most were resettled near Athens. They were resettled as a community (like most Greek immigrants from Turkey) and named their new town "Kalamaki", after Kalkan's previous name.
Trading in Kalkan continued until it faded away in the 1950's due to the improvement of the Turkish road system and the adoption of overland transport. With no more sea trade, the population of Kalkan trickled away as people moved to larger coastal cities to find work. Luckily, Kalkan was saved by the arrival of wealthy English yachtsmen in the 1960's and tourism eventually became the main economy of Kalkan. Because of this, Kalkan has retained its historic charm. Strict building and preservation codes are enforced and many of Kalkan's buildings are listed.
The UNESCO world heritage site of Xanthos was Lycia's capital city for much of its history and the principal cities of Tlos, Myra, Pinara and Patara, all close to Kalkan attract visitors from all over the world to look at the ancient ruins dating back over 2000 years. The British museum also has an extensive collection of Lycian artefacts.
A touch on Kalkan's scenery and what to expect from the climate...
The Taurus mountains in Kalkan rise to over ten thousand feet and the highest peaks are snow covered right into early summer. It's magnificent scenery with its lakes, woods and forests, its stunning turquoise coast line and superb ruins of two dozen cities make Lycia a place to explore and enjoy. Lycia's coastline runs for several hundred kilometres, borders the Mediterranean and attracts yachtsmen to the crystal clear waters and near perfect climate.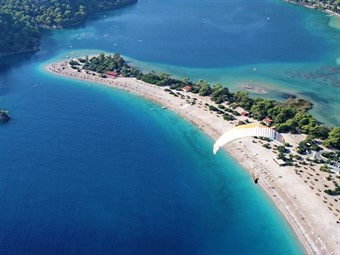 The climate in Kalkan is often compared to that of Southern California as you can be guaranteed sun from May to October and beyond. Kalkan's endless warm days can be spent at your private pool, on the town beach, visting the many beach clubs in Kalkan or enjoying lazy days at sea. You can also learn to sail, scuba dive and water ski - the choices are endless in Kalkan.
The Kalkan area...
Furthermore, if the mood takes you there is plenty more to see outside the confines of Kalkan. Beaches such as the 12 mile long Patara beach, Kaputas beach and 'Olu Deniz' add to the scenic appeal of Turkey and can be excellent places to spend your days at.
Or if you fancy a drive up into the mountains you will find the small villages of Islamlar and Uzumlu. These villages make for some great escapes from the buzz of Kalkan and have a real sense of community. You will find some great fresh trout restaurants too.
KALKAN ACCOMMODATION INSPIRATION